Results are in! The fudge recipe from December's Fine Cooking is a winner!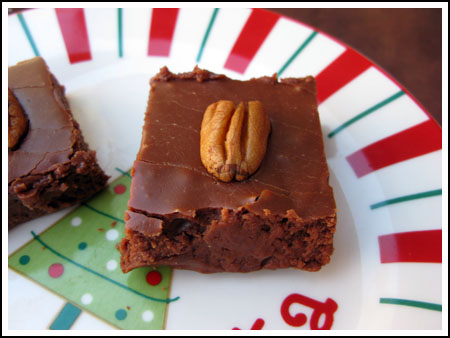 I had a few issues when I tried to halve the recipe, but once I got the adjusted half-batch boiling times and temps right, I had the perfect fudge. The texture was creamy, but had the flakiness you'd expect from good fudge. It was better the second day and will probably be even better on the third. I should know because I've been eating fudge all week long and it just gets better — which is not to say the same for my blood sugar. That's the price you pay for good fudge.
One last thing. Aside from being awesome, Fine Cooking Creamy Fudge is also pretty inexpensive to make The 4 oz of unsweetened chocolate goes a long way, and those of you worried about it not being chocolaty enough will probably be satisfied. Fine Cooking Creamy Fudge is sweet, but not any sweeter than Fantasy Fudge or just about any of the other fudge recipes I've tried. Still, I think the Rocky Road version will be even better because the nuts will offset the sugar.
Updated: I made this fudge all the time and have learned a few things.
#1. If you make a full batch, the original recipe says to bring to a boil over medium heat, 7 to 12 minutes. This, apparently, is the estimated time that it should take to bring the mixture to a boil. As soon as the mixture reaches a good boil, go ahead and take the next step which is to cover the pan with the lid for 2 minutes. In other words, don't bring to a boil and THEN boil for 7 to 12 minutes and THEN cover. Just bring right to a boil (while stirring), do the covering for 2 minutes trick, then stick your thermometer in and let the temp rise slowly and evenly.
#2. If you are making a half batch, try taking the candy off at about 232 degrees.