The Fine Cooking Creamy Fudge recipe is one of my long-time favorites, and up until now (2023), I've always just linked to the recipe. Unfortunately it's no longer online, so I had to hunt it down and give you an adapted version. But maybe that's a good thing since I've had to make my own little adaptations. The end result, whether you use the original recipe from issue 102 of Fine Cooking or the adapted version,should be a very creamy but still stiff fudge.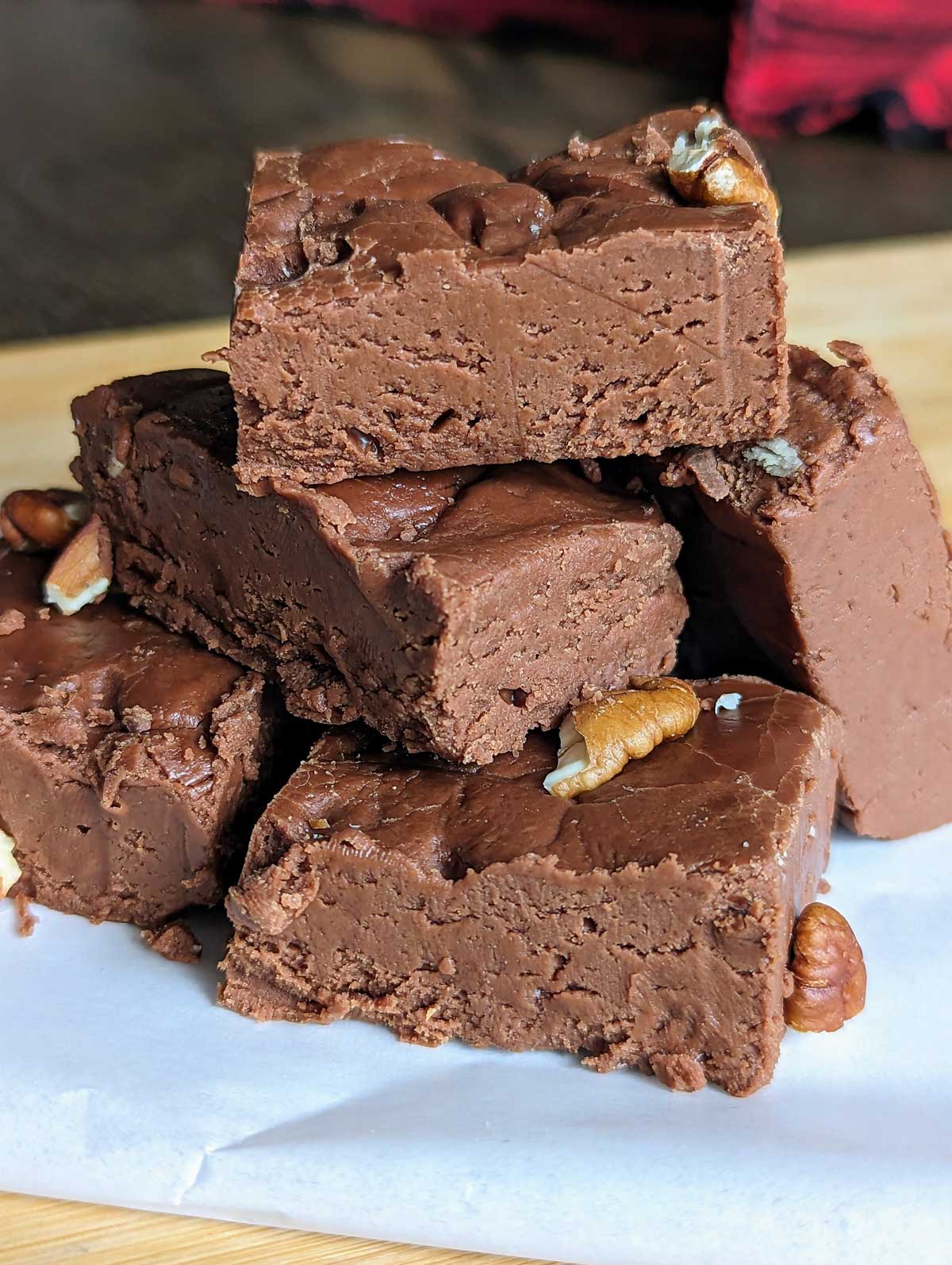 Fine Cooking Creamy Chocolate Fudge Notes
This recipe is sweet, but not as sweet as the marshmallow versions out there. As for the texture, it is creamy but it has the flakiness you expect from good fudge. Unlike Fantasy Fudge or my other favorite fudge recipe (I'll add a link), Fine Cooking Creamy Fudge does not have marshmallows, chocolate chips or vanilla extract. The Fine Cooking fudge recipe calls for sugar, heavy cream, unsweetened chocolate, corn syrup, salt and butter.The flavor might be different based on what brand of chocolate you use and whether you actually use light corn syrup or something like Lyle's Golden, Karo Dark or even agave. All of these syrups work too.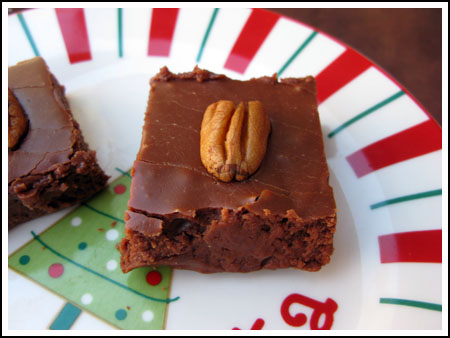 Fudge With Unsweetened Chocolate and Cream
Compared to some of the other fudge recipes, this fudge recipe is less expensive because only calls for 4 oz of unsweetened chocolate rather than 18 oz of chocolate chips. Lately I've been making it with Guittard, which is probably one of the reasons it's so good. Ghirardelli unsweetened also works well, and I suspect a 95% Lindt bar would also work. You may want to make your first batch with Baker's or a less expensive brand to nail down the correct times and temps in your kitchen. Fudge takes practice.
8-Inch Pan and Loaf Pan Versions
The original recipe makes an 8-inch pan of fudge, which is actually a good amount since the fudge is so very rich and you can cut the pieces small. That said, you can also make ½ or ⅔ the recipe in a 3 quart saucepan. For a half batch, a foil lined loaf pan works well. For ⅔ of the batch, a disposable round pie tin works. If you scale the recipe down, be sure to keep the temperature climbing at a very slow and steady rate and expect the cook times to be slightly shorter.
10-20 Minute Mix Time
In the original Fine Cooking recipe, they beat the fudge for 10 to 20 minutes. I don't have the patience or the ears to stand and hold an electric mixer for that long, so I dump the hot fudge into the bowl or a stand mixer, let it cool to 110 and beat with the paddle (not the whisk) attachment.
Making fudge requires you to use visual and olfactory cues. Use the recipe as a guide, and take into account tips from other people. I've tried to add a few, but at the end of the day they may or may not work for you. This is just something you have to accept until you perfect the recipe in your own kitchen with your own pot and ingredients. .
Recipe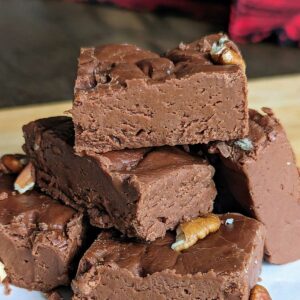 Creamy Chocolate Fudge
Fine Cooking says "This melt-in-your-mouth chocolate fudge is simple to make and keeps for up to 10 days in an airtight container." Recipe originally from Bonnie Jean Gorder-Hinchey from Fine Cooking Issue 102.
Equipment
1 4 quart heavy duty saucepan
Ingredients 
3-¾

cups

granulated sugar

(750 grams)

1-½

cups

heavy cream

(12 oz/336 grams

4

ounces

unsweetened chocolate, coarsely chopped or broken

(114 grams)

3

tablespoons

light corn syrup (dark corn syrup also works)

(54-60 grams)

1

teaspoon

salt, scant

3

tablespoons

cold unsalted butter; plus a little more at room temperature for buttering the thermometer and pan

(42 grams)
Instructions 
Grease the face of a candy thermometer or a deep fry thermometer with butter. (Note: I use a deep fry thermometer).

Off heat, combine sugar, cream, chocolate, corn syrup, and salt in a large (3 ½ to 5 quart) heavy-duty saucepan.

Put the mixture over medium heat. Stirring gently, bring to a boil. This process should take 7 to 12 minutes depending on how cold your ingredients are to begin with. During this period you do stir constantly. Once the mixture reaches a steady boil, cover briefly (2 minutes), to steam clean the sides of the pan. This helps curb crystal formation.

Insert a deep fry thermometer balancing it against the side of the pan so that bulb is in the center but does not touch the bottom. Let the mixture boil without stirring until it reaches 236°F to 238°F, 2 to 5 minutes. This is soft ball stage. With this recipe it's better to err on the side of undercooking than over, so don't let the temperature rise to over 238 max. Remove from the heat. If using a stand mixer, immediately pour into the stand mixer bowl.

Plop the butter in without stirring it at all.

Set the pan (or mixing bowl) on a rack in a cool part of the kitchen. Don't disturb the pan in any way until the mixture has cooled to 110°F, This should take about 1 ½ hours.

Meanwhile, line the bottom and sides of an 8x8-inch baking pan with foil or parchment. Butter the foil generously.

Remove the thermometer from the 110 degree fudge mixture, and using a hand mixer or stand mixer, beat the mixture on high speed until it is a few shades lighter in color and thickens enough that the beaters form trails and expose bottom of the pan (or mixer bowl). With a stand mixer this should take around 10 minutes. With a handheld it could take up to 20. I only do this with a stand mixer so that's all I know. That, and don't scrape the sides of the bowl while mixing.

When it's done, it will look a bit like canned frosting.

Gently scrape the thickened fudge into the prepared pan, using a rubber spatula to help nudge it out of the pot. You can scrape the bottom of the pot or bowl, but not the sides.

Smooth the top of the fudge with a spatula. Set the pan on a rack and let the fudge cool completely, about 2 hours. The fudge will be slightly soft the day it's made but will firm up overnight.

Turn the fudge out onto a clean cutting board and peel off the foil or parchment. Turn the slab of fudge right side up and cut
Notes
Yields twenty-five 1-½-inch pieces.
The fudge will keep for a week to 10 days stored in an airtight container at room temperature.
nutrition information (per serving):
Calories (kcal): 190; Fat (g): fat g 9; Fat Calories (kcal): 80; Saturated Fat (g): sat fat g 6; Protein (g): protein g
1; Monounsaturated Fat (g): 2.5; Carbohydrates (g): carbs g 30; Polyunsaturated Fat (g): 0; Sodium (mg):
sodium mg 100; Cholesterol (mg): cholesterol mg 25; Fiber (g): fiber g 1