Finding new cookies I actually want to eat every day can be a real challenge, especially since I'd be happy with chocolate chip seven days of the week. But there are other recipes that get my attention and this was one of them. It's adapted from a site called All Things Frugal and it makes a bunch!
I made a half batch yesterday and they were terrific. The big question is why is "chewy" in the original title? With a crust of oatmeal, graham crackers and peanuts, mine baked up crispy and brittle – a borderline candy, but not too sweet and packed with peanut flavor. I thought these tasted even better the second day.
Here's a terrible picture for you. Turns out the bulbs I got for my light box were too high a wattage and now everything looks overexposed. I have to dim the lights by putting paper over them and the light is still not right. I have half a mind to run out and buy a super camera like Bakerella's (Canon XTi) so I can kick the light box to the curb and start taking some good shots.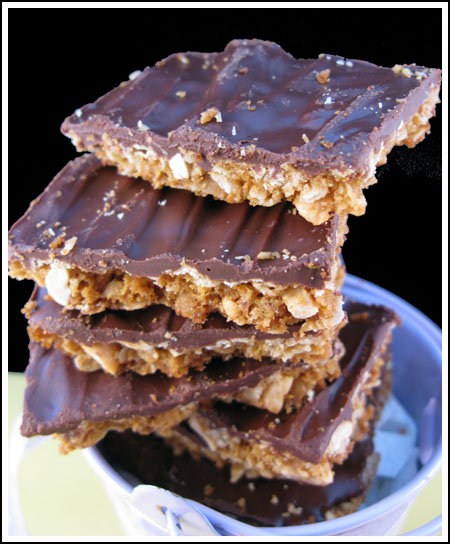 Chocolate and Peanut Bars
2 cups oatmeal
1 cup graham cracker crumbs
3/4 cup packed light brown sugar
1/4 tsp baking soda
1/2 cup salted peanuts, chopped
1/2 cup light corn syrup
1/2 cup melted regular butter
1 tsp vanilla
1 cup semi-sweet chocolate chips
1/2 cup peanut butter
Preheat oven to 375 F.
Line a 15×10 inch jelly roll pan with foil and spray foil with cooking spray. If you're halving the recipe, use a 9 inch pan.
Combine oatmeal, graham wafer crumbs, sugar, baking soda and peanuts in a large mixing bowl. Combine corn syrup, melted butter and vanilla in a second bowl or large measuring cup. Pour corn syrup mixture over oat mixture and mix well. Press into pan and bake for 15 minutes. If making a half batch, bake 13 minutes. Melt chocolate chips and peanut butter together in a bowl set over barely simmering water or using medium-low setting of microwave and stirring every 30 seconds. Spread chocolate over warm baked crust. Cool for about 20 minutes at room temperature, then transfer to refrigerator for about 20 minutes to partially set. Lift from pan by grasping foil, then cut into squares.
Return to refrigerator to fully set.