Chewy Chocolate Chip Cookies with Glucose were inspired by a recipe I saw on Martha Stewart's website -- Blueberries and Cream Cookies.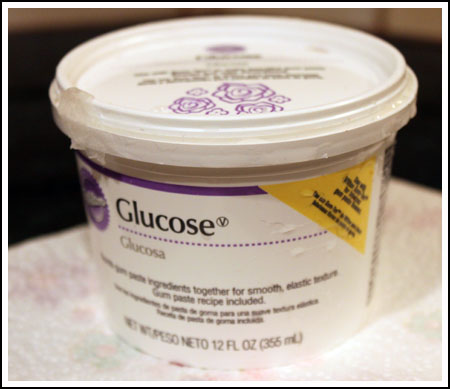 Chewy Chocolate Chip Cookies
Glucose syrup was not something I'd expected to see in a Martha Stewart recipe, but her guest that day was a pastry chef at New York City's Milk Bar, where they make a variety of unique cookies with interesting ingredients. According to the chef, glucose syrup (which seems to be more common in UK based recipes) gives cookies a better mouth feel, which in the case of the the Blueberries and Cream Cookies was a cookie with hard yet crispy edges and a dense, heavy and chewy center.
I didn't care too much for the flavor of the blueberry cookies, but I loved the texture and tried to duplicate it in chocolate chip cookies by using glucose instead of some of the sugar. The results were what I'd hoped for -- a heavy cookie with very crispy edges and a dense chewy center. It had a commercial texture to it, but the flavor of homemade. Another thing I noticed was that cookies I baked yesterday tasted fresh today, so I think the glucose might act as a preservative and contribute to extra chewiness.
So if you happen to have some glucose syrup or feel like picking some up in the cake decorating aisle at your local craft or cake decorating store, you might want to try recipe. I'm still in the process of testing the cookies out on real live people to see if they can tell the difference.
Giant Chocolate Chip Cookies with Glucose
114 grams (4 oz) unsalted butter (½ cup), cold and cut into chunks
100 grams dark brown sugar (½ cup) -- light brown okay too
25 grams granulated sugar (2 tablespoons)
40 grams glucose syrup (2 tablespoons)
1 teaspoon vanilla
48 grams beaten egg (1 large)
½ teaspoon baking soda
¼ teaspoon salt plus a pinch
160 grams all purpose unbleached flour (1 ¼ cups)
170 grams cup semisweet chocolate chips (1 cup)
Using an electric mixer, beat the cold butter until it is creamy. Add both sugars and the glucose and beat for another 2 minutes. Beat in the vanilla and the egg. Scrape sides of bowl and beat in baking soda and salt. Scrape sides of bowl again and stir (by hand or using lowest speed of mixer) the flour. Stir in the chocolate chips.
Chill dough for a couple of hours or overnight if you have time.
Shape the dough into 10 large mounds. To get the bake-time right, you might want make just a few rounds at a time.
Set the dough mounds on parchment lined cookie sheets and press down slightly. Bake in a pre-heated oven at 325 F. for 16-18 minutes or until edges are brown. Centers will look sort of pale, but they will brown as they cool. Cool on cookie sheets for about a minute, then transfer to cooling rack to cool and crisp.
Makes 10 large cookies