These Red Velvet Cupcakes are adapted from the Red Hot Red Velvet Cake recipe in the book Baked, New Frontiers in Baking. Up until recently I had way too many Red Velvet recipes. I went back and re-baked some to see which ones were the best, and this recipe still rises to the top. The cupcakes aren't really high rising and bouncy, but they are deeply flavorful. They also have more chocolate than some other recipes, and I'm starting to like red velvet with more chocolate.
Darker Red Velvet
Back when I first made these (with help from a reader named Louise), I mentioned the cupcakes were too brown, too chocolatey and not red enough for me. My tastes have changed a bit. I now like the darker style Red Velvet too.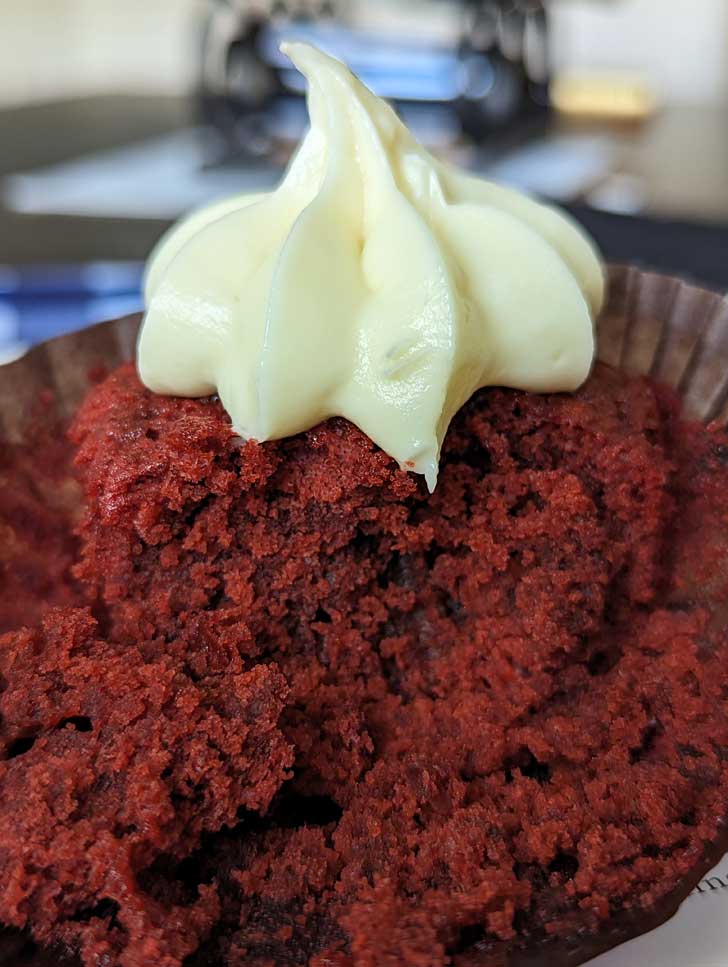 Amount of Butter and Oil
What's interesting about this recipe is that it was adapted from a cake recipe and didn't require changes to the amount of fat. Sometimes cupcakes need a little more oil or butter than their cake counterparts, but this recipe worked just fine without any real big ingredient changes. I have used different kinds of red colorings over the years, though.
Goodbye Cinnamon Frosting
The original cake was called Red Hot Velvet Cake because it was frosted with a fluffy cinnamon frosting. I gave up on making the cinnamon frosting because I will always choose regular cream cheese flavor over a cinnamon flavored frosting. So this recipe includes a cream cheese frosting. I have too many favorites, but lately I've been using one adapted from Martha Stewart which has 8 oz butter, 12 oz cream cheese and 4 cups of powdered sugar. I think the standard ratios are 4 oz butter, 8 oz cream cheese and 4 cups of powdered sugar, which I find too sweet.
Powdered Buttermilk
Here's a picture of some powdered buttermilk. Back when I first posted this, we discussed how we both liked using it. It's still a staple at our house, though lately I've been using Bob's Red Mill brand rather than Saco. Update: I am also using Bob's Red Mill.
Yield
Exact yield may vary depending on what size your cupcake wrappers are.  I use large ones (not jumbo) and get about 18 cupcakes, but if you use regular size cupcake wrappers you may get up to 24.
Recipe