Okay, so you might not find this type of biscotti in Florence (or anywhere else in Italy, for that matter), but it sure was fun to make! It's a striking red color (perfect for Christmas), and the flavor is somewhat like red velvet cake, but leaning more towards chocolate. As a bonus, this recipe is super easy and only calls for a few ingredients, red velvet cake mix being the key.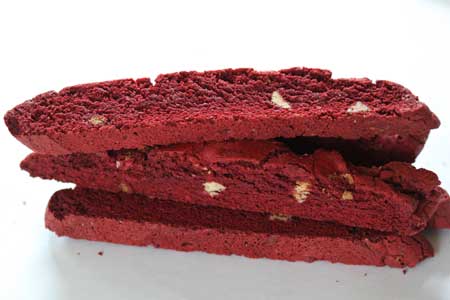 I thought it tasted good, Todd liked it and my mom had some with her coffee (and liked it). I have yet to test it on more discriminating palates, but I may. My only issue with this recipe was that the white chips on top of the biscotti got a little too brown during the baking process. If you use white chips, make sure you bury them in the dough. Pecans and chocolate chips might be good additions as well.
Recipe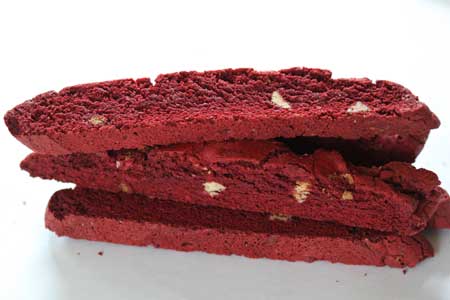 Red Velvet Biscotti
Biscotti made with red velvet cake mix
Ingredients 
1

box

18.25 oz red velvet cake mix

¼

cup

all-purpose flour

1

tablespoon

vegetable oil

2

large eggs

1

cup

white chips or nuts or chocolate chips etc.
Instructions 
Preheat oven to 350ºF.

In a large mixing bowl, mix together the cake mix, flour, oil, and eggs. The batter will be very thick, so you may need to use either the paddle attachment or your hands to get it to come together. Stir in the chips and nuts. Shape the dough into a rectangle about 15x4 inches on an ungreased baking sheet. If you've used the white chips, make sure they're all nestled in the dough and not sticking out on top, otherwise they may turn brown.

Bake the rectangle for about 22 minutes. Remove from the oven and let it cool for half an hour.

Transfer the rectangle to a cutting board and using a serrated knife, make diagonal cuts down the rectangle, spacing about ½ to ¾ inch between each cut. Stand the cut pieces up on the baking sheet and bake at 350 for about 12 minutes. Check to see how hard the edges have become. If they don't seem quite crisp enough and the centers are still soft, turn off the oven and let the biscotti sit in the warm oven for about 10 minutes. Remove from oven and let cool completely.