This is an old post from 2010 where I discovered that olive oil was actually really good in brownies. I'm updating this in 2021 and Olive Oil Brownies have been "a thing" for a while now. Future Anna agrees with Past Anna that olive oil and brownies are a good pairing. I should make them more often.
Olive Oil Brownies
We've become a little obsessed with olive oil, so I was happy to stumble across this recipe for olive oil brownies made with extra virgin. Would a robust, fruity, olive oil really go well with chocolate?  The recipe was simple, so I decided to find out.
I made the olive oil brownies late yesterday and let them chill overnight. By some miracle, I was able to wait until today to try them.
Because I'd chilled them (which is always a good idea if you want to cut brownies neatly), they were very dense, firm, stackable and seemed suitable for wrapping decoratively and giving away. And they tasted great! You can definitely taste the olive oil, and in this case it comes across as kind of a light, fruity, undertone which doesn't overwhelm any of the other flavors. I would definitely make these again.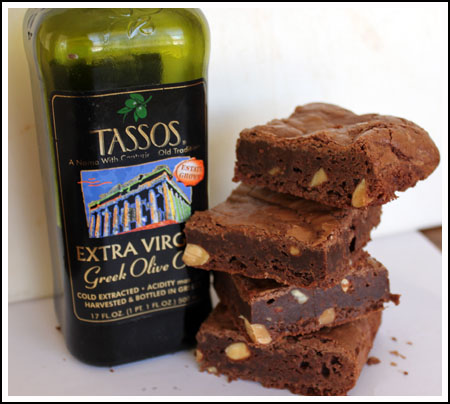 About the ingredients. For the chocolate, I used Ghirardelli 72% because that's what I had on hand. I wouldn't use anything less than 72% cacao because these brownies were on the sweet side -- not in a bad way, but I wouldn't want them any sweeter. For the olive oil, I used a Greek brand called Tassos which is definitely very fruity and flavorful.
This is a very good recipe and I wish I'd tried it sooner. I'm not sure of the original source since it appears in many places on the web and is attributed to different people, but I believe the source is a book called Adventures of an Italian Food Lover.
Recipe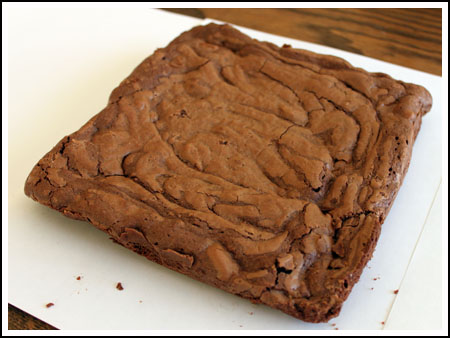 Olive Oil Brownies
Brownies made with olive oil
Ingredients 
4

ounces

bittersweet chocolate, 70% chopped

(114 grams)

⅓

cup

extra virgin olive oil

2

large eggs

at room temperature

¾

cup

granulated sugar

(150 grams)

1

teaspoon

vanilla extract

¼

teaspoon

sea salt

½

cup

70g all-purpose flour

⅔

cup

70g almonds, roasted, unsalted -- chopped
Instructions 
Preheat the oven to 350F Line an 8-inch (20cm) square baking pan with foil and spray foil with cooking spray.

Melt the chocolate in the microwave or in a bowl set over a pan of barely simmering water. Whisk in the olive oil and set aside to cool slightly.

Beat the eggs and sugar in a mixing bowl using high speed of an electric mixer for 5 minutes. Beat in the vanilla and salt, then fold in the cooled chocolate mixture. Fold in the flour, then gently stir in the nuts. Pour into the prepared pan.

Bake for 20-25 minutes. Mine became aromatic at 20 minutes and at 25 minutes, they had a shiny, dry, slightly crackly top and looked gorgeous. Let cool completely. Cut into squares.