I don't bake a lot of strawberry bread, but sometimes people ask for a recipe and I do have one. Or at least I did. The one I used to make was good, but at the time I was into reducing oil and substituting fruit puree or applesauce. My cooking style has changed over the years, and I now make the strawberry bread with olive oil. In addition to using olive oil, I really like making it as small loaves rather than one large. Here's a picture of the latest loaf.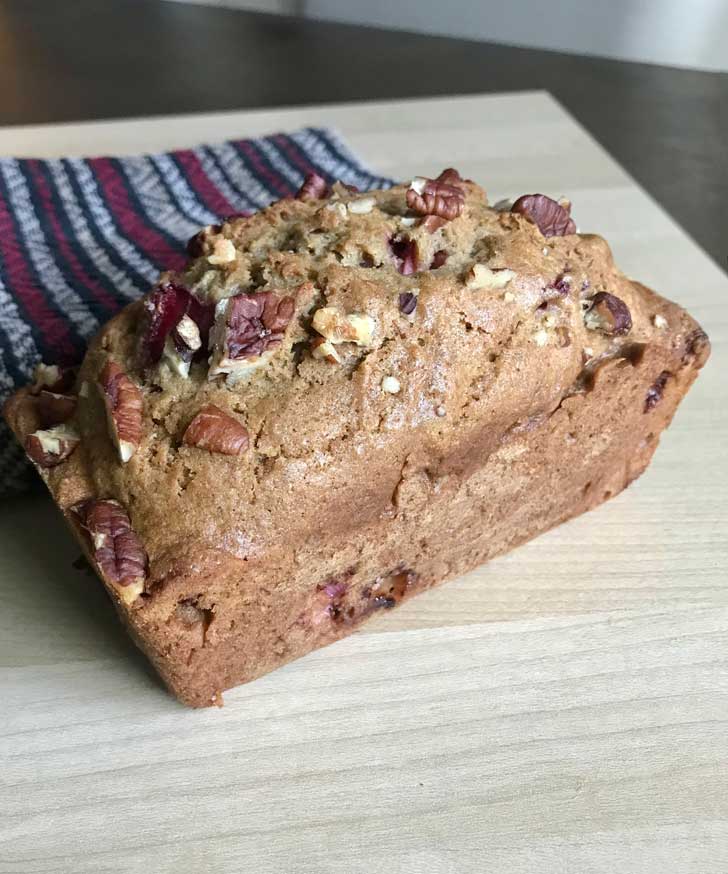 Olive Oil and Strawberry Bread
Our family loves olive oil, the stronger the better. My favorite brands are Corto, Monini and Costco's Tuscan, when I can find it. I also like Trader Joe's Sicilian and anything by California Olive Ranch and the Spanish Hojiblanca. In the past I would have been hesitant to use any of these robust flavored extra virgin olive oils in strawberry bread, but we've become so accustomed to the flavor of olive oil that I decided to just throw in a half cup. Wow! It really made the flavor pop, but it didn't seem overpowerling. It just amplified the other flavors.
Strawberry Bread Texture
I'm all for changing recipes, but if you want to guarantee a moist, not spongy, slightly crumbly strawberry bread then it's best to use the full amount of oil and sugar. It may look like a lot on paper, but the ½ cup oil and cup of sugar are in balance with the other ingredients. When made as directed, this recipe is not at all greasy or mushy. The texture is sturdy and a good contrast to the soft strawberries. The bread is not overly sweet, and I'm pretty sure cuttting the sugar would make it too dry. So for the first round of baking, I recommend following the recipe as written before making any changes. Also, I recommend measuring by weight for ingredients that list a weight.
Loaf Pan Size
I've made enough stubby quick breads to know that loaf pan size is important! For this recipe, you'll want to use an 8x4 inch loaf should you choose to make one large, or two 3x5 small loaf pans such as the ones from the Wilton set. For a double batch of this bread, you can use 1 9x5 inch loaf pan or four of the small ones. One benefit of making smaller loaves is that the small loaves seem to rise higher. I think ceramic loaf pans would also work well. I've noticed when I bake in ceramic loaf pans, I often get a big hump in the center. This has to do with how the heated is conduced through the pan's material.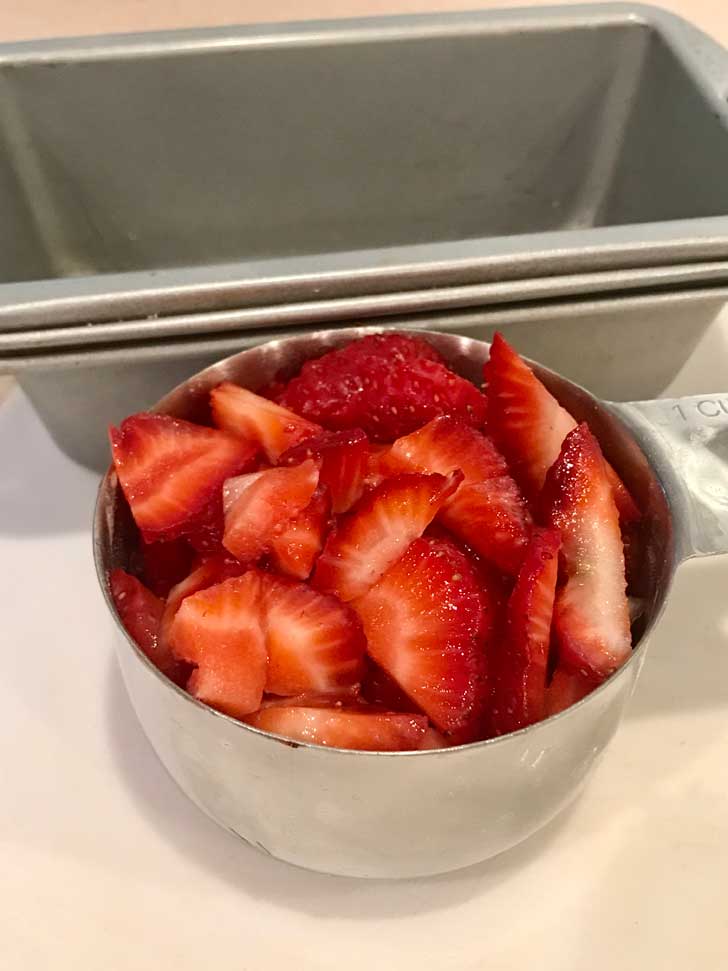 The ingredients are pretty basic, but here's the rundown.
Ingredient Notes
Strawberries -- 1 cup thinly sliced. I forgot to weigh the strawberries, but will add the weigh next time I make this. The cup of strawberries seemed like a lot, but once baked it didn't seem like there were too many of them.
Granulated Sugar -- In balance with the other ingredients, one cup will not make the bread too sweet. You can use anywhere from 185 to 200 grams. 1 tablespoon of the sugar gets sprinkled over the strawberries to draw out their juices.
Flour -- I used a mix of whole wheat and AP. The more whole wheat you use, the dryer, but using a fraction of whole wheat adds color, flavor and interestingness.
Baking Soda
Salt -- Morton brand kosher
Cinnamon -- I used 1 ¼ teaspoon
Cardamom -- I put it in one of the loaves because Fuzz loves cardamom. If you are a cardamom fan, it's a good addition, otherwise leave it out and the loaves will still have plenty of flavor.
Eggs -- large
Olive Oil -- I poured it in a measuring cup and weighed it. It was 100 grams. The kind I used for this batch was fruity Hojiblanca.
Vanilla
Pecans -- You can put them both in the bread and on top or just the top. For this last batch I forgot to put them in the bread and sprinkled them on top only. The pecans are a great addition and balance the sweetness.
Recipe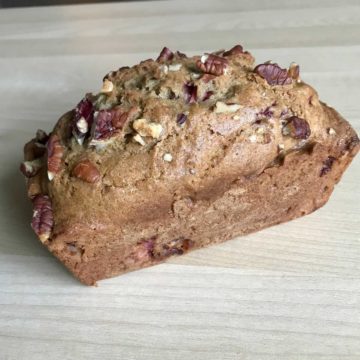 Strawberry Bread Recipe
This recipe is designed for a smaller (8x4 inch) loaf pan or you can make it in two 5x3 inch loaf pans.
Ingredients 
1

cup

sliced strawberries

1

cup

granulated sugar (scant cup)

(190 grams)

1 ½

cups

flour (I used 70 grams whole wheat and 140 grams white)

(210 grams)

½

teaspoon

baking soda

½

teaspoon

salt

1 ¼

teaspoon

cinnamon or use 1 teaspoon cinnamon and ⅛ cardamom

2

large

eggs

½

cup

vegetable oil or extra virgin olive oil

(100 grams) -- I weighed it in the cup

¾

teaspoon

vanilla extract

⅓

cup

toasted chopped pecans
Instructions 
Preheat oven to 350 degrees. Grease an 8x4 inch loaf pan or two 3x5 inch pans and line with strips of parchment.

Toss 1 cup of strawberries with 1 tablespoon of the sugar (from the original 1 cup). This softens them and draws out some strawberry juice which goes into the bread.

In the mixing bowl, mix the remaining sugar with the flour, baking soda, salt, and cinnamon.

Make a well in the center and add eggs, oil, and vanilla.

Stir everything together until partially blended, then stir in half of the pecans and all of the strawberries along with any juice/syrup they've rendered.

Scrape (it should be thick) into loaf pan or small loaf pans and sprinkle remaining pecans over the top.

Set loaves on a baking sheet and bake for about 45 to 50 minutes (internal temp should be around 205 )or until set. Let cool in the pan for about 15 minutes, then turn from pan and let cool completely.