It may take a backseat to banana and zucchini bread, but strawberry bread deserves some love!  It's much better than it sounds.  Then again, it actually sounds kind of good — for me, it was the idea of cooked strawberries that was a turnoff.  They're not exactly pretty.  But something happens when you combine strawberries with cinnamon and bake them into bread.   The flavor is fantastic, and while the chunks of cooked strawberries are not very attractive, their texture is soft and sweet and not gummy.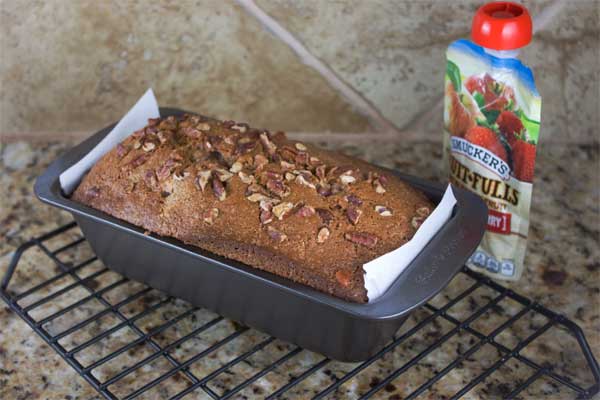 The "problem" is that most versions of the recipe call for a ton of oil — usually 1 1/4 cups for 2 small loaves. If  it's your first time making strawberry bread, you might want to forget the idea of cutting back on it and taste strawberry bread the way it's meant to be, but if you're interesting in replacing some of the oil with fruit puree, there's a new product you might want to try called Smucker's Fruit-Fulls. The pouches are marketed as an on-the-go fruit snack, but I plan on using them as a fat substitute and moisture enhancer for baked goods. The Strawberry-Apple Fruit-Full worked perfectly in this bread.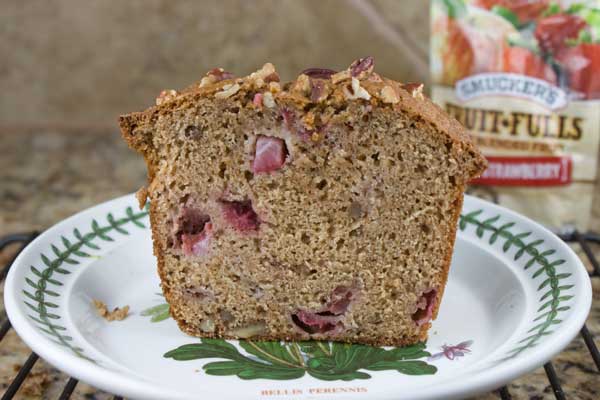 This bread has less fat and a little more of a "wheat" texture than the original version, but it's still pleasant and not rubbery or "weird". It's just less greasy and filling and more suited for breakfast than an oil-rich bread. A concern I had before baking it was that the Apple Strawberry Fruit-Fulls would make the bread too sweet, but it didn't despite the fact the recipe contains a lot of sugar. My next experiment will be replacing half of the sugar with an alternative sweetener to cut calories, but my concern is it will make the bread dryer since sugar generally promotes moisture.
To sum it up, I'd make this bread with a mixture of apple puree (Fruit-Fulls) for the family and we'd thoroughly enjoy it, but if I were making it for a brunch or office party, I'd use the oil.  Another tip is to use a small 8×4 inch loaf pan.  They're harder to find than 9×5 inch loaf pans, but when you bake in the smaller pans the loaves are taller and more stately. I found my 8×5 inch loaf pans by doing a search.  They're Baker's Secret.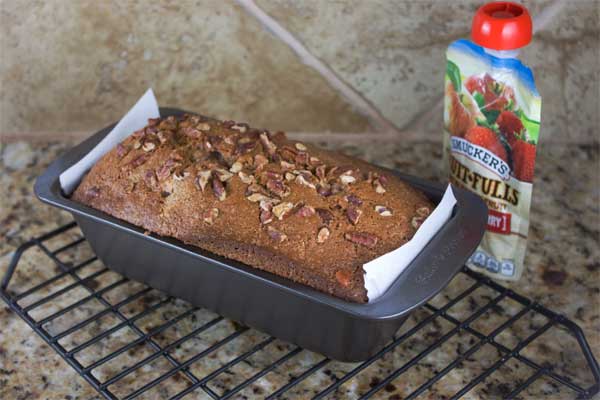 Strawberry Bread Recipe
One loaf of strawberry quick bread. This recipe uses applesauce or fruit puree in place of some of the oil, but you can stick with oil if you prefer.
Ingredients 
1 1/2

cups

7.5 oz flour (I used ¾ cup whole wheat and ¾ cup all-purpose)

1/2

teaspoon

baking soda

1/2

teaspoon

salt

1 1/4

teaspoon

cinnamon

1

scant cup granulated sugar

2

large eggs

room temperature

2

tablespoon

vegetable oil

1

4 oz packet of Apple-Strawberry Fruit Fulls Pure Blended Fruit OR ½ cup oil OR ½ cup unsweetened applesauce

1

teaspoon

vanilla extract

2/3

cup

toasted chopped pecans

1/3

cup

3 oz finely chopped strawberries
Instructions 
Preheat oven to 350 degrees. Grease and flour an 8x4 inch loaf pan. You may use a larger loaf pan, but the bread will be shorter and stubbier and won't require as much baking time.

Mix the flour, baking soda, salt, cinnamon and sugar together in a large mixing bowl.

Make a well in the center and add eggs, oil, fruit puree, and vanilla.

Stir everything together until blended, then stir in half of the pecans and the strawberries.

Scrape (it should be thick) into loaf pan and sprinkle remaining pecans over the top.

Bake for about 45 to 55 minutes or until set. Let cool in the pan for about 15 minutes, then turn from pan and let cool completely.