Today's recipe is for Allison, who requested a good lemon muffin recipe. I tend to flit from muffin recipe to muffin recipe and still don't have a favorite, but this one was very good. My only complaint is it's a bit rich. It doesn't taste bad – exactly the opposite, but it's got a full stick (4 oz) butter to 1 cup flour, which is proportionately high. Still, people like moist muffins and if you have a friend who likes things rich and moist, these are perfect. I also think this recipe might work well for mini-muffins, which can be dry if not made with plenty of butter.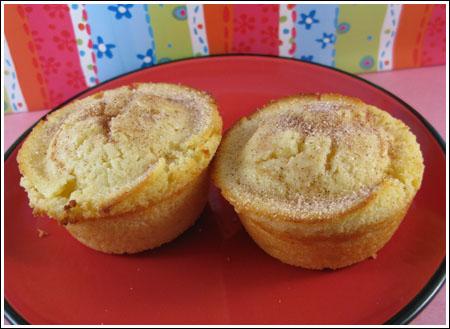 Rich Lemon Muffins
1 cup all purpose flour (140 grams)
1 teaspoon baking powder (5 ml)
1/4 teaspoon salt (1.25 ml) – if using salted butter, use 1/8 tsp.
8 tablespoons unsalted butter (114 grams)
1/2 cup granulated sugar (90 grams)
1/4 teaspoon vanilla (1.25 ml)
2 large eggs
1 tablespoon fresh lemon zest (15 ml)
3 tablespoons lemon juice (45 ml)
Preheat oven to 375 degrees F (190 C). Spray 6 to 8 muffin cups with flour-added cooking spray or grease well.
Mix together the flour, baking powder and salt and set aside.
In a mixing bowl, using an electric mixer, cream the butter and sugar. Scrape sides of bowl and beat in vanilla. Add eggs one at a time, beating for 30 seconds after each egg. Stir in the lemon zest and lemon juice. Add flour mixture and stir just until it is mixed in.
Spoon batter into muffin tins, dividing evenly (it should come almost to the top). If desired, sprinkle with cinnamon/sugar (see note at bottom)
Bake for 15 minutes. Cool in pan for about 5 minutes, then flip from pan.
I used 1 tablespoon sugar mixed with ½ teaspoon cinnamon, but didn't use all of it.