Janet's Blender Vinaigrette is a special salad dressing from my friend Janet.  It's well suited for Spring Mix and softer lettuce blends because it clings lightly to the leaves and adds so much flavor that you really don't need to use much.
Since I began making it, I've varied the vinegar, oil, and herbs while still sticking to the base formula. It's simple to prepare and you can do it in a blender or food processor, but I like to make half or quarter batches in the little chopper cup that came with by immersion blender.
So here's the recipe. It's from Southern Living, but you should probably name it after yourself or take some sort of ownership like Janet and I did.
Also, sorry the picture is of salad rather than the dressing itself, but I needed some sort of visual and last night's batch was made with with red onion and red wine vinegar. I didn't want to showcase my pink dressing, but it still tasted great.
Update: I haven't heard from Janet in a while, but I still make her blender vinaigrette often.
Recipe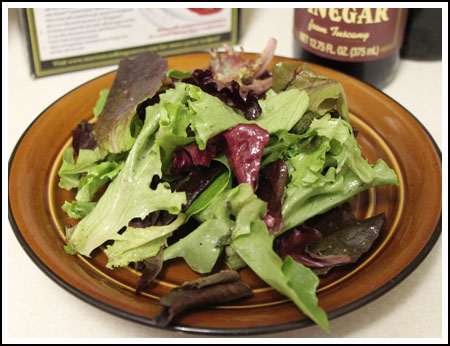 Janet's Blender Vinaigrette
An excellent salad dressing recipe given to me by Janet. I usually make half a batch and use a small Cuisinart Mini Chopper with tiny holes in it that allow you to pour in the oil and make an emulsion. I also use the smaller amount of oil so my dressing is sweeter and more acidic.
Ingredients 
½

cup

cider vinegar

or white wine vinegar

3

Tbs

chopped onion

2 ½

Tbs

sugar

1-3

large cloves garlic

I always use the max!

1

tsp

each salt

dry mustard

½

tsp

pepper

½ to 1

cup

vegetable oil

or olive oil, of course
Instructions 
Combine all except oil in blender and blend (I do this in a miniature food processor).

While blender is running, slowly add oil in slow steady stream.