Honey Bear Brownies is a recipe I spent 30 years avoiding. Frankly, brownies flavored with honey just didn't sound good. I like hone small doses, but 1/3 cup to a 9 inch pan of brownies seemed like a lot. What inspired me to try these? Desperation. I feel like I've tried brownies in every way imaginable and figured I might as well test the honey type. After all, Hershey's liked it enough to put it on the back of the cocoa tin at one point so it couldn't be that bad.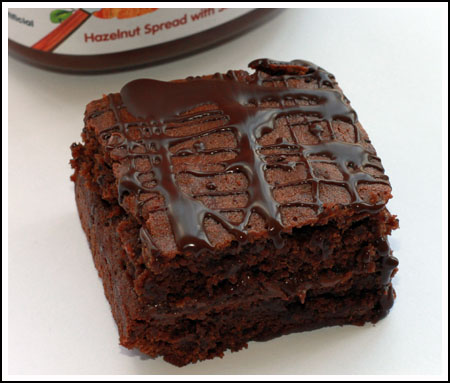 And what a surprise! The honey morphed into a new and better version of itself when mixed with chocolate and made quite a tasty brownie.
Honey Bear Brownies Texture
The texture of the brownies was unusual too. They weren't as chewy as most, but were definitely dense and rich. Because they were thin, I had a last minute urge to sandwich Nutella between the brownies. At first the brownies were a little messy, but chilling solved that problem and they sliced quite neatly when cold. The drizzle of chocolate pulled everything together. A topping of hazelnuts would have REALLY pulled everything together, but I didn't have any.
As I was taking a picture of this brownie for you, it occured to me that these would also make great ice cream sandwich brownies. So if you don't have Nutella, you might try using the same technique below, but with softened ice cream.
Recipe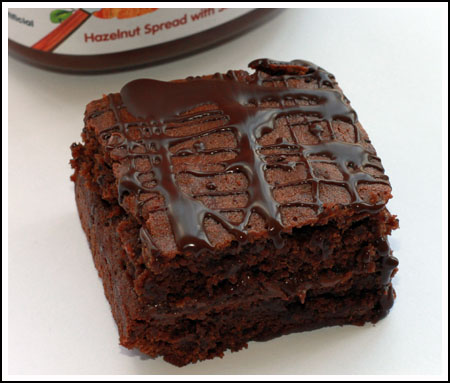 Honey Bear Brownies with Nutella
Brownies made with honey and topped with chocolate hazelnut spread
Ingredients 
1/3

cup

unsalted butter

3/4

cup

granulated sugar

1/3

cup

honey

2

teaspoons

vanilla

2

large eggs

1/2

scant teaspoon salt

1/2

cup

fluffed up and scooped or spooned all purpose flour

2.25 oz

1/3

cup

unsweetened cocoa powder

¼

cup

Nutella –optional

2

ounces

good quality semi-sweet chocolate

not chips
Instructions 
Preheat oven to 350 degrees F. Line a 9 inch metal pan with foil and grease foil or line with parchment.

Beat butter and sugar together in a small bowl using an electric mixer. Beat in the honey and vanilla. Add eggs one at a time, beating for 30 seconds after each egg. Beat in the salt.

Combine flour and cocoa. By hand (so as not to overbeat), stir the flour mixture into the batter.

Spread the batter in the pan going all the way to the edges. Bake on center rack for 25 minutes or until brownies test done.

Let cool completely in pan.

Carefully lift brownies from pan and trim ratty edges (make sure to taste test. It's imperative!). Cut in half two make two 9x 4 inch slabs. Spread Nutella over one slab. Stack second slab on top. Set the brownies back in the pan and chill for about an hour – this makes slicing neater.

With a large knife, slice the brownie slab into 8 squares.

Set the squares on a cooling rack. Melt the chocolate in a bowl set over but not touching a pan of barely simmering water. With a teaspoon, drizzle the chocolate over the brownie squares. Set the squares on a plate or back in the pan and chill until chocolate is set.

Makes 8 big ones, or you can cut them smaller.