Honey Bear Brownies is a vintage recipe from the side of an old Hershey's Cocoa tin. I shared it back in 2010, after admitting I'd been avoiding it because brownies made with honey didn't sound appealing. But I'd been looking for something a little different and ended up loving the brownies! Ah, but I guess not enough to leave them alone. I split them in half and filled them with Nutella. Now I appreciate them closer to their original form, which is with a handful of chocolate chips or nuts.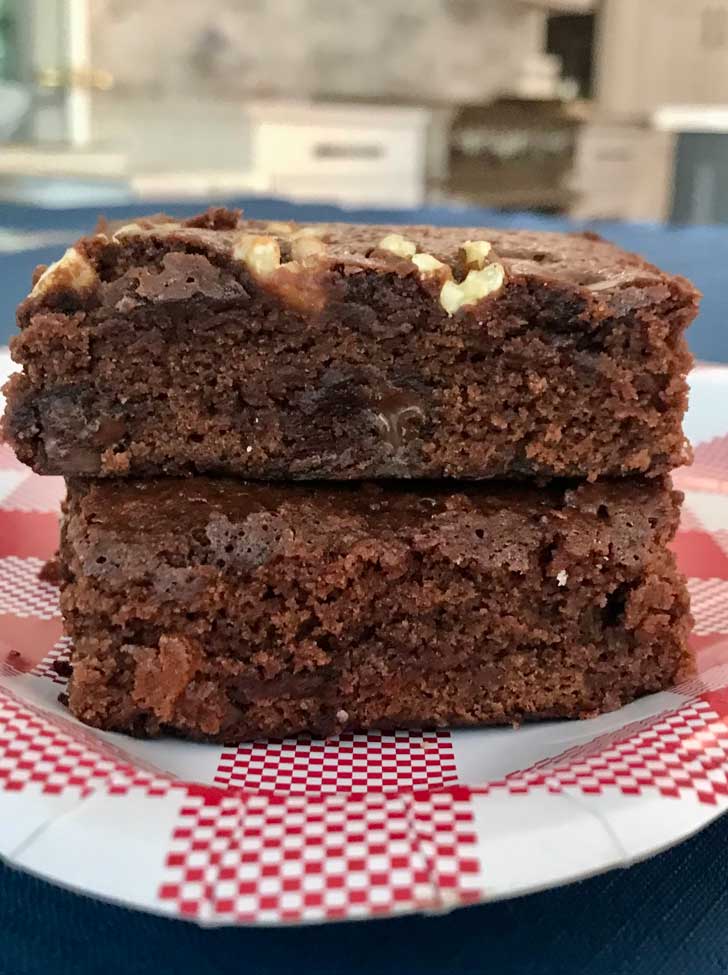 Honey Bear Brownies Texture and Flavor
Any brownie recipe that starts with creaming butter and sugar is almost sure to be slightly cakey, and these would be were it not for the honey. It does its part by softening up the texture and locking in moisture. It adds a little flavor, but there's so much cocoa powder that the honey flavor morphs into something more delicious. Even children who aren't so into honey will like these. I can see why I felt compelled to add Nutella back then, but the brownies don't need it. A handful of chocolate chips in addition to or as a replacement for the nuts does the trick.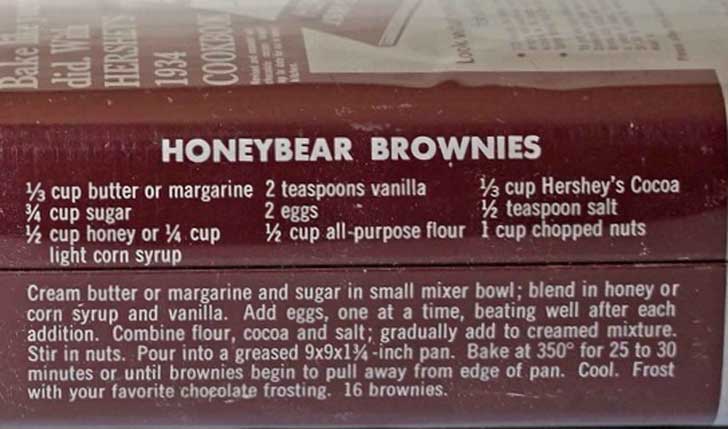 Wait, How Much Honey???
One thing I noticed after finding the original version on the tin is that it actually calls for ½ cup of honey. For years, I'veused only ⅓ cup (110 grams)! So I made a batch with ⅓ cup of honey and ½ cup of honey (110 grams compared to 140 grams) and liked both. If you plan on adding a lot of chocolate chips, go low. If you prefer nuts, go higher. Anywhere between ⅓ and ½ cup should work.
Honey Bear Brownies Pan Size
The original recipe calls for a 9-inch square pan in which the brownies are baked for 25 to 30 minutes. You can stick with that size pan if you like, but since 8-inch pans are more common I tested the recipe in an 8-inch pan. As you would expect, they came out thick! I like the thick ones better.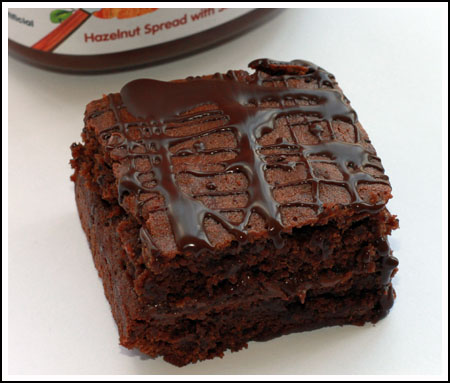 Recipe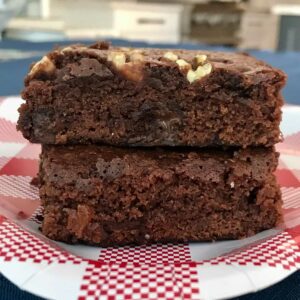 Honey Bear Brownies
Ingredients 
⅓

cup

unsalted butter, soft

(75 grams)

¾

cup

granulated sugar

(150 grams)

⅓

cup

honey or up to ½ cup which would be 140 grams

(110 grams)

2

teaspoons

vanilla

2

large

eggs

½

teaspoon

salt

½

cup

fluffed up and scooped or spooned all purpose flour

2.25 oz (67 grams)

⅓

cup

unsweetened cocoa powder

(28 grams)

½

cup

chocolate chips

not chips

walnuts for top (optional)
Instructions 
Preheat oven to 350 degrees F. Line an 8-inch or a 9-inch metal pan with foil and grease foil or line with parchment.

Beat butter and sugar together in a small bowl using an electric mixer. Beat in the honey and vanilla. Add eggs one at a time, beating for 30 seconds after each egg. Beat in the salt.

Combine flour and cocoa. By hand (so as not to overbeat), stir the flour mixture into the batter, then stir in the chocolate chips. You can sprinkle more on the top if you like.

Spread the batter in the pan going all the way to the edges. Bake on center rack for 25 minutes for a 9-inch pan or up to 30 minutes for the 8-inch.

Let cool completely in pan.

Carefully lift brownies from pan and trim edges.

With a large knife, slice the brownie slab into 8 squares.

Makes 8 big ones, or you can cut them smaller.