This recipe is for small batch macaroni and cheese makes enough to serve 2 to 3 people as an entree or 4 as sides. I love it, but don't make it very often because Todd's not a cheese fan and until recently Fuzz has always preferred the box type. Over the past 2 years she's been warming up to scratch macaroni – even critiquing it and giving tips. She likes the creamy type best, doesn't care for crumbs or any sort of crunchy bits on top, and prefers a combination of cheddar, American and cottage cheese. This one was a big hit.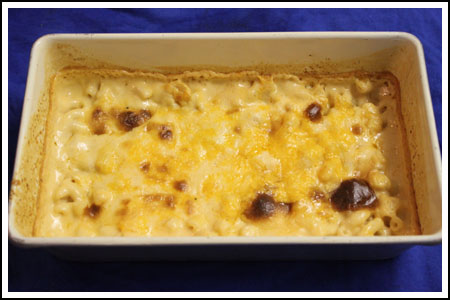 I adapted the recipe from an old New York Times article and it's the easiest scratch macaroni and cheese I've ever made. The milk mixture does involve a quick spin in the blender, but the rest of the recipe is assembled right in the pan. You don't even have to boil the macaroni!
The batch from last night was very good. It wasn't as creamy as saucepan macaroni and it did clump a little, but it retained enough sauce so you get best of both worlds. Below is how I made it, but there's room for improvisation with the spices and types of cheese. I used what I had on hand which was a combination of sharp cheddar and some process American slices I had bought with a coupon. Say what you will about process cheese slices, but they melt really well.
Update:  Melissa Clark at The NYT recently shared a new version of the full batch version which might be even creamier.
Recipe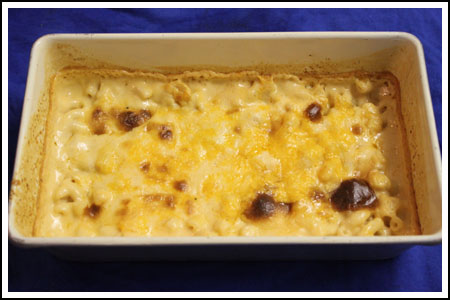 Small Batch Macaroni and Cheese
Small Batch Baked Macaroni and Cheese is baked in a loaf pan. The macaroni is not boiled so it's very easy to throw together, though you do need to have a blender or food processor handy to puree the cottage cheese.
Ingredients 
Some butter for greasing the pan

⅔

cup

cottage cheese – low fat works

but regular is better

1

cup

whole milk**

½

teaspoon

dry mustard

Pinch

cayenne

¼

teaspoon

salt

⅛

teaspoon

freshly ground black pepper

8

oz

2 cups shredded or grated cheese – I used a combination of cheddar and American

¼

pound

elbow pasta

uncooked.
Instructions 
Preheat oven to 375 degrees. Rub a 9x5 inch loaf pan with butter or spray with cooking spray.

In a blender or food processor, purée cottage cheese, milk, mustard, cayenne, salt and pepper.

Put the dry macaroni in the loaf pan. Set aside ¼ cup of the shredded cheese, then toss the remaining cheese in the loaf pan with the dry macaroni. Pour the milk mixture over the top and stir it all together in the loaf pan. Cover loaf pan tightly with foil.

Bake covered for 30 minutes. Remove foil, stir well, bake for another 30 minutes. About 15 minutes before macaroni is ready, sprinkle with the reserved cheese. Total cook-time is 1 hour. Let sit for about 8-10 minutes before serving.

Makes 3 or 4 side dish servings

**If you don't have any whole milk you can use a cup of 2% minus 1 tablespoon, then add in 1 tablespoon cream. That is, if you have cream in the house.