Over the years this fool-proof lemon meringue pie has become one of my go-to recipes.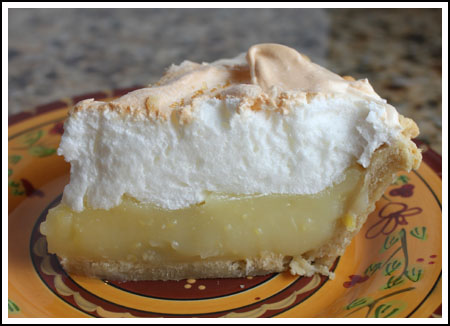 The original recipe is from a 1997 Sunset Magazine annual, and it came with a helpful article on how to make Lemon Meringue Pie. I liked the article because it had just enough science not to overwhelm. Basically, the author says making lemon meringue pie is easy if you use the right thickener and add the ingredients in the right order. She says cornstarch is the thickener of choice, but that the trick is to mix it with cold water first, add the other ingredients (including the egg yolks) and add boiling water last. As simple as that was, it worked and the filling was perfectly smooth, translucent and stiff enough to cut nicely. This filling has less butter than some of my other pies so it's nice and tart.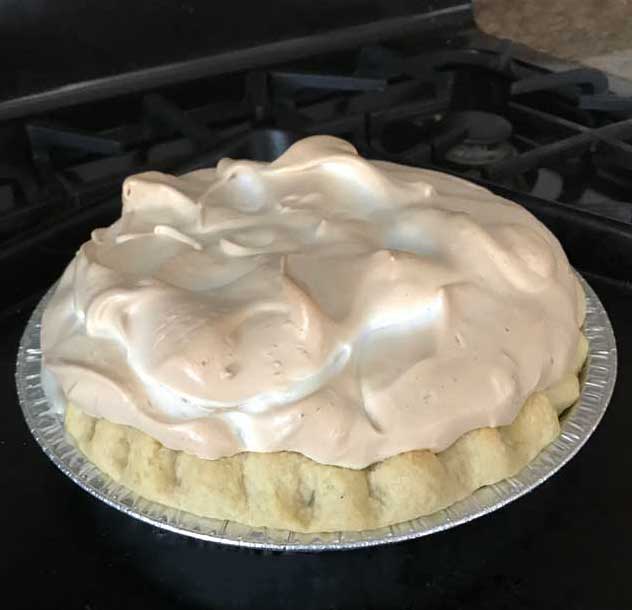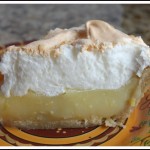 Print Recipe
Fool-Proof Lemon Meringue Pie
An easy, basic recipe for tart lemon meringue pie
Ingredients
Filling:
1 1/4

cups

granulated sugar

6

tablespoons

cornstarch

1/8

teaspoon

salt

½

cup

cold water

1

tablespoon

grated lemon zest

1/2

cup

lemon juice

4

large egg yolks

1

tablespoon

butter

room temperature

1 1/2

cups

boiling water

Baked 9-inch pie crust
Meringue:
4

large egg whites

room temperature

1/4

teaspoon

cream of tartar

1/2

cup

granulated sugar mixed with 2 teaspoons of cornstarch
Instructions
Assemble all the ingredients – especially meringue ingredients. By this I mean have the egg whites in the mixing bowl ready to be beaten and the cream of tartar, sugar and cornstarch measured and ready.

In a 2- to 3-quart sauce pan that is not yet set over heat, mix 1 1/4 cups sugar with 6 tablespoons cornstarch and salt. Whisk in 1/2 cup cold water, lemon zest, and lemon juice, blending thoroughly. Whisk in the egg yolks. Add the butter and whisk in 1 1/2 cups boiling water.

Set pan over medium or medium high heat and stir with a flexible heat-proof spatula scraper or wooden spoon until mixture boils, about 5-7 minutes. Reduce heat to medium and stir filling 1 minute more. Pour filling into pie crust and quickly make meringue.

In bowl of a stand mixer using whisk attachment, beat egg whites and cream of tartar until very foamy. Continue to beat at high speed and gradually add the sugar and cornstarch mixture, 1 tablespoon at a time. Then beat until whites hold stiff, glossy peaks. Spoon meringue onto hot pie filling. With a spatula, swirl meringue to cover filling completely, touching the rim of the pie shell.

Bake in a 325 degree oven until meringue is browned, about 25 minutes. Set pie on rack until cool, about 3 hours. Serve immediately or store in a cake cover in refrigerator.