When it comes to choosing ice cream recipes, I'm less adventurous and tend to stick with ones I've made before.   This Marshmallow Fluff Chocolate Ice Cream is one of the first ice cream recipes I ever made and it's kind of special. It's very chocolaty, has about ⅓ the fat as some premium ice cream, is rich and creamy tasting, yet has no cream. The Marshmallow Fluff (aka Marshmallow Creme") gives the ice cream a smooth texture, so you don't get the iciness or grittiness of some lower fat ice cream and ice milks.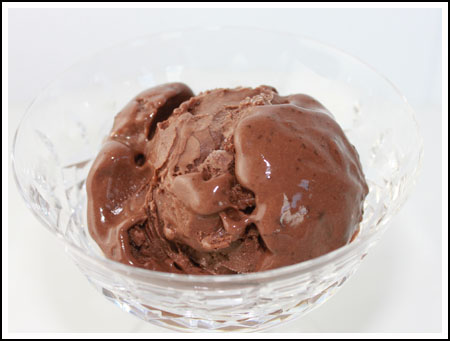 This chocolate ice cream recipe is from a 1994 issue of Eating Well. They have a vanilla version, but I prefer the chocolate version and have made it quite a few times with varying brands of chocolate and cocoa powder. Sometimes I even throw in a couple of tablespoons of malted milk powder.
I've cheated a little with the milk. The recipe calls for low fat, but I've used whole milk on occasion and both versions are good – the whole just tastes (and is) a little richer and kind of defeats the purpose of going to the trouble to make a low fat, marshmallow crème based ice cream.
Do you have a favorite chocolate ice cream recipe? I've grown attached to this one over the years, but need to branch out.  In the meantime, I'd love to know what you think about this one.