This recipe for Greek Yogurt Chicken is originally from Voskos brand yogurt, where it was featured as a recipe from celebrity fitness trainer Christine Avanti. Normally I would have gone straight to the baked goods, but this recipe seemed especially appealing with yogurt, cumin, garlic and parsley and I needed to make something for dinner. The family loved it so much I've made it several times since.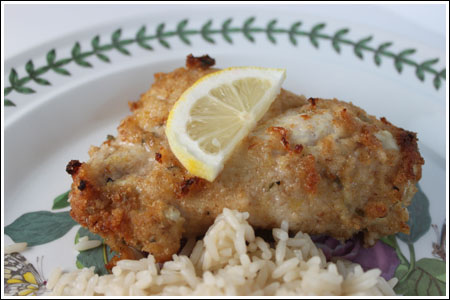 Greek Yogurt Chicken Notes
Greek Yogurt Chicken is a pretty straightforward chicken recipe, but the yogurt soak and the spices come together in a big way. The yogurt tenderizes the chicken of course, but what the  family loved was the flavor from the tang of the yogurt and the zing of lemon and cumin. The recipe gives you a lot of bang for the buck. You can serve it with plain white rice, but it's also fabulous with roast potatoes, basmati rice or just a big pile of steamed vegetables.
Greek Yogurt Chicken
Salt and pepper, to taste
6 boneless skinless chicken breasts, each about 4-5 oz and of even thickness
1 cup of Greek yogurt
1 teaspoon garlic powder
1 teaspoon cumin
1 teaspoon dried parsley
1 tablespoon of lemon or lime juice
1 cup dried bread crumbs or gluten free panko
1 teaspoon lemon zest
2 tablespoons oil for cooking
Season the chicken with a little salt and pepper. Also, be sure that you are using chicken pieces that are an even thickness and not too large. If your chicken breasts are the huge kind that weigh about 10 oz, you'll only need 3 rather than 6. Cut them in half cross-wise and pound to an even thickness.
In a bowl, mix the yogurt with ½ teaspoon each of the garlic powder, cumin and dried parsley and 1 tablespoon of lemon juice.
Place the chicken in a zipper bag and add the yogurt mixture. Marinate in the refrigerator for 30 minutes to an hour.
Add remaining garlic powder, cumin and parsley to crumbs and season to taste with more salt and pepper. Add the lemon zest as well (about a teaspoon).
Preheat the oven to 350ºF. Grease a baking pan or spray with cooking spray. If you happen to have an oven-proof skillet, you can skip the baking pan and just bake the chicken directly in the skillet after after you sauté it.
Coat chicken pieces with crumb mixture.
Heat a little oil in a skillet over medium high and sauté chicken breast on one side. Flip after two minutes or until golden brown crust has formed. Transfer the chicken to the greased baking pan. If using the skillet, drain off any excess oil so that it won't spatter in the oven.
Bake at 350 degrees F. for about 5 to 10 minutes or until the chicken registers 160 degrees F. on a meat thermometer. I usually pull it between 160 and 170 and allow it to stand for a few minutes. Also, the bake time will vary depending on how large your chicken breast is. Squeeze with lemon before serving.