This White Chocolate Cream Coconut Pie is adapted from recipes I found in La Belle Cuisine and Lora Brody's Chocolate American Style
.  It's different from my other favorite coconut cream pies. Instead of a traditional custard layer and a cream layer coconut pie, it's all cream. Instead of being a lighter and slightly more airy cream pie like the one made with a little gelatin (Clairmont Diner Pie), this one is richer and gets its stiffness from the cream and white chocolate, which also adds a lot of flavor.  Of all the pies I've made, Todd says this one is his favorite.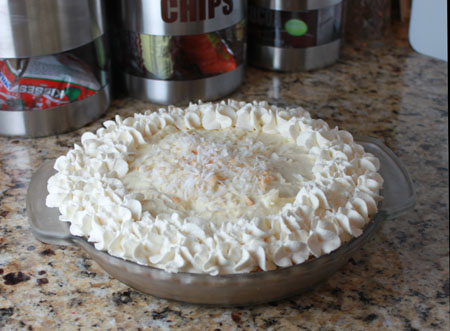 White Chocolate Coconut Cream Pie Size
The recipe is pretty easy.   The filling fills a 9 inch glass pie dish, but if for some reason you want to cram it into a slightly shallower or smaller store-bought crust, you could.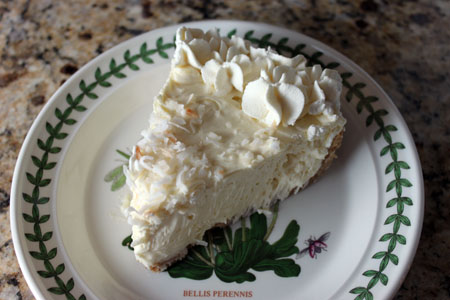 Recipe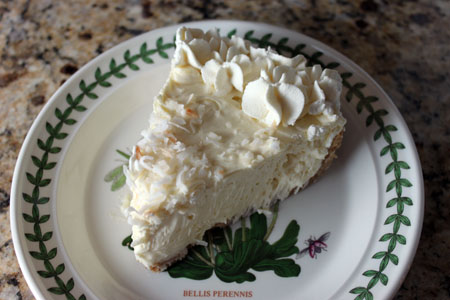 White Chocolate Coconut Pie
Coconut cream pie with melted white chocolate. Definitely one of our favorites!
Ingredients 
Crust:
1 1/2

cups

vanilla wafer crumbs

35 wafers/5 oz

2

tablespoons

granulated sugar

4

tablespoons

unsalted butter

melted
Filling:
1/2

cup

granulated sugar

2

tablespoons

cornstarch

1/4

teaspoon

salt

2

cups

heavy whipping cream

divided use

1/2

cup

coconut milk

not cream of coconut

3

extra-large egg yolks

4

ounces

chopped white chocolate

1

teaspoon

vanilla extract

1 1/4

cups

5 ounces sweetened

shredded coconut

toasted*
Topping:
1

cup

heavy whipping cream

1 ½

tablespoons

powdered sugar

1

teaspoon

vanilla
Instructions 
Preheat the oven to 350 degrees F. Grease a 9 inch deep dish glass pie dish.

Mix the cookie crumbs, sugar and butter. Press mixture into bottom and sides of the greased pie dish and bake on center rack for about 10 12 minutes.

Filling: Mix the sugar, cornstarch, and salt together in a 2-quart, heavy saucepan. Whisk in 1 cup of the cream and the ½ cup coconut milk. Whisk in the egg yolks, one at a time, until smooth.

Set the saucepan over medium heat. Stir or whisk constantly, making sure to reach into the corners of the pan, as the mixture thickens and comes to a boil – that step is easier to do with a whisk then a spoon, so I use both tools. Remove the pan from the heat and whisk the mixture very well, then return the pan to the heat. Simmer the mixture, whisking constantly, for 1 minute. Remove the custard from the heat and stir in the white chocolate and vanilla. Stir until the chocolate melts. The mixture will be very thick and slightly (very!) oily looking. Transfer the mixture to a large metal bowl (I used bowl of a stand mixer), press a piece of plastic wrap (I used parchment) onto the top, and refrigerate until cold.

When the custard is cold, beat it with an electric mixer on high speed for1 minute, until it is smooth. Add the remaining 1 cup of heavy cream and beat on high speed until the mixture is thick and fluffy like whipped cream. Fold in 1 cup of the toasted coconut. Pour into the prepared crust. At this point you may wish to make a topping of whipped cream. Lora Brody's recipe didn't have one, but I beat 1 cup of heavy whipping cream and added a little sugar and vanilla then piped it around the edges. Sprinkle the top with the remaining 1/4 cup toasted coconut. Refrigerate the pie until ready to serve.

*To toast coconut in the oven, spread it on a shallow, rimmed baking sheet and place it in a preheated 350-degree F oven for 10-15 minutes, stirring 1 to 2 times. I usually toast it until some of the coconut is golden, then I mix it all together.
Notes
Cook time includes chill time.