Cherry Topped Brownie Cheesecake is a recipe originally from Lucky Leaf Pie Filling. Even if you are a total scratch baker or prefer using fresh fruit, you might want to check out their recipe collection because they keep it updated with a fun ideas. Personally, I love fresh fruit toppings as much as anyone, but I also sometimes use canned pie filling for topping or as an ingredient in other recipes. Canned cherry pie filling is especially useful since fresh cherries aren't always available. It makes a great topping for things like this brownie cheesecake.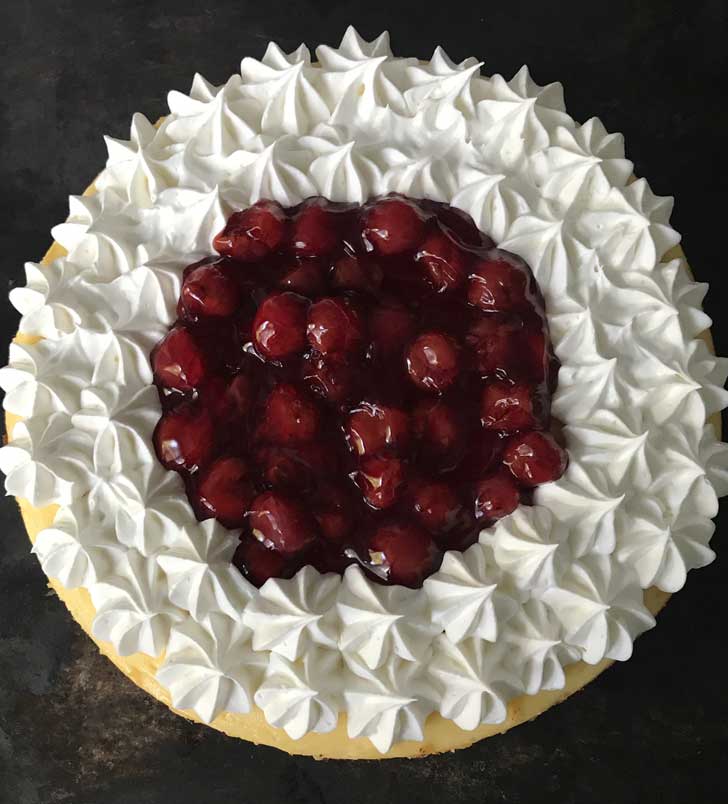 Cherry Topped Brownie Cheesecake
A full box of fudge brownie mix is used for the crust, which is then topped with cheesecake and canned cherry pie filling. You can make it exactly like Lucky Leaf using brownie mix or you can mix and match scratch elements and make your own fruit topping. Here's a link to the recipe. I've updated it a bit (a lot, actually) and increased the bake time to 45 minutes (though check at 40). Even with the extra baking time, this is an extremely creamy cheesecake. The perimeter sets up stiff, but the cherry filling buried in the center make the filling pretty soft.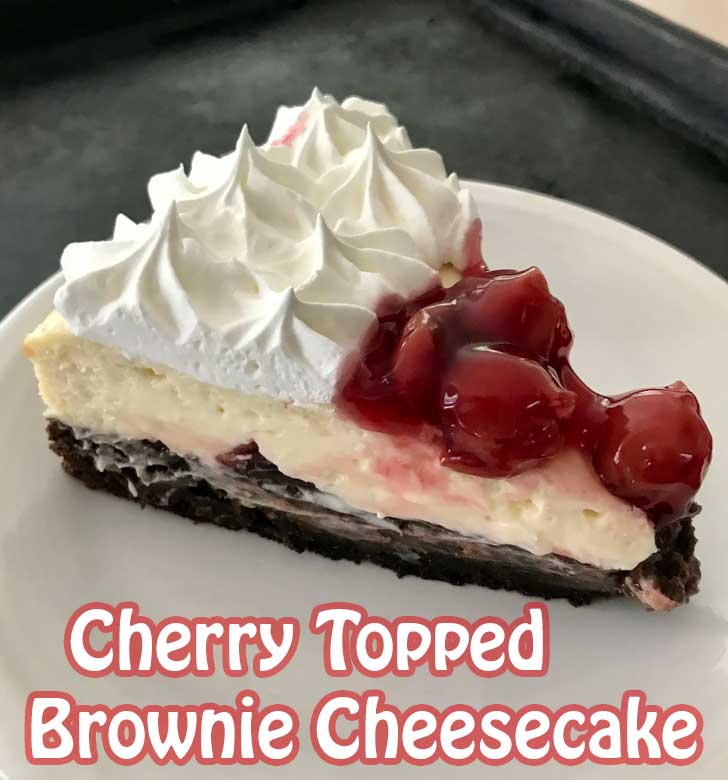 Some Assembly Photos
First, you make the base in a springform pan. For this batch I used a box of Pillsbury Funfetti Brownie Mix. Actually, we bought the mix a while back to use the sprinkles for Cosmic Double Chocolate Cookies, so I was pleased to put the brownie mix to good use.
So you make the brownie crust using the ingredients called for on the brownie package, let cool completely (this is important) then you spread about half cup of cherry pie filling on the baked and cooled brownie base. Note: The reason the brownie base needs to be completely cool is because you are going to bake it again with the cheesecake topping on it, so you want to start the second bake with a cool or cold crust so that it doesn't overbake.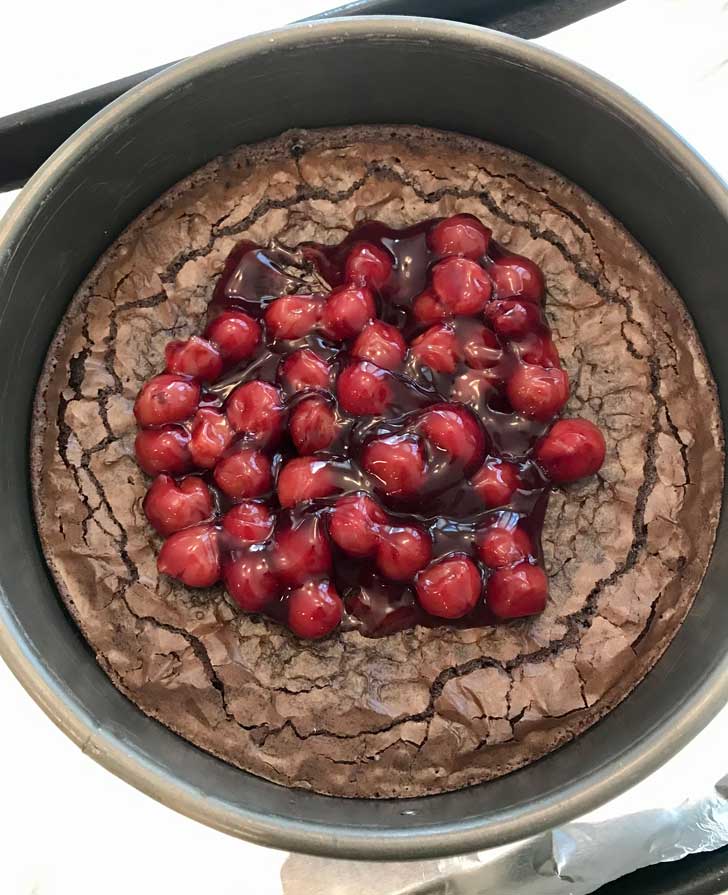 After you put the cherries on, you scrape more cheesecake filling over the cherries and bake for about 45 minutes.
Make Sure Everything is Room Temp or Soft
When mixing cream cheese for cheesecake, make sure to soften it to help prevent lumps. Still, even with softened cream cheese you still might have some lumps in the unbaked batter depending on the brand of cream cheese. I've noticed this a couple of times now when I use store brand cream cheese. The good news is the lumpy batter smooths out as it bakes Or at least usually! Adding cold eggs can also cause lumpy batter, so it's good to bring them to room temperature as well.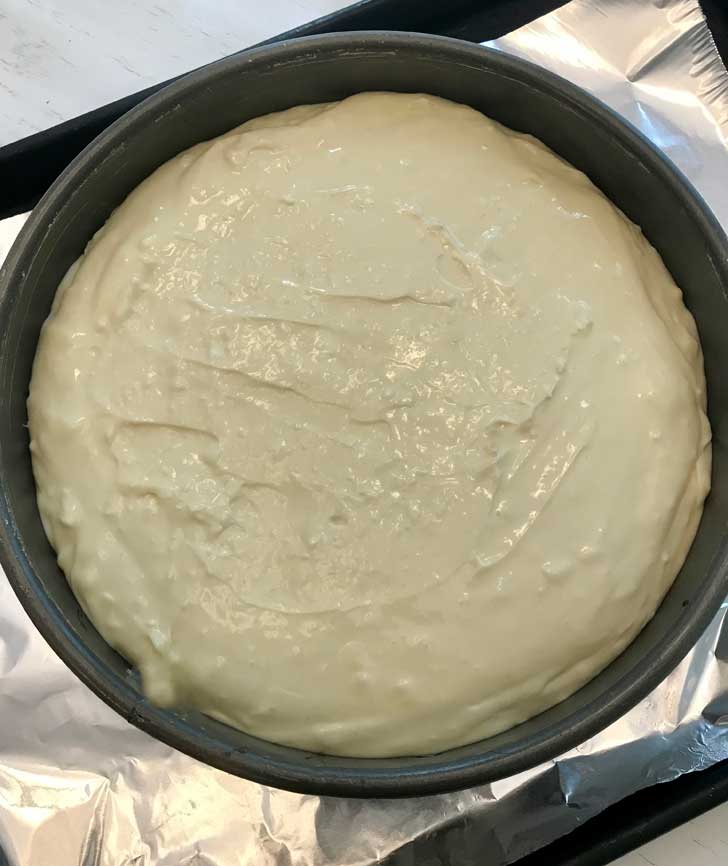 Cool, chill, then spread cherry pie filling in the middle and pipe whipped cream around the edges.  Perfect! Cherry Chocolate Brownie Cheesecake!
Recipe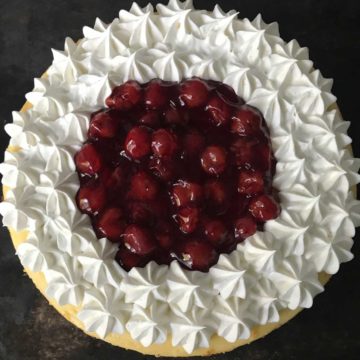 Cherry Topped Chocolate Brownie Cheesecake
An easy cheesecake with a brownie base and cherry topping.
Ingredients 
1

box

19.4 oz Funfetti or other brownie mix

2

large

eggs

⅔

cup

vegetable oil (or use amount on brownie mix)

¼

cup

water (or use amount on brownie mix)
Cheesecake Filling
24

oz

cream cheese, softened

¾

cup

sugar

1

teaspoon

vanilla extract

3

large

large eggs, room temperature

21

oz

can cherry pie filling

⅛

teaspoon

almond extract

optional
Instructions 
Grease a 9 inch springform pan or spray with cooking spray.

Prepare brownie mix as directed on the package. For instance, if using Funfetti, set aside the candy coated chips to use for something else (like Cosmic Chocolate Cookies!), then mix the brownie mix, 2 eggs, oil, and water and beat 50 strokes. Pour in the pan.

Set the pan on a rimmed baking sheet to catch links, then bake for 28-30 minutes at 350 or until set. Let cool completely.

To make the filling, bring all ingredients to room temperature. Beat the cream cheese, sugar and vanilla until smooth, then beat in the eggs, one by one, on medium low speed.

If using almond extract, add a little bit to the cherry pie filling and stir to mix. Spread about ½ cup of the cherry topping in the middle of the brownie, leaving about a 2 inch border.

Scrape the cream cheese mixture over the cherry mixture and spread to the edge of the pan. Bake for 45 minutes at 350. It should look pretty set at this point. Let cool completely, then chill until very cold.

Spread cherry mixture in a circle over the top center and spread or pipe sweetened whipped cream or whipped topping around sides.