The Crumbl Copycat Milk Chocolate Chip experiment was so much fun I had to keep the party rolling with another Crumbl cookie impostor. Crumbl currently has a double chocolate cookie flavor called Galaxy Brownies, which must be a tribute to the famous Little Debbie Cosmic Brownies. Almost brownies in cookie form, the Galaxies are thick, cakey, dense double chocolate rounds with a shiny glaze and cosmic colored sprinkles. Here's a picture of one we bought at the shop. It's funny how they present you with the box, as if they are serving up fine wine. Their marketing is brilliant.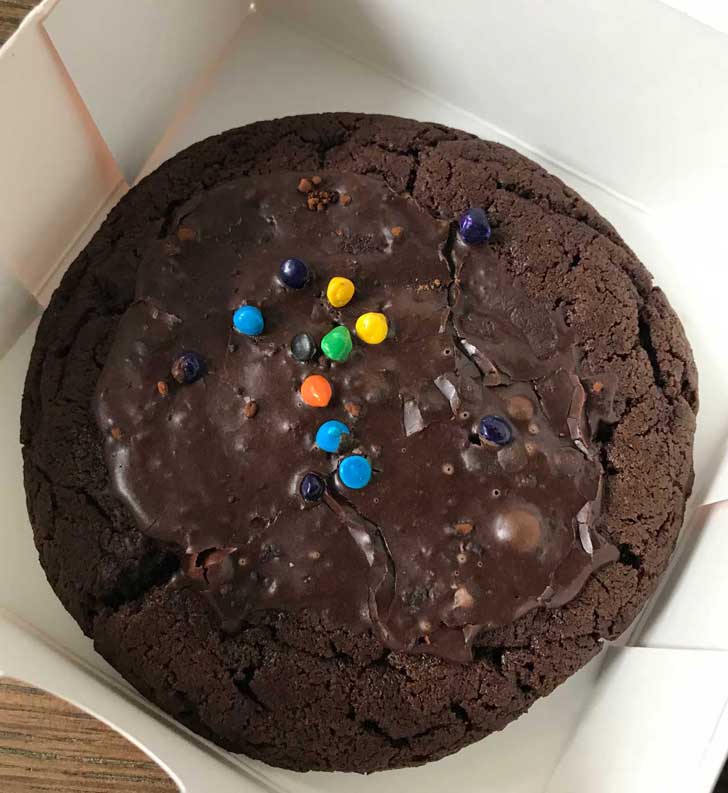 Anyhow, we always enjoy our visits to Crumbl, especially when they are serving up flavors we want to try making at home. For this round, we enjoyed a few tastes of the original, then got to work on our (Fuzz has been helping me) version. And honestly, it was pretty easy to recreate. Or sort of. I am not sure this one's the same, but it's close enough and I love the texture.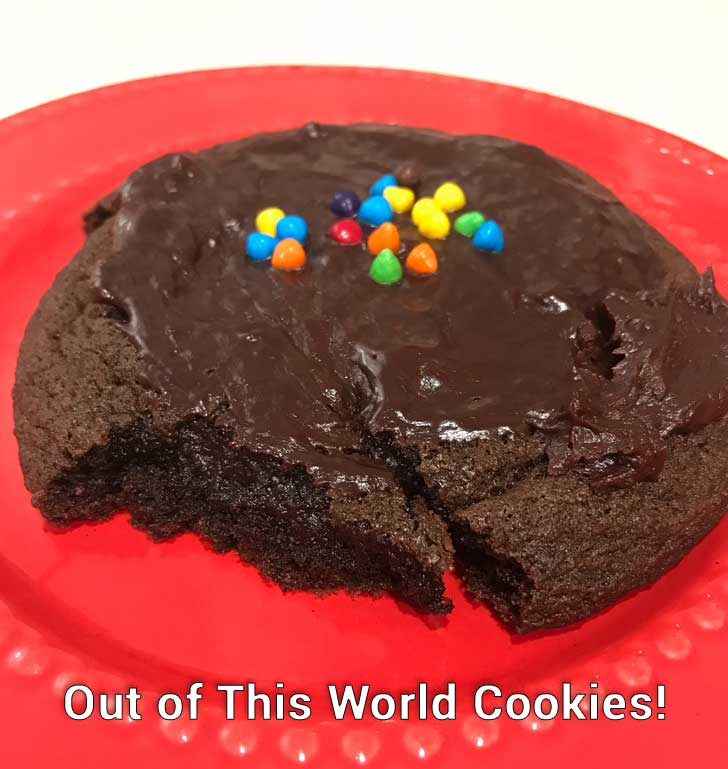 I'm not sure whether to call them Out of This World Double Chocolate or Cosmic Chocolate Cookies or something intergalactic related. So many choices.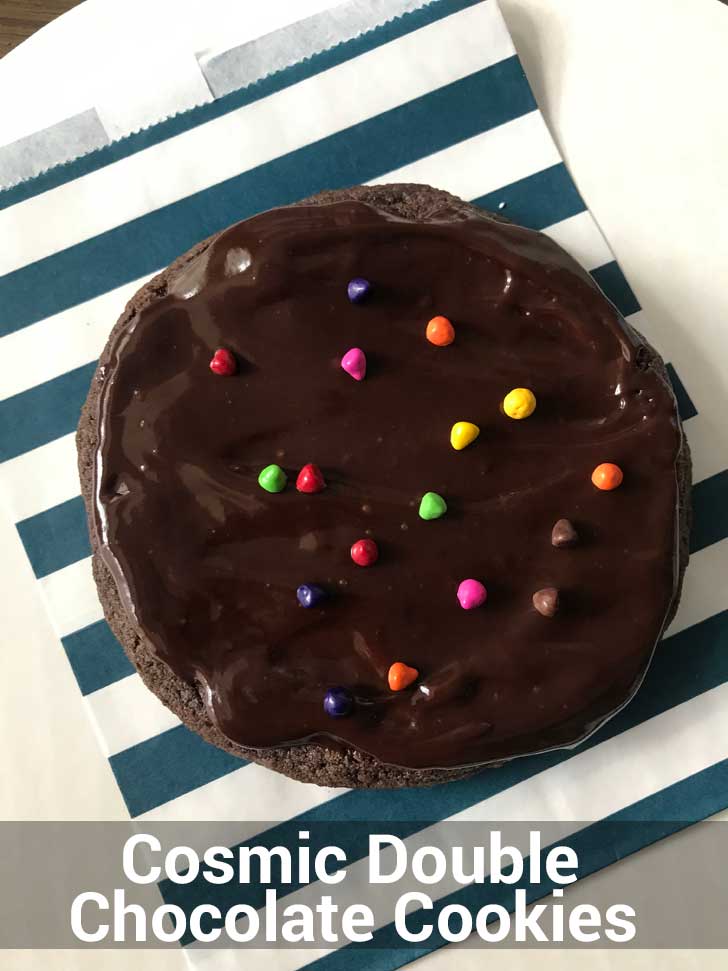 Cornstarch in the Dough and Good Cocoa Powder
Crumbl's cookies call for a mixture of powdered sugar and brown sugar, and I already had a double chocolate cookie just like that. Since powdered sugar is a just a mix of cornstarch and sugar, I used cornstarch rather than powdered sugar. The cocoa powder I have is King Arthur's Double Dark, and it worked perfectly here adding a deep chocolate flavor. I also tested with Ghirardelli Dutch, which tasted great but was less like the shop's. I usually prefer natural cocoa powder, but in this case the Dutch process was excellent and I probably won't bother testing with natural.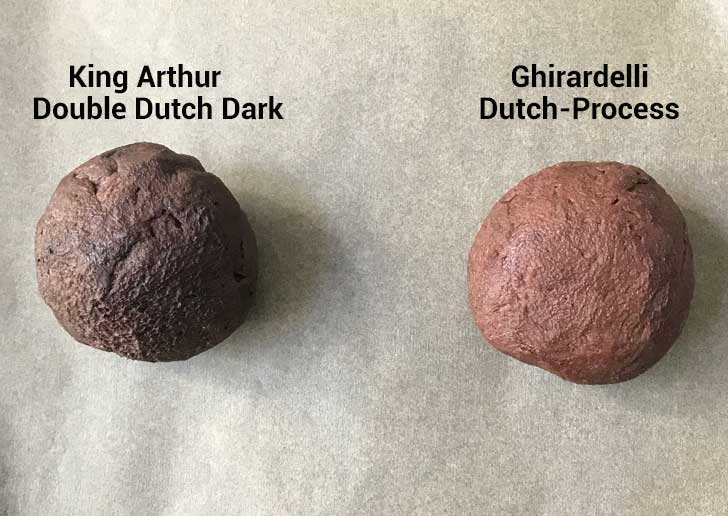 An Out of This World Glaze
The glaze was a no-brainer --Chocolate Ganache Glaze! I just used it the other day on a Bundt Cake and can't get enough of it. It's super easy and sets well and you can change it up by using different brands of chocolate. That said, I'm pretty sure the Galaxy Brownies have a regular powdered sugar based icing, so if you're not up for a ganache you can try a different glaze. Maybe something like the glaze on this potato cake or the powdered sugar one used on Eclair Cake.
Cosmic Brownies Candy Coated Chips Hack
The chips used on the Crumbl Galaxy Brownies and Cosmic Brownies look a lot like Wilton Rainbow Chips. If you can't find those exact ones at the grocery store and don't want to put in an order, here's a little hack. Just buy some Pillsbury Funfetti Brownies and use the candy coated chips that come with it. They're in a separate foil pack, so you can use the brownie mix for something else. And Pillsbury is pretty generous with the sprinkles, so you'll have enough sprinkles for a couple of batches plus brownie mix for future treats. Credit goes to my daughter for this tip. Update: I ended up using the brownie mix for Cherry Topped Brownie Cheesecake.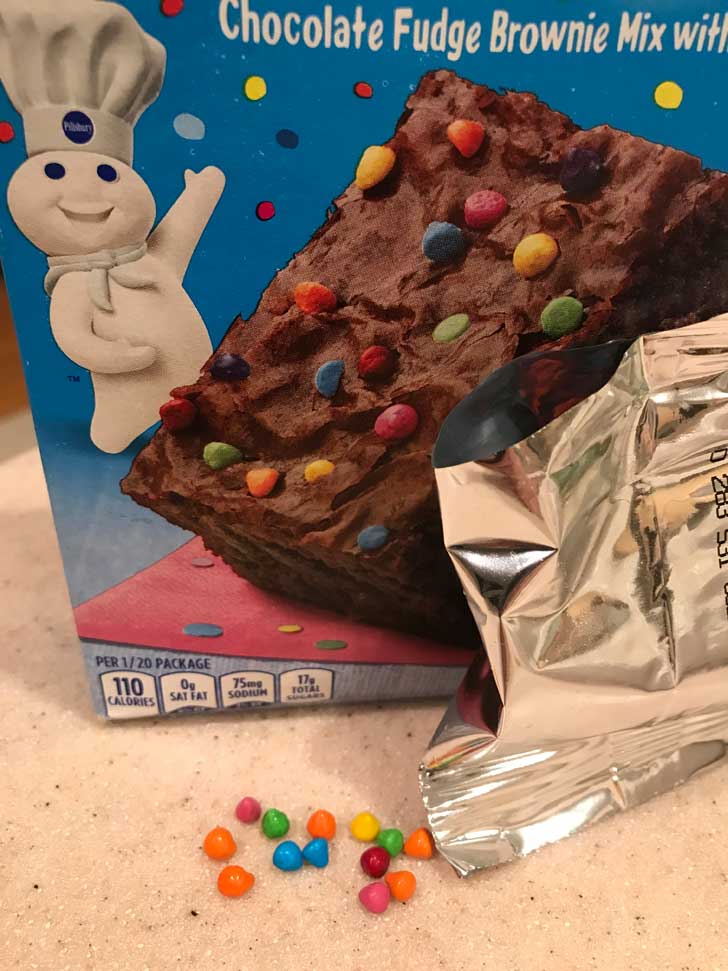 Recipe Yield
This recipe makes about 35 oz of dough, so you can make 8 or 9 really big cookies. And there's no reason why you can't make them a little smaller with some modifications to the baking time. Small ones would be good too.
Other Recipe Suggestions
Recipe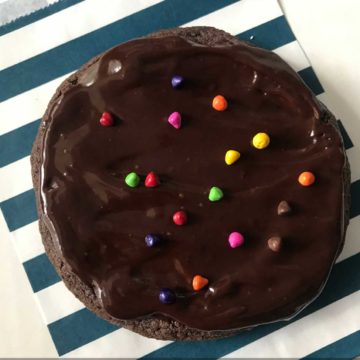 Cosmic Double Chocolate Cookies
Cakey but heavy dark chocolate cookies topped with chocolate glaze. A tribute to Little Debbie's Cosmic Brownies!
Ingredients 
2

sticks

unsalted butter, softened

(230 grams)

½

cup

granulated sugar

(100 grams)

1

cup

light brown sugar, very firmly packed

(220 grams)

2

large

large eggs

(100 grams)

1

teaspoon

vanilla extract

2

cups

all-purpose flour

(260 grams)

½

cup

Dutch process cocoa powder

(45 grams)

⅓

cup

cornstarch

(65 grams)

1

teaspoon

baking soda

½

teaspoon

salt plus a pinch
Instructions 
In a large mixing bowl, beat the softened butter until creamy. Add both sugars gradually and beat until smooth, scraping sides of the bowl. Add eggs, one by one, beating just until blended, then beat in vanilla.

Mix together the flour, cocoa powder, cornstarch, salt and baking soda. Add flour mixture to the sugar mixture using low speed of mixer or by hand -- don't overbeat. Scrape sides of bowl often.

Dough will be slightly sticky. Scoop out 8 mounds of dough onto a plate lined with plastic wrap. Chill for 30 minutes or until dough is not quite so sticky, then shape into firm balls. Cover the dough balls and chill for at least an hour or until ready to bake.

Put mounds of dough on a heavy duty baking sheet lined with parchment paper. Allow about 5 inches of space for spreading.

Bake at 400 degrees F. for 5 minutes, then reduce heat to 350 and bake for another 7 to 9 minutes or until you start to see cracks in the top of the cookies. They will spread quite a bit. Alternatively, you can bake the cookies at 375 for about 15 minutes. I recommend baking one cookie to determine the best bake time for your own oven.

Let the cookies cool completely on the baking sheet, then transfer to a wire rack when you are ready to make the ganache.

Mix the chopped chocolate, corn syrup and butter together in a small bowl.

Heat ⅓ cup of cream until simmering, then add the chopped chocolate mixture. Stir until creamy and smooth. If it is very thin, let cool slightly and thicken. Otherwise, spoon over the cooled cookies. Sprinkle with colored sprinkles or colored candy coated chocolates.
Notes
If you can't find the rainbow chips, try using the candy coated chocolates from a box of Funfetti Brownies.