There is nothing more frustrating than running out of vanilla.
Okay, there are a lot of things more frustrating than running out of vanilla, but wouldn't it be nice if there weren't?
This morning I ran out of vanilla and made a note to myself to go to Specs or Central Market and buy a bottle of the Mexican kind. The kind I like is not the fancy type sold by Nielsen Massey or the scary, supposedly toxic type containing coumarin. The kind I buy is called La Vencedora and while it's mild, is has a really fresh vanilla flavor. It's also about $7.00 for a huge bottle.
The good news for now is that I was able to find a cookie recipe which doesn't call for and doesn't really need vanilla – Black Forest Cookies. It's an old recipe adapted from the magazine Every Day Food. I halved the recipe and used Ghirardelli 60% Cocoa Bittersweet Chocolate Chips.
These cookies so easy – you can't mess them up. Next time, I'm going to try soaking some dried cherries overnight in grappa and adding the grappa soaked cherries to the cookie dough. I think it will work, and will report back after I get my hands on some grappa.
By the way, the cookies in the photo were made with dough that I did not bother to chill. Later, I will post a picture of cookies made with chilled dough. No doubt, they will be even thicker.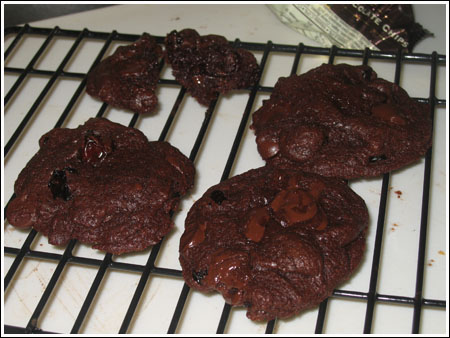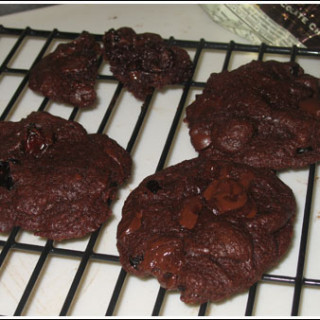 Small Batch Black Chocolate Cherry Cookies
Small Batch Chocolate Cherry Cookies are double chocolate cookies made with chocolate chips (or you can use chunks) and dried cherries. This version makes a little over a dozen.
Ingredients 
1/2

cup

all-purpose flour

1

tablespoon

unsweetened cocoa powder

1/2

teaspoon

baking powder

1/4

teaspoon

salt

3/4

cup

plus 1 cup

divided use bittersweet chocolate chips (Ghirardelli)

1/4

cup

unsalted butter -- cut in small pieces

1/4

cup

sugar

2

tablespoons

dark brown sugar -- packed

1

large egg

3/4

cups

dried cherries

preferably tart of sour
Instructions 
Don't preheat the oven yet because the dough needs a quick chill.

In a small bowl, stir together flour, cocoa, baking powder, and salt; set aside.

Place the 3/4 cup chocolate chips and butter in a large microwave-safe bowl. Heat on high for 30 seconds; stir and repeat until chocolate is melted. whisk in both sugars. If mixture seem very hot, let it cool for a few minutes, then stir in the egg.

Stir in dry ingredients just until combined (do not overmix). Fold in chocolate chips and cherries; press plastic wrap onto surface of dough and refrigerate 30 to 45 minutes.

Preheat oven to 350. Line two baking sheets with parchment paper or non-stick foil.

Drop well-rounded tablespoons of dough, about 2 inches apart, onto prepared sheets. Bake just until edges are firm -- 11 to 13 minutes. Cool on baking sheets 1 to 2 minutes; transfer to a wire rack to cool completely.