If you've ever tried Central Market's Burgundy Walnut Bread and thought it might be nice to make it at home, you're in luck. This recipe is very close. With flavor coming from the onions, walnuts and walnut oil, it's a step up from typical nut or onion bread. Update: I've also found a great new gluten-free version! You can make it with King Arthur's Gluten-Free Bread Flour Blend.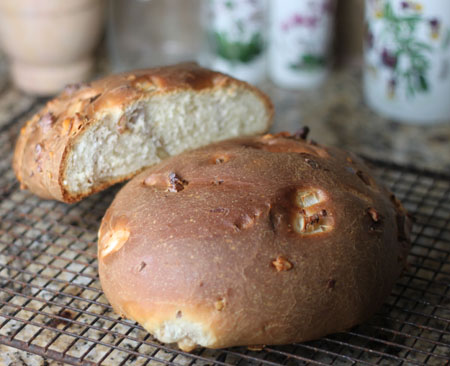 While I've been making this recipe for years, I never knew the source. Recently, Mary posted it and said it was from "Beard on Bread" where it's credited to Jane Grigson. On her blog, One Perfect Bite, Mary makes the full batch.  However, I usually halve the walnut bread and make two small loaves.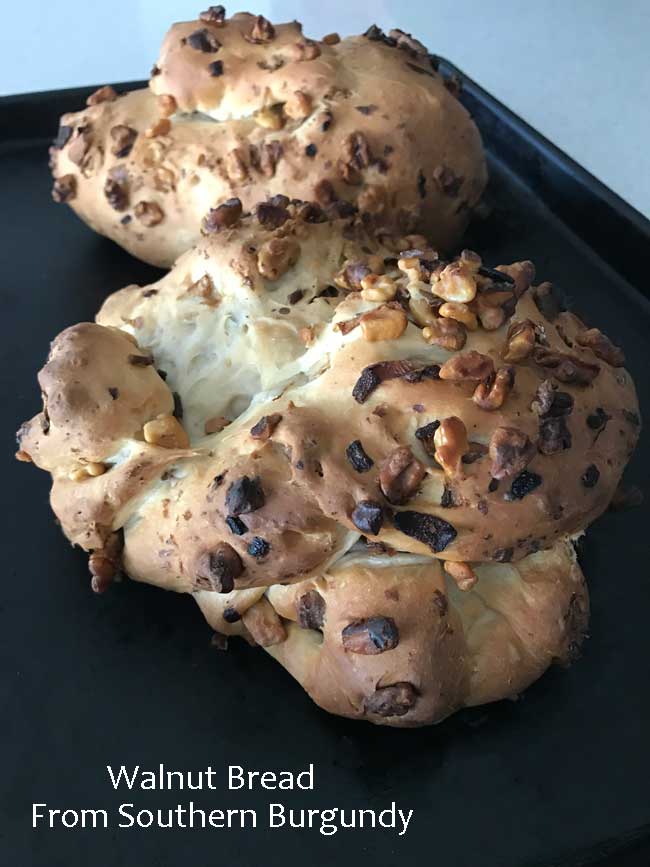 One thing I've learned over the years is the flavor will vary a bit depending on what brand of walnut oil you use. I love using the stronger walnut oils such as La Tourangelle, but for this batch I used what was available at the grocery store, the milder flavored Spectrum, which still worked well. If you don't want to spend the money on walnut oil (but you really should, it is so good), no worries. You can use olive oil or butter.
Instant Yeast vs Active Dry
I almost always make this with instant yeast. When using instant yeast, the liquid (milk in this case) needs to be between 120 and 130 degrees. If you substitute active dry yeast, you'll need to heat the milk only to 115 degrees and dissolve the yeast in ¾ cup of it.
Walnut Burgundy Bread Tips
Update:  I now cook the onions in a little olive oil.  Also, I rarely have Diamond Crystals so I use Morton Kosher salt. Toasting the walnuts is not necessary because a lot of the nuts rise to the top and toast as the bread bakes.  However, you can toast them anyway if you want.  A large loaf should take closer to 40 minutes, but if you make two smaller size loaves they'll probably be done in 35.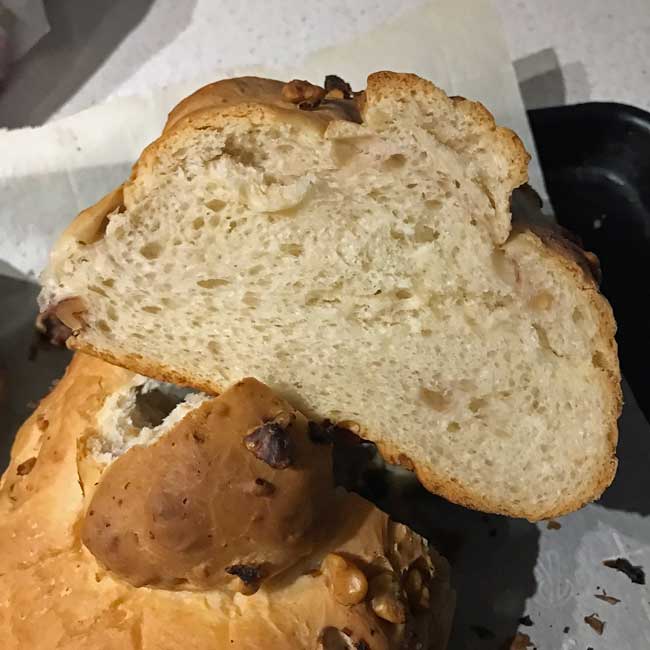 If you'd like a non-dairy version, you can use hazelnut milk or almond milk.  The bread in the photo above was made with unsweetened hazelnut milk.
Gluten-Free Walnut Bread
You can now make this with King Arthur's Gluten-Free Bread Flour Blend! King Arthur's product is a new flour blend that unlike most gluten-free blends, works well in yeast bread. I've put the gluten-free variation in the recipe card.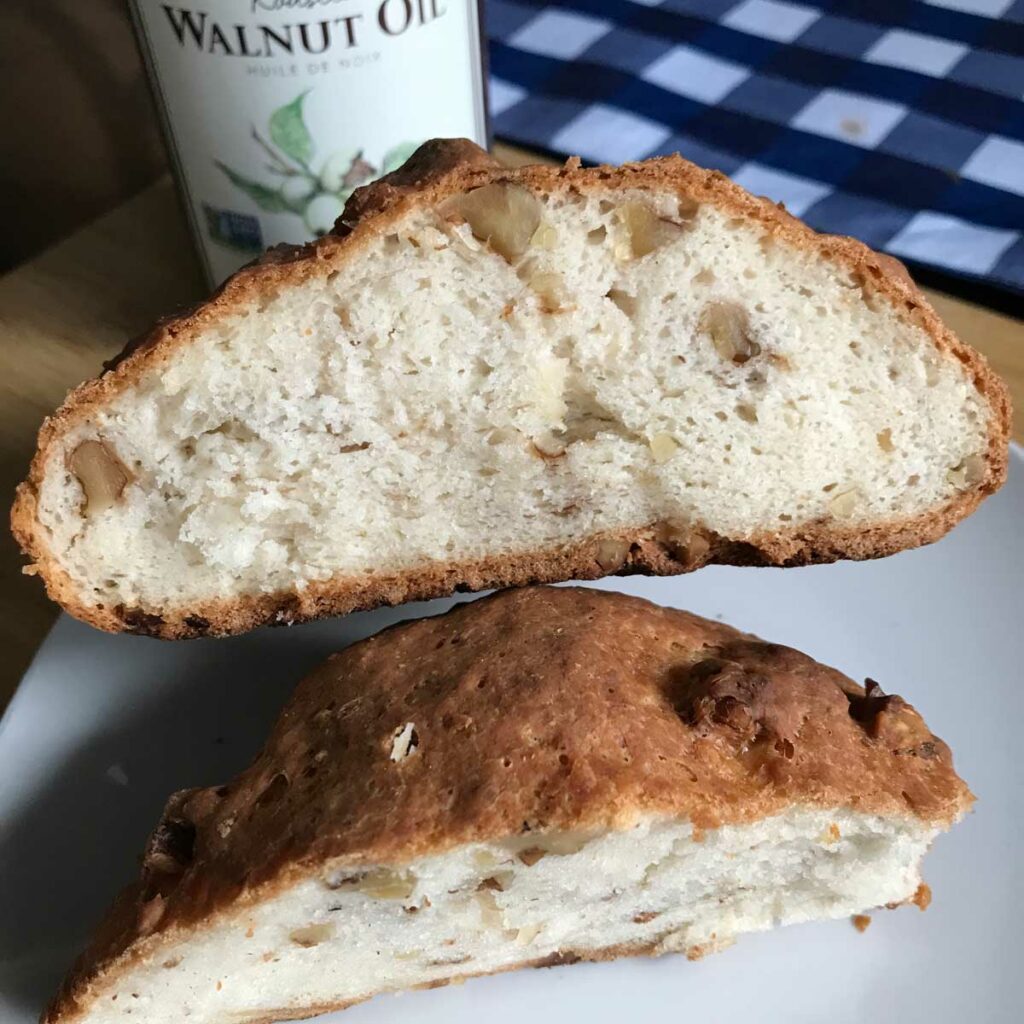 Walnut Bread from Southern Burgundy
2 ½ cups all-purpose flour or bread flour (320 grams), plus more if needed
About 1 ¼ teaspoons kosher salt (Morton)
1 tablespoon sugar
2 ¼ teaspoons instant yeast
1 cup milk, heated to 125 degrees (for instant yeast)
¼ cup walnut oil or olive oil or 4 tablespoons butter, melted but cool
½ cup walnuts, roughly chopped -- use more if you like (I use way more)
½ cup onion, finely chopped
Combine flour, salt, and sugar in a mixing bowl. Add the yeast and stir well.
Pour ¾ cup of the warm milk in middle of the flour, then add the walnut oil (or butter). Stir dough and if it seems very dry, add remaining milk.  If you weighed the flour, you should end up using the full cup.
Knead well until dough is firm and blended into a smooth, springy ball, about 10 minutes. I recommend doing this with a stand mixer and dough hook.
Transfer to a bowl lined with walnut oil (or whatever oil you like), cover and let rise for 1 hour (longer if you are not using instant yeast).
While the dough is rising, saute the onions in a small amount of olive oil. Set them aside until dough has risen.
Punch down dough, mix in walnuts and onions, shape into two rounds, and leave on a greased baking tray to rise for 45 minutes. Bake at 400 degrees F for 35 minutes. (I recommend shielding tops loosely with foil after the first 20) or until loaves sound hollow when tapped underneath.  Internal temperature of baked bread should be 200 or slightly over. Yield: 2 small loaves
Recipe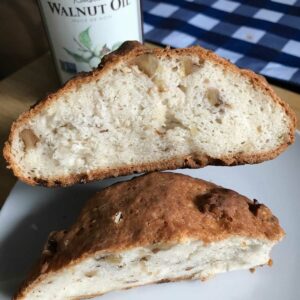 Gluten-Free Walnut Bread
A gluten-free, light textured walnut bread with a chewy crust.
Ingredients 
160

grams

King Arthur brand gluten-free bread flour

2

teaspoons

sugar

½

teaspoon

salt

1 ⅛

teaspoon

quick rising yeast

2

tablespoons

walnut oil

melted

½

cup

warm milk (125 degrees F) plus an extra 2 tablespoons

½

cup

chopped walnuts
Instructions 
Combine flour, sugar, salt and yeast in the bowl of a stand mixer.

Add warm milk and begin to stir, then gradually add walnut oil. Mixture should be rather soft at this point.

Using the paddle attachment, beat until well blended. Dough should be sticky. Scrape to the center of the bowl, cover and let stand for about 10 minutes.

Scatter toasted walnuts on a pastry mat. Scrape the dough onto the walnuts and push down so that dough picks up the nuts. Fold it over on itself. It sticky, put a little walnut oil on you fingers. Press down again, picking up any stray nuts, then fold over. Repeat about 3 times, then shape into a ball.

Place dough in a medium size bowl lined with a square of parchment paper and a little more oil or cooking spray, turning to coat top.

Cover and let rise in a warm place for about 35 minutes or until it has risen (it won't quite double).

Meanwhile, put a Dutch oven and its lid (an oven-proof one, of course) on the the lower third rack of the oven. Shut the door and preheat to 450 degrees F.

When dough has risen, remove hot pot from the oven. Carefully lift dough using the parchment as a handle. Drop parchment and dough into hot pot, then cover and carefully transfer back to the oven.

Bake at 450, covered, for 30 minutes. Remove lid from pot, reduce heat to 375 degrees F and bake for another 10 minutes uncovered or until bread registers about 205 degrees F.

Let cool completely, then slice.