Update: I first made the Luby's Cloverleaf Rolls recipe in 2008 and somehow it worked even though I used the amount of yeast listed in the book which is 1 ounce active dry or 4 packets. Yikes! That's a lot of yeast for a recipe with 5 cups of flour. Over the years I've become a better bread baker and think that 4 packets of yeast to 5 cups of flour is an error. Maybe they used 1 oz of cake type yeast or maybe they used 1 oz of active dry for a larger size recipe and forgot to scale it down for the book? I really don't know, but these days I use 1 1/2 packets of yeast for the full recipe. In addition to the issue with the yeast, the recipe makes more than 12 rolls — more like 18. If you don't have the book, you can see the original recipe on Food.com. People who used the full amount of yeast mentioned the rolls were yeasty, but still turned out.
———
I usually buy yeast breads at the store, but Friday was rainy, the girls were engaged in a Pokemon battle, and most of all, I didn't feel like leaving the house to go buy bread. Not serving bread with dinner, especially on a Friday, seemed wrong, so I pulled out my Luby's Cafeteria Cookbook and tried the recipe for Luby's Cloverleaf Rolls.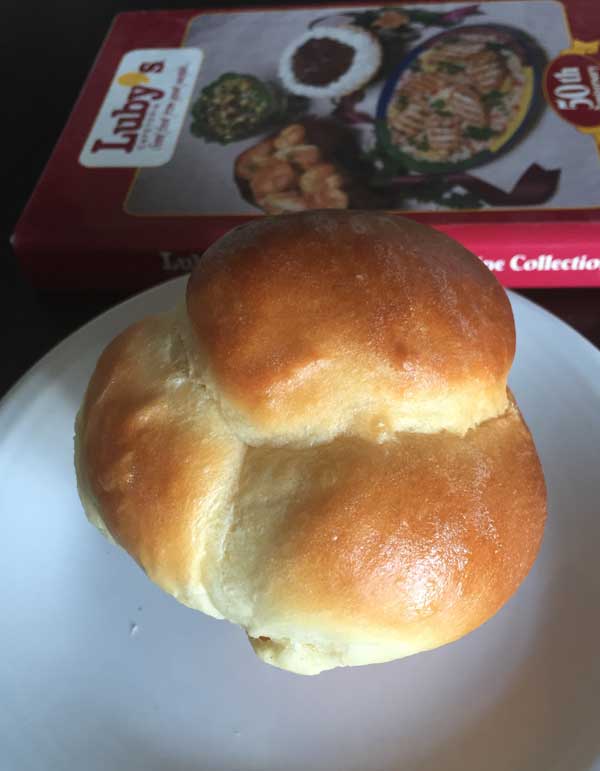 The results were fabulous! The rolls turned out bigger than expected, which was a good thing. Fuzz, who must be tired of the usual baguettes, loved these.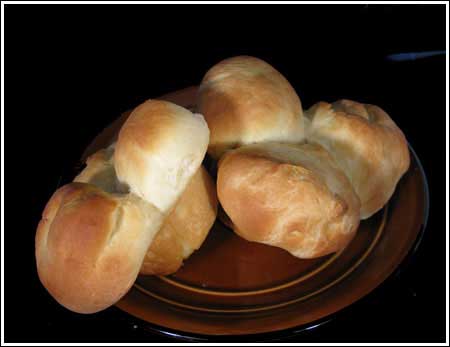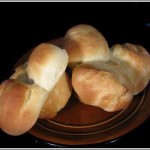 Print Recipe
Cloverleaf Rolls
Cloverleaf Rolls that are similar to the ones served at Luby's. This version is one I have corrected over the years. If you only want to use 1 packet of yeast, use the measurements in the "Notes" section.
Ingredients
1 1/2

packets of active dry yeast

around 3 1/2 teaspoons

1 1/3

cups

warm water

115°F

4 1/2

tablespoons

melted butter

I use unsalted

1/2

cup

granulated sugar

100 grams

3

extra-large eggs

room temperature

1/3

cup

nonfat dry milk powder

1 1/2

teaspoon

salt or 1 teaspoon if butter is salted

5

cups

all-purpose flour or bread flour plus more as needed

700 grams
Instructions
In a large mixing bowl, dissolve yeast in warm water. Add 1 cup of the flour, melted butter, sugar and eggs and stir until blended.

Add dry milk powder and salt and mix well by hand or using the paddle attachment of the blender. I like to do this part by hand to get a feel of the dough. Stir in about 3 more cups of flour to make a very soft dough. Begin adding remaining cup of flour 1/4 cup at a time until the dough is slightly dryer, then attach dough hook and let the mixer knead. Dough should leave the sides of the bowl but stick to the bottom. If needed, add more flour.

Lightly grease top of dough with oil. Cover loosely and let rise in warm place 1 hour or until doubled in size.

Grease 18 muffin cups.

Punch dough down. Divide dough evenly into 18 pieces (or 24 pieces for smaller rolls). Divide each piece into 3 balls and place in muffin cup.

Let rise in a warm place for about an 1 hour.

Preheat oven to 350°F Bake 15 to 20 minutes or until golden brown. Brush with extra butter if desired.
Notes
The recipe in the Luby's book calls for 1 ounce of active dry yeast, but I think they meant cake yeast because 1 oz of cake yeast is equal to about 1 1/2 packets or a little over 3 1/4 teaspoons of active dry yeast. Also, the original recipe must have been made in jumbo muffin cups because these are very large. If you use standard size muffin cups you can make more than 12 (smaller) rolls. And finally, if you just want to use 1 packet of yeast, the following measurements work. 7 oz of water, 1 packet of yeast, 1/3 cup granulated sugar, 1/4 cup powdered milk, 4 tablespoons melted butter, 1 teaspoon salt, 1 pound of flour (3 1/2 cups) plus more as needed.