The McCormick red velvet cupcakes were a hit with Fuzz's girl scout troop.  Still,  I was anxious to try another recipe  because while I liked the McCormick red velvet cupcakes, I thought they were too chocolaty to be true red velvet. If you like your red velvet cake really chocolaty, you'll be happy, but if I want chocolate then I make a chocolate cake. Red velvet should be red.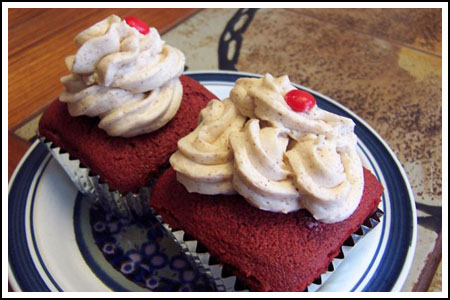 And thus the red velvet cupcake comparison quest continues. Here's a list of the the red velvet cupcake recipes I've tested fairly recently.
McCormick's Red Velvet Cupcake Recipe — (Above) Made these as cupcake cones.  They're too much like chocolate cake, but not as good as chocolate cake. Not red enough. If you're going to go red velvet, you need to go all the way red.
Hey There Cupcake! Red Velvet Cake recipe on Epicurious — Great color! Lovely velvety texture. Not enough flavor in my opinion and tasted kind of floury. They weren't terrible, though – I just thought I could do better.
Martha Stewart's Red Velvet Cupcakes — A little too soft and oily from the cake flour and fat.  Didn't like the structure or texture, but definitely moist and people who go crazy over things that are moist like these.  Also, not red enough.
Red Velvet Cupcakes from Baked — Louise tested these.   She liked them, but I haven't bothered to try them since they seem to close to chocolate cake.  Again, no offense to those who like red velvet cake to be very chocolaty, it's just not what I'm shooting for.
And here's a link to an old post mentioning red velvet cakes I want to try. Two of those (Paula Deen's and Simply Recipes) I've crossed off because they're too close to the Hey There Cupcake/Epicurious recipe I tested yesterday.  But aside from those I'm still making my way down that list and as of today, have made the Bobby Flay Throwdown Red Velvet Cupcakes.  I'll tell you how those stacked up in a different post.  I haven't tasted them yet.