Last week I made a batch of red velvet cupcakes. They were good, but I thought they could be better and decided that over the next few months I will be baking and reviewing more red velvet cupcakes.   To help me with this very important research, A reader named Louise has kindly volunteered to do some guest blogging with the end goal of finding the best red velvet cupcakes. Here, she reviews the Red Velvet Cake from Baked.
Louise tested the Red Velvet Cake recipe from Baked: New Frontiers in Baking

by Matt Lewis and Renato Poliafito.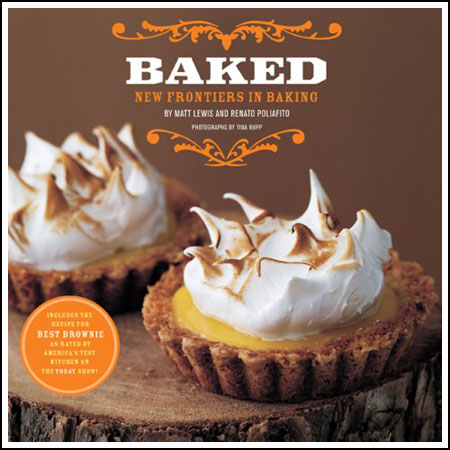 –From Louise—
I'd had my eye on the Red Velvet Cake from Baked for a while and was happy to have an excuse to try it. It appealed to me for a couple of reasons. I'd wanted to make something with cooked flour frosting (which many people believe is the proper frosting for red velvet cake) and the cake itself seemed noteworthy. The published recipe for Baked's Red Hot Velvet Cake with Cinnamon Buttercream is here. I made a half recipe which made 11 cupcakes and two-thirds recipe of the buttercream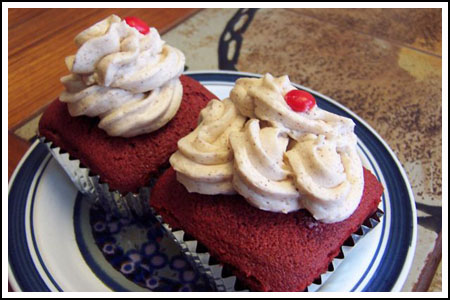 The cake has a really mild chocolate flavor which I appreciate in red velvet, and the slight tang of buttermilk and vinegar. There was a nice balance of those two flavors, but I believe it could have had slightly more tang to it. As for the texture, it was tender and moist, but not too dense or fluffy.
The cooked frosting was light and airy and reminded me of whipped cream. It went very well with the cake, but I think cream cheese frosting would be fine and perhaps better in the sense that it would bring out the little punch of sour one expects from red velvet. As far as chocolate buttermilk cupcakes go, these were delicious, but I did miss that extra bit of flavor from buttermilk and vinegar.
Some baking notes. As mentioned, I halved the recipe and used one whole egg plus not quite 2 Tablespoons of one beaten egg. For coloring, I used 1 teaspoon of Wilton Red Red Icing Color instead of 1 Tablespoon of red gel food coloring as I think that's the equivalent.   The cake was the perfect shade of red.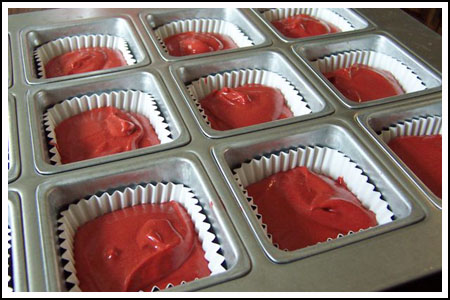 And for the buttermilk, I used 2 Tablespoon of dry buttermilk powder plus 1/2 cup of water. Something to note with dry buttermilk is that it doesn't have the preservative that they add to the refrigerated buttermilk. It's much easier to keep around the house.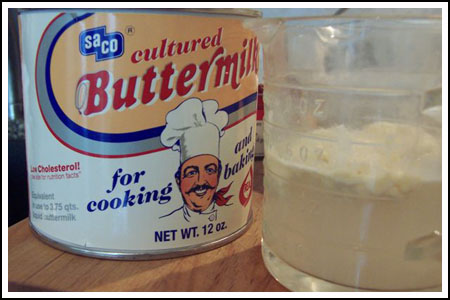 I baked the cupcakes at 325 degrees as per the recipe. They took about 20 minutes in my convection oven and I started to get concerned that I would overbake them. Next time I'll up the temperature to 350 degrees as my convection oven is actually 25 degrees cooler than stated.
As for the cooked buttercream, the only thing I did different was to let the hot saucepan cool to room temperature before I put the cooked mixture into the mixing bowl. I did this mostly because I have a glass mixing bowl and I didn't want to take a chance of breaking it. And it also was a convenient time for me to take a break for lunch.
Now If I have any regrets, it's that I included the cinnamon in the buttercream, if only because of the looks. I love the taste and consistency but the teaspoon plus of cinnamon makes it a nasty brown color. I'm wondering if adding a little of Wilton's "White White" Icing Color would have improved the appearance, but I didn't have any so I couldn't. Right now I'm thinking it wouldn't hurt.
Overall I'd definitely make this cake again. These cupcakes have a lot going for them with a nice texture and mouth feel of a great buttermilk cake. Still, I'm a little curious about some other recipes. Next up will probably be Cake Man Raven's, whose recipe is similar to Martha Stewart's, but with a few twists that might make the cake even better.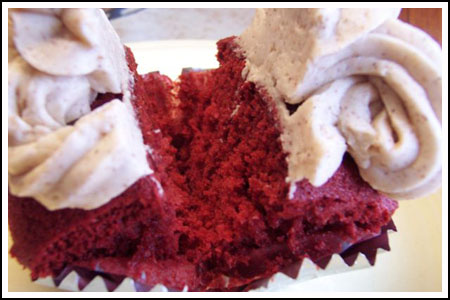 Here's the half recipe for a dozen (or less) cupcakes or 1 (8-inch) layer.
Adapted Version of Baked's Red Hot Velvet Cake with Cinnamon Buttercream
Red Hot Velvet Cupcakes — Adapted from Baked
2 tablespoons dark unsweetened cocoa powder (not Dutch)
1 tablespoon red gel food coloring or 1 teaspoon if using Wilton's concentrated paste
2 tablespoons boiling water
3 tablespoons unsalted butter, softened, cut into small pieces
1 tablespoon vegetable shortening, at room temperature
5/6 cup sugar (measure 1/2 cup plus 1/3 cup)
1 1/2 large eggs (1 egg plus 2 tablespoons of another)
1/2 cup buttermilk (I used 1/2 cup water plus 2 T buttermilk powder)
1/2 teaspoon pure vanilla extract
1 1/4 cups cake flour
1/2 teaspoon fine salt
1-1/2 teaspoons cider vinegar
1/2 teaspoon baking soda
2/3 recipe of CINNAMON FROSTING
1 cup sugar
2 tablespoons plus 2 teaspoons all-purpose flour
1 cup milk
2 tablespoons plus 2 teaspoons heavy cream
1 cup (2 sticks) unsalted butter, soft but cool, cut into small pieces
2/3 teaspoon pure vanilla extract
1 1/3 teaspoons cinnamon
Red Hots (cinnamon imperials) candies, for decoration
MAKE THE RED HOT VELVET CAKE LAYERS
Preheat the oven to 325 degrees F. Line a muffin pan with 12 paper liners.
In a small bowl, whisk together the cocoa powder, food coloring, and boiling water. Set aside to cool. Don't skip this step – it is to "bloom" the cocoa powder, which enhances the flavor.
In the bowl of an electric mixer fitted with the paddle attachment, cream the butter and shortening until smooth. Scrape down the bowl and add the sugar. Beat until the mixture is light and fluffy, about 5 minutes. Add the eggs, one at a time, beating well after each addition.
Stir the buttermilk and vanilla into the cooled cocoa mixture.
Sift the flour and salt together into another medium bowl (Pay attention! Don't add the baking soda. It goes in later…). With the mixer on low, add the flour mixture, alternating with the cocoa mixture, to the egg mixture in three separate additions, beginning and ending with the flour mixture. Beat until incorporated.
In a small bowl, combine the vinegar and baking soda and stir until the baking soda dissolves; the mixture will fizz. Add to the batter and stir until just combined.
Divide the batter among the prepared pans and smooth the tops. Bake until a toothpick inserted in the center of each cake comes out clean, about 15-20 minutes for cupcakes, rotating the pans halfway through the baking time. Transfer the muffin tin to a wire rack and let cool for 5 minutes or so, then remove cupcakes from pan and allow to cool on rack.
MAKE THE CINNAMON FROSTING
In a small heavy-bottomed saucepan, whisk the sugar and flour together. Add the milk and cream and cook over medium heat, whisking occasionally, until the mixture comes to a boil and has thickened, about 20 minutes.
Transfer the mixture to the bowl of an electric mixer fitted with the paddle attachment. Beat on high speed until cool. Reduce the speed to low and add the butter then beat until thoroughly incorporated. Increase the speed to medium-high and beat until the frosting is light and fluffy.
Add the vanilla and cinnamon and continue mixing until combined. If the frosting is too soft, transfer the bowl to the refrigerator to chill slightly: then beat again until it is the proper consistency. If the frosting is too firm, place the bowl over a pot of simmering water and beat with a wooden spoon until it is the proper consistency.
Frost the cupcakes. Garnish with Red Hots.