This is an updated list of various Red Velvet Cupcake recipes I like. I've tried a lot of different ones from the Internet as well as from other sources, and have been trying to nail down favorites. I'm warming up to the darker ones with more cocoa powder these days, but still appreciate the very vibrant "redder" ones as well. Here's the updated list as of 9/6. The cakes section hasn't been updated, but those are still good picks.
Red Velvet Cupcake Recipes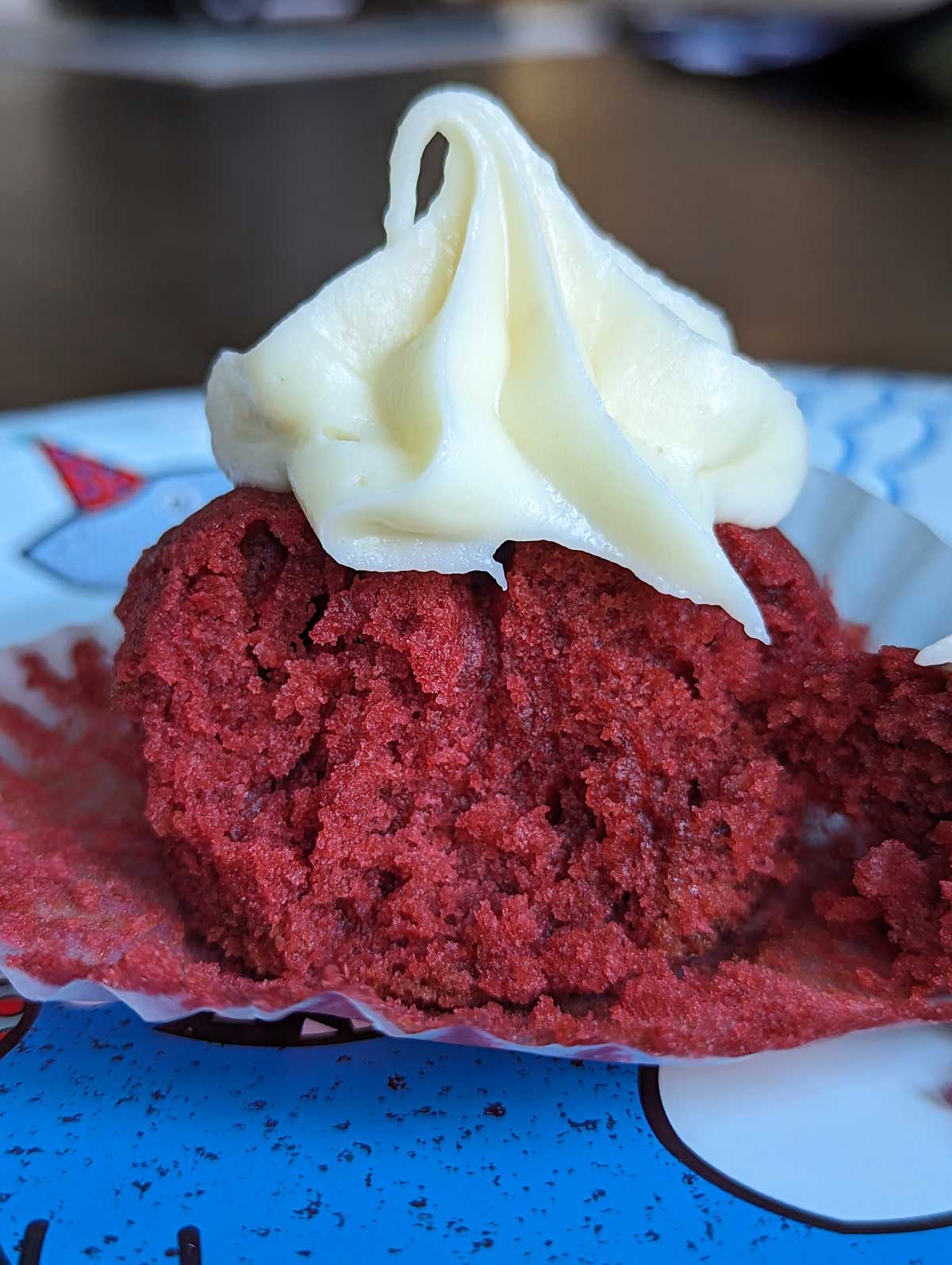 Red Velvet Cupcake Recipe Rundown
Easy Red Velvet Cupcakes -- I recommend this recipe to beginning bakers. There is a lot of oil, but if you follow the directions the cupcakes are not oily tasting. The recipe calls for cake flour, but all-purpose works too if you use the same amount in grams. The recipe, which is originally from Martha Stewart, is a classic.
Throwdown Recipe From Teri Wahl --This is an old one from an episode of Throwdown with Bobby Flay. A chef/cupcake shop owner won the challenge. These bake up with beautifully rounded tops and are a vibrant red. They're tasty and pretty, though I do feel like they need another tablespoon of cocoa powder. But overall they are excellent and the bad reviews on Food Network are probably from people who didn't realize the measurements are weights not fluid oz, which can be confusing.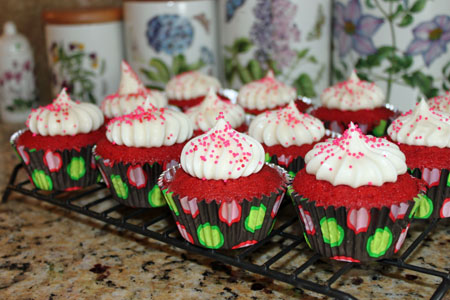 Sugar Geek Show Red Velvet Cupcakes -- Loved this recipe because cake mix enhances the texture. It's a difficult recipe to mess up. Unfortunately my batch tasted a tad bit floury at first. I need to make these again a few times with different brands of cake mix. The recipe recommends Betty Crocker, but I used Duncan Hines, so maybe that had something to do with it.
I also tried a different cake mix version from YouTube where the baker starts with red velvet cake mix and just replaces the liquid with buttermilk and adds vinegar. Those were delicious, but a little light textured for me. I like cupcakes to be heavier, not in a bad way just not light like cotton balls.
Allrecipes.com Red Velvet -- I used to like this recipe, but I don't find it chocolatey enough anymore and miss the buttermilk flavor. The cupcakes are fine, just not my favorite considering all the ingredients.
Baked Red Hot Velvet Cake as Cupcakes -- Not all cakes work well as cupcakes. For instance, the popular Waldorf Astoria recipe with its ½ cup butter is good as a cake with lots of icing, but in cupcake form can be slightly dry. The Baked Red Velvet recipe works very well as cupcakes, though they do not slightly flatter tops. And they're not loaded with oil, either.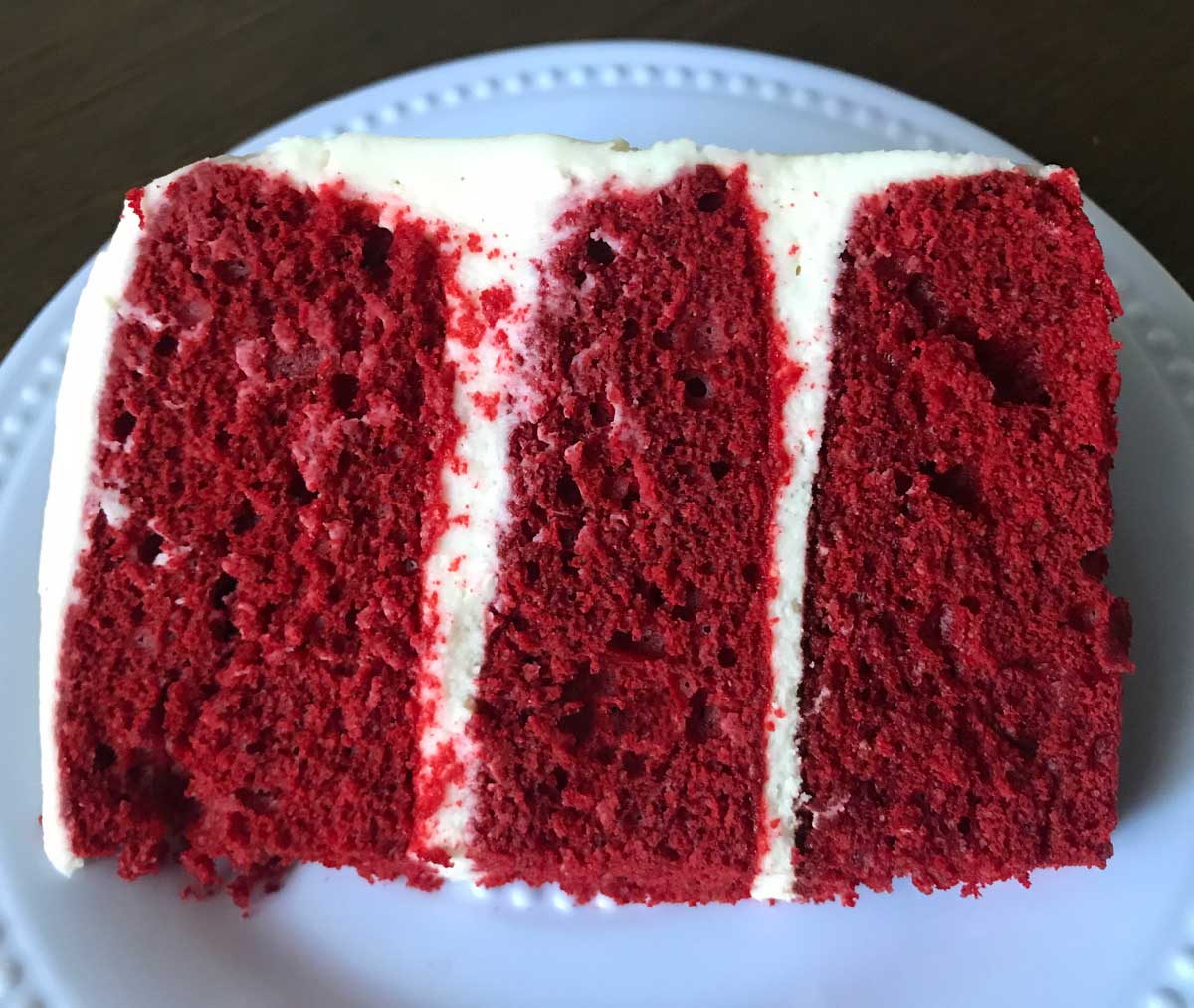 Red Velvet Cakes
Favorite Red Velvet Recipe – I really liked this one at the time, though I need to make it again soon.
Red Velvet From White Cake Mix -- My husband seems to like this one a lot. It's so easy and less messy thanks to the convenience of cake mix.
Self-Rising Flour Cake – Made this as a half-cake. Todd loved it. Moist but not greasy.  Looking back, I notice that the half version has 2 tablespoons of food coloring which means the full version has ¼ cup!  Yikes.  I think I could cut that in half and be okay.  I also remember this cake as having a slight (still good, just slightly off) taste that might have been from the food coloring. T
Waldorf Astoria Red Velvet with Cooked Icing – Very good, but must be made with precision. Must weigh and measure cake flour properly (and sift!).  Also need to use shortening instead of butter for proper texture and people don't always want to use shortening. Does not work well as cupcakes.
White Lily Flour Red Velvet Cake – I need to make this one again. It has slightly more flour than the Cake Man Raven style cake. Plus, when I made it I only used 1 ⅓ cups of oil even though the true recipe calls for 1 ½ cups.  That might be why I didn't find it too oily at the time.