Yesterday I spent a relaxing morning baking Small Batch Espresso Brownies.  The recipe is from a new book by Debby Maugans called Small-Batch Baking for Chocolate Lovers.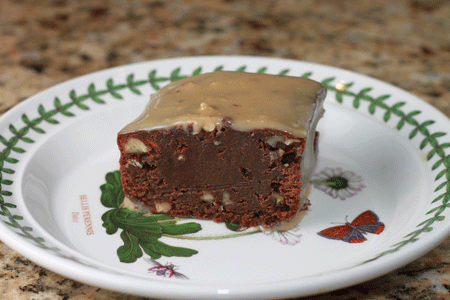 In her first book, Small-Batch Baking, Debbie shared methods for scaling recipes down to two to three servings and included nifty tricks such as baking cakes in soup cans, using mini loaf pans for small batch brownies and making free-form pies. In this book, she uses those same techniques (she seems to have even refined them a bit), but focuses on chocolate.   A few that I've already bookmarked are Chocolate Cherry Bread, Cinnamon Chocolate Scones and Chocolate Ginger Spice Cupcakes.
But back to the brownies.  She's modified her original small batch brownie recipe a bit and for the  better!  The new ones are perfect.
To help you visualize the scale and ease of making this small batch recipe, I took more photos than usual.
Here are the ingredients. Notice the loaf pan? You'll need a mini loaf pan that holds 2 cups.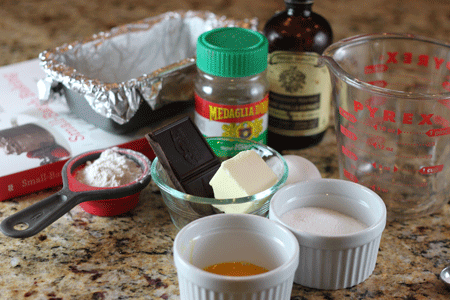 I loved being able to mix the batter in the same Pyrex mixing cup I'd used to melt the chocolate.
And here's the batter in pan. In her new book, Debbie calls for non-stick foil. It's a little more expensive than regular foil, but so convenient. I happen to be out at the moment, so I just used regular foil with Baker's Joy.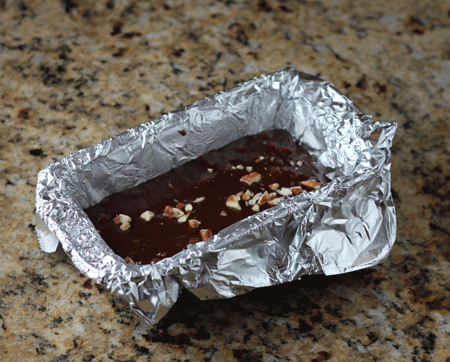 The brownies puffed up more than I expected. It wasn't a big deal, though.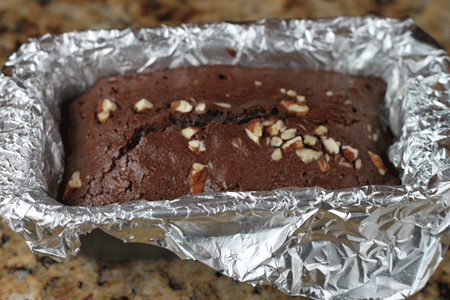 They were incredible! The insides were just what I love in a brownie – fudgy without being gooey. The espresso powder in the brownie was just right, but the white chocolate based cappuccino flavored ganache took them to the next level.  Debbie recommends premium white chocolate. I didn't have any and didn't want to go to the store so I used white chocolate chips. They worked surprisingly well, though I did find I needed to add a lot more espresso than Debbie called for to get the level of coffee flavor I require.
Here's the recipe from the book along with some notes I took during baking.
Small Batch Espresso Brownies with White Chocolate Cappuccino Ganache
1 oz unsweetened chocolate, chopped (28 grams)
2 tablespoons unsalted butter (48 grams)
¼ cup plus 2 tablespoons sugar (75 grams)
1 large egg plus 2 teaspoons of egg from another egg (60 grams)
½ teaspoon instant dark coffee or espresso
½ teaspoon vanilla extract
1/8 teaspoon salt
3 tablespoons all-purpose flour (25 grams)
1/3 cup chopped, toasted pecans
Ganache
2 tablespoons heavy cream (28 grams)
2 tablespoons dark coffee or espresso**
Pinch of cinnamon
2 ounces of fine quality white chocolate, chopped **
Place rack in center of oven and preheat to 350 degrees F. Line a petite loaf pan (2 cup capacity, 5.3 inches) with non-stick aluminum foil or use regular aluminum and very lightly butter the foil.
Place chocolate and butter in a microwave-safe bowl. Microwave on medium power until chocolate is soft and butter is melted, 1 to 1 ½ minutes. Stir until smooth. Stir in sugar until blended. Mix into the flour just until incorporated. Stir in nuts (if using).
Spread batter evenly in pan. Bake about 26 to 28 minutes or until a toothpick inserted in center comes out with a few moist crumbs. Let cool on a wire rack for 10 minutes. Remove the brownie layer from the pan and let cool completely on rack. Spread the White Chocolate Cappuccino Ganache over the top. Peel back the aluminum foil and cut into bars. Makes 3 brownies.
Ganache. Place the cream, coffee, and cinnamon in a small, microwave-safe bowl; microwave on high power until simmering, about 30 seconds. Add white chocolate; let stand 1 minute to soften, then stir until smooth. Let cool until spreading consistency. Makes about 1/3 cup.
My Notes:
The pan I used was 2 cup capacity, but slightly narrower than 3×5 so my brownies were higher.
My brownies had kind of a dome, but I attribute that to the extra tablespoon of egg I inadvertently added! They were so good, I'd be tempted to add it again, dome or not.
The ganache thickened a little but it never set and I'm not exactly sure why. I used white chocolate chips so that might have had something to do with it, or maybe it wasn't supposed to get very firm. I'll try again with white chocolate. For the brewed coffee, I used 2 tablespoons of regular brewed. That didn't have enough coffee flavor for me so I dissolved a teaspoon of espresso powder in about 2 teaspoons of hot water and trickled a little extra liquid into the ganache. I didn't use the full 2 teaspoons – the water was just to dissolve the ganache and I don't think this tiny bit of extra liquid caused the ganache not to set.