This might be my perfect meal — a chicken salad sandwich on walnut bread, a side of Terra chips, some pickled carrots, a can of Diet Sprite (Update: change to Chardonnay) and a slice of buttermilk chocolate layer cake. I'd rather have those than just about anything – especially the chicken salad which is kind of a splurge food around here. I love it, but I'm always trying to budget calories for chocolate cake and cookies, so my meals have to be lean and low in fat.
My favorite chicken salad is not exactly light, but you could always use reduced fat or just add more chicken so you get a smaller ratio of dressing. This one has lots of dressing.
I don't know the origin of this recipe but it appears in a couple of my Junior League books with the title "Bridesmaid Chicken Salad". It usually calls for pineapple plus slightly more lime juice and lime zest, but you really can taste the lime, so I like to tone that down a little.
For the chicken, cool and chop. I use the giant bone-in chicken breasts, sprinkle them with some Cavender's Greek seasoning, put a pat of butter under the skin, then roast at 350 for about 50 minutes. Roast chicken on the bone has so much more flavor than boiled, but you can use whatever chicken is convenient. Just not canned. It's not allowed. Just kidding.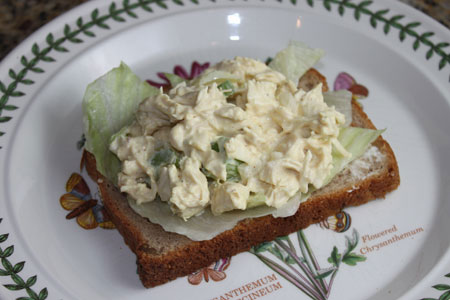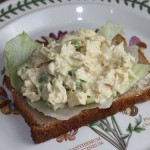 Print Recipe
My Favorite Chicken Salad
Perfect chicken salad for parties, receptions or other events
Ingredients
1 1/2

cups

good quality mayonnaise

3/4

cup

Major Grey's Chutney

1

teaspoon

curry powder

you can use more or less to taste

2-3

tablespoon

fresh lime juice

1 1/2

teaspoon

fresh lime or lemon zest

4 1/2

cups

cooked chicken breast – from about 3 large chicken breasts

2

cups

thinly sliced celery

1/2

cup

finely chopped onions

more if you like

1/2

cup

toasted

thinly sliced almonds
Instructions
Mix together all ingredients in a bowl. Serve on a bed of lettuce topped with more almonds or serve as the filling of a sandwich made with good bread.