If you find yourself with six egg whites and don't know what to do, Angel Cupcakes to the rescue! I made these after baking the Cook's Illustrated Wicked Boston Cream Pie. Because I was anxious to see how the recipe would turn out, I made the cupcakes the next day, but you can also freeze the egg whites and thaw them when ready to use. In my experience, thawed-from-frozen egg whites whip up just as well as fresh.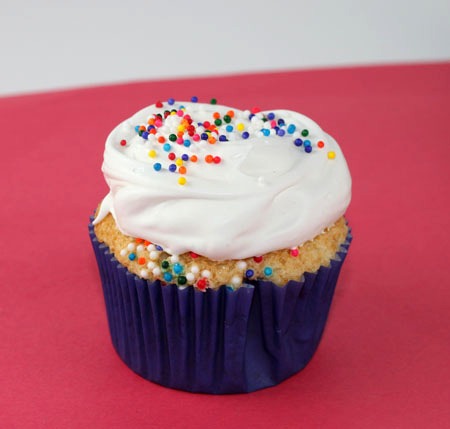 But back to the Angel Cupcakes. These are a lot like actual angel food cake, but with just enough butter to make them slightly denser and less airy. Plus, you don't need the angel pan!
For the icing, I used my favorite 7 Minute recipe and it worked perfectly! The cupcakes are so good you won't believe they're low in fat. I'm estimating about 3 grams per cupcake, but I'm not a nutritionist and didn't do any kind of thorough analysis so don't rely on that as nutritional advice.
Oh, and the sprinkles are optional. I threw some into part of the batter to make my own confetti-themed cupcakes, and I also sprinkled more on top.
Here's a picture of the cross-section. I like 7-Minute Icing because you can pile it on very high, plus it gets all nice and crusty after it sits out for a while.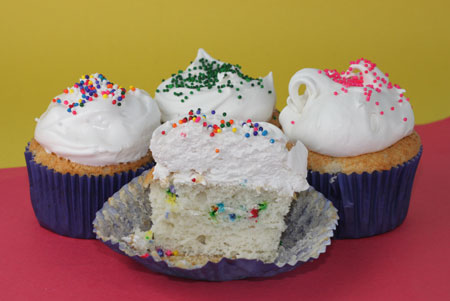 Recipe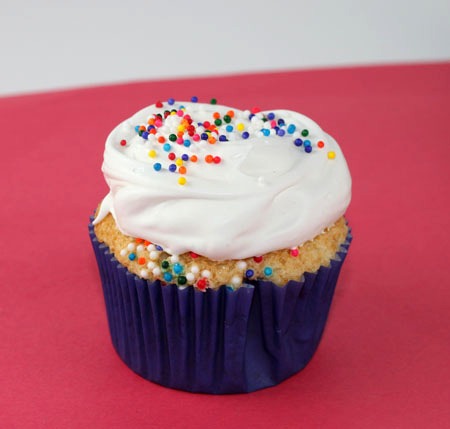 Angel Cupcakes With 7 Minute Icing
Angel Cupcakes with 7 minute icing
Ingredients 
1

cup

cake flour

4 oz

½

teaspoon

salt

1

teaspoon

baking powder

½

cup

milk

2

tablespoons

butter

regular

4

large egg whites

room temp

¼

teaspoon

cream of tartar

1

cup

sugar

1

teaspoon

vanilla extract
7 Minute Frosting
2

large egg whites

1

cup

sugar

¼

cup

water

1

teaspoon

corn syrup

¾

teaspoon

vanilla

you can use less or more to taste
Instructions 
Preheat the oven to 350 degrees F. Line 12 muffin cups with paper liners.

Sift the cake flour, salt and baking powder together and set aside.

In a microwave-safe measuring cup, combine milk and butter. Microwave one minute or long enough to scald milk and melt butter. You may also do this over the stove.

Beat the egg whites in a large bowl until foamy using an electric mixer. Add cream of tartar and continue beating on high until whites form stiff peaks. Set aside.

In a mixing bowl, combine the hot milk/butter mixture with the sugar and beat on low speed. Add the flour mixture and the vanilla and beat until smooth.

Gently fold in part of the egg whites to lighten the batter, then fold in all the rest. Divide evenly among the cupcake containers filling about ¾ of the way full.

Bake on center rack for 20 minutes.

To make the icing, combine all ingredients except vanilla in a metal bowl set over a pan of boiling water. You want it about 2 inches from the water, but mine is almost always closer and I never have a problem. If you have one, you can just use a double boiler.

Beat on high speed of an electric mixer for about 7 minutes or until mixture is thick and spreadable and peaks have formed. Remove from heat and beat in the vanilla.