Most biscuit recipes don't call for yeast, but Angel Biscuits are the exception. The yeast is supposed to give them a "heavenly" texture and/or make them "rise as high as angels". Or at least in theory. I've made good Angel Biscuits and some that didn't rise so well. They were Devil Biscuits. But this recipe should give you Angels. I've changed it up a bit and use active dry yeast (which I proof before adding) and I've incorporated some baking soda to help browning.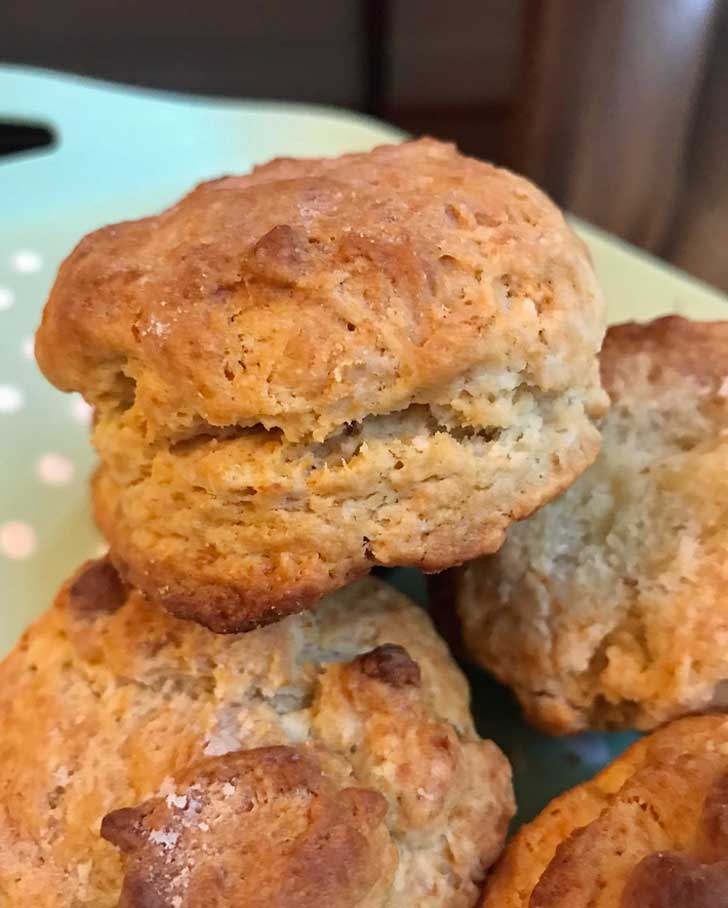 This recipe, unlike my old one, does not call for an hour's rising time. The dough will lighten a bit as you cut the biscuits, and then will rise more by the time you are ready to put them in the oven. That said, you can let them rise a little longer -- like for 30 minutes, in which case they will be a tiny bit lighter in texture. I recently tested a half batch with a 30 minute rise and felt like the next might have been a tiny, tiny, bit better. But I don't know. All batches of these have been great.
Buttermilk Powder
Buttermilk powder works very well in this recipe. When using buttermilk powder, I usually mix the powder in with the dry ingredients and then use water in place of the buttermilk powder. However, for Angel Biscuits I mix the buttermilk powder with the water to make buttermilk, then use as I would the milk. If using buttermilk powder, you'll need two tablespoons plus about a half teaspoon.
Recipe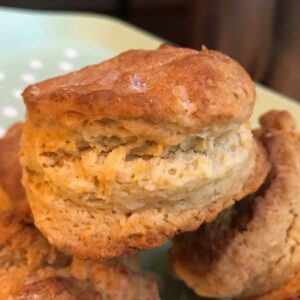 Angel Biscuits
A light and tasty biscuit made with yeast. The brand of flour may affect how much liquid you need, so start with the lower amount and add more milk as needed.
Ingredients 
1 ¼

teaspoons

active dry yeast

¼

cup

warm water

(56 grams)

2

tablespoons

sugar

(25 grams)

2 ½

cups

all-purpose flour

(325 grams)

½

teaspoon

baking powder

½

teaspoon

baking soda

½

teaspoon

salt plus another ¼ teaspoon if desired

4

tablespoons

shortening

(48 grams)

4

tablespoons

unsalted butter or salted**

cut into pieces (56 grams)

½

cup

plus MAYBE 2 tablespoons more luke warm

melted butter for brushing
Instructions 
Combine the yeast, warm water and a pinch or two of sugar. Stir lightly and let proof for 5 minutes or until bubbly.

Mix the remaining sugar, flour, baking powder, baking soda and salt in a large mixing bowl.

Scatter the shortening and butter pieces over the dry mixture, and with a pastry cutter or your fingers OR a fork, work the fat into the flour mixture until crumbly.

Add the yeast water and well mixed, then begin gradually adding the buttermilk, stirring just until you have a soft dough. Use just as much as you need. You may not use those last 2 tablespoons.

Preheat oven to 400 degrees F. Line a baking sheet with parchment paper.

Turn the dough onto a very lightly floured surface and press into a slab, then fold it over on itself two or three times, pressing down again so your slab is around ¾ of an inch thick.

Using a 2 inch cookie cutter, punch out as many circles as you can. You should be able to get 12.

Set the biscuits about an inch apart on a well greased baking sheet and bake at 400 for about 15 to 18 minutes.

Brush tops with melted butter and serve.
Notes
I like biscuits a little salty, so if using unsalted butter I use the ½ teaspoon as called for and add an extra  scant ¼ teaspoon of salt. If using salted butter, the biscuits only need the  ½ teaspoon of salt.