Hello, and thanks for all the well wishes! It's been a long week.
I headed back to the kitchen yesterday, but my appetite had changed a bit and my usual rich, gooey, chocolate cravings were on the down low. What did sound good was a plain vanilla pound cake, and the King Arthur Flour Whole Grain Baking Book
had the perfect recipe — one with an interesting composition. It has a combination of granulated sugar and powdered sugar, and calls for a mixture of whole wheat pastry flour and bread flour. What would bread flour do to a pound cake? Would I taste the whole wheat?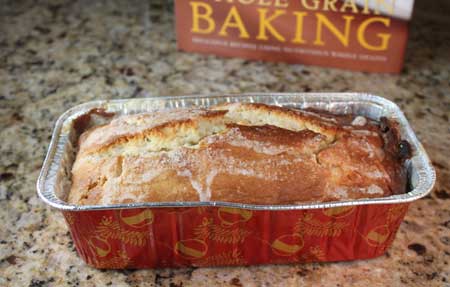 I guess the bread flour added structure to the cake and the pastry flour kept the middle nice and soft while adding a very, very, slightly wheat flavor. The cake had a tall crown, a big crack down the center, and a tight crumbed, interior. It's flavored with vanilla and almond extract, which is nice; but the best thing of all is the crackly, crunchy glaze which goes on 15 minutes before you take the cake out of the oven. KA said the glaze was optional, but I'm glad I didn't skip it.
Speaking of KA, I love their books so much. I've noticed a pattern that whenever I'm sick, I pull out this one. If you don't have their whole grain book, I highly recommend it because it describes the ins-and-outs of baking with various flours and offers some practical and truly appealing and diverse ways to use them — chocolate chip cookies with barley flour, whole wheat brownies, genoise made with whole wheat flour, oat crackers, chewy oatmeal decorating cookies, several biscotti recipes, nut pies with whole wheat flour and a lot of good yeast breads. It's an all-ages, all baking levels type book.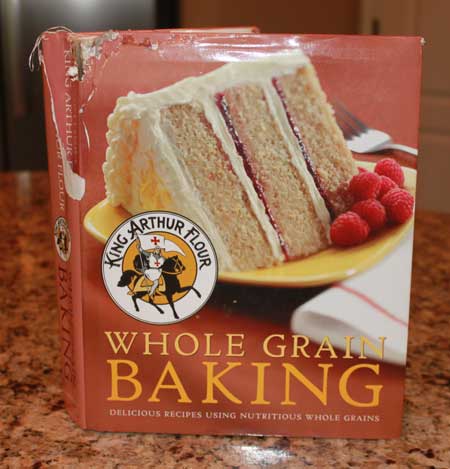 Here's the pound cake recipe. The book version is actually double this and made in two 8×4 inch pans, but one cake was just right for us.
Vanilla Pound Cake
1 1/4 cups (4.2 oz) whole wheat pastry flour
1/2 cup (2.25 oz) bread flour
1/2 teaspoon salt
1 stick (4 oz) unsalted butter, cool room temperature
1/2 cup (2 oz) confectioners' sugar
1/2 cup plus 2 tablespoons (4.4 oz) granulated sugar
1/2 teaspoon baking powder
2 large eggs
1/2 cup sour cream
1 1/2 teaspoon vanilla extract
1/4 teaspoon almond extract (or you substitute a teaspoon of lemon zest)
Crunchy Sugar Glaze
1 1/2 tablespoons granulated sugar
1/2 teaspoon vanilla extract
1 teaspoon water
Preheat the oven to 350 degrees F. Spray an 8×4 inch loaf pan with flour-added baking spray.
Mix together the flours and salt and set aside. In bowl of stand mixer, cream the butter, sugars and baking powder until light and fluffy, about 5 minutes. Add the eggs, one at a time, beating well after each addition and stopping to scrape the sides of the bowl. Lower the mixer's speed and add the flour mixture alternately with the sour cream, beginning and ending with the flour. Stir in the vanilla and almond extract (or lemon).
Transfer the batter to the prepared pan. Bake for 40 minutes . While the cake is baking, mix together the glaze ingredients.
Remove the cake from the oven and brush the glaze over the top of the cake. Return to the oven a bake for 15 more minutes or until a cake tester inserted in center comes out clean. (Total bake time is about 55 minutes to an hour). Remove from oven and let cool completely.