I first tried grain free granola at a grocery store, where a local company was handling out samples of their own local "paleo friendly" granola.  It was good!  I would have purchased it right then and there, but because of the high price of $10 a bag,  I I knew I'd be better of making it at home.  Consequently, I did some research and found a ton of recipes for grain free granola.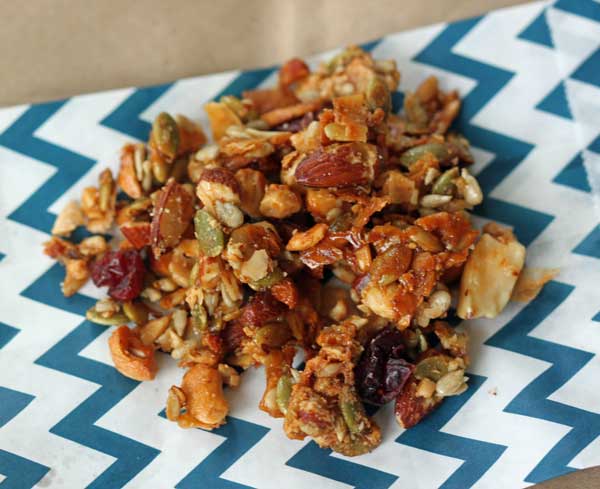 Grain Free Granola Ingredients
Grain free granola is not the same as typical oat based granola.  Instead, a combination of ground nuts and coconut flakes replaces oats.  Also, the texture is not crisp, but rather sticky and crunchy from the honey, nuts and seeds.  I really like it, but it's not completely perfect because it's hard to stop eating and sticks to dental work. However, if you're not worried about dental work and are looking for a fun way to eat nuts and seeds, you should definitely try this.  I make it in small batches since we try to eat small bits at a time, but if you're making it for a larger group the recipe can be doubled or tripled.
Recipe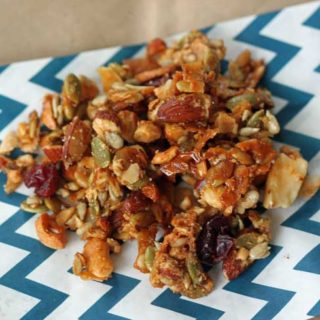 Small Batch Grain Free Granola
Small Batch Grain Free Granola made with mixed nuts, coconut oil, honey and various seeds.
Ingredients 
1 ¼

cup

raw mixed nuts

almonds, cashews, brazil nuts, hazelnuts

¼

cup

pumpkin seeds

2

tablespoons

unsalted raw sunflower seeds

⅓

cup

unsweetened coconut flakes

1

tablespoon

coconut oil

2

tablespoons

honey or maple syrup or 1 of each

½

teaspoon

vanilla

⅛

teaspoon

sea salt

Dried fruit of your choice

I like using dried cranberries or a dried tropical fruit mix.
Instructions 
Preheat oven to 275 F. Line a rimmed baking sheet with parchment paper or nonstick foil.

Place 1 cup of the raw mixed nuts in a mini chopper or food processor and chop so that you have some ground bits and small pieces. Put the mixture in a bowl. Throw in the remaining ¼ cup whole nuts, seeds and coconut flakes.

Heat the coconut oil and honey (or honey and maple) together in medium size saucepan set over medium heat.

Remove from heat and pour over nut mixture. Add the vanilla and sea salt and stir until evenly coated.

Spread the granola mixture evenly on the lined baking sheet and bake without stirring for about 25 minutes (check at 20). Remove from the oven and let cool.

At this point it might not seem done and will appear kind of wet. Let it cool completely. It will solidify more as it cools, but it won't get completely crispy.

Break it into pieces and add dried fruit.