One of my pet peeves while traveling is hotel rooms without coffee makers. From the hotel's point of view, there are probably a million reasons not to have coffee makers; but from a traveler's standpoint, it's a huge inconvenience to have to get dressed to go to the lobby and buy coffee or pay $15 for a room service.
This past year, I solved the problem by carrying Starbucks VIA instant coffee packets wherever I go. In airplanes, you can mix them into boiling water, and in hotel rooms you can do the same, provided you also carry around a Hotshot or other water-boiling apparatus.
So I am eternally grateful for tasty instant coffee to get me to the point where I can get dressed and go seek out the brewed stuff. But here's the weird part. I never considered baking with it until I went to blog conference, talked with the Starbucks ladies, and found out they had developed recipes with it. Well, duh.
Starbucks Via Double Chocolate Cookies
This morning, using one of the packets I've been carry around in my purse, I made a Starbuck's double chocolate cookie recipe. As far as coffee flavored go, this was one of *the best* recipes I've tried in a while. I'm sure using Scharffen Berger cocoa and chocolate helped in that department, but I really could taste the Starbuck's Via. Perhaps the clean, bold taste of the Italian style blend really did add something to the cookie.
Recipe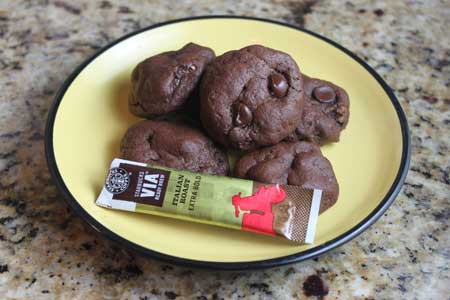 Starbucks VIA Double Chocolate Cookies
Starbuck's VIA Double Chocolate Cookies
Ingredients 
¾

cup

bittersweet chocolate

chopped – This was 3 oz on the scale

2

packets Starbucks VIA

R

1 ¼

cups

flour

½

cup

unsweetened natural cocoa powder

1

teaspoon

baking soda

½

teaspoon

salt

½

cup

butter

softened (I used unsalted)

¼

cup

sugar

⅓

cup

packed brown sugar

1

teaspoon

vanilla extract

1

egg

1 ½

cups

extra dark chocolate chips
Instructions 
Melt chocolate in a double-boiler over barely simmering water. Stir in the coffee.

Combine flour, cocoa, baking soda and salt in a bowl.

In a mixing bowl, cream butter and sugars together until light and fluffy. Add the melted chocolate to the butter mixture and stir well. Add vanilla and egg to the chocolate mixture. Stir in the dry ingredients. Fold in chocolate chips.

Divide dough into 36 balls and place on a cookie sheet, but don't flatten. Bake at 325 F for

about eight minutes. Let cookies cool on the baking sheet for five minutes. Transfer to a

cooling rack.