I was in the mood for brownies, but Fuzz wanted chocolate muffins. Coconut Oil Chocolate Muffins were our compromise. These are very chocolaty muffins, sweet enough for dessert, but not so sweet they'd be confused with cupcakes. Also, they are rich enough not to need icing. In other words, they're true muffins and not cupcakes. The coconut oil adds a hint of coconut flavor and gives them a moist texture, but if you don't have any coconut oil you can use another oil.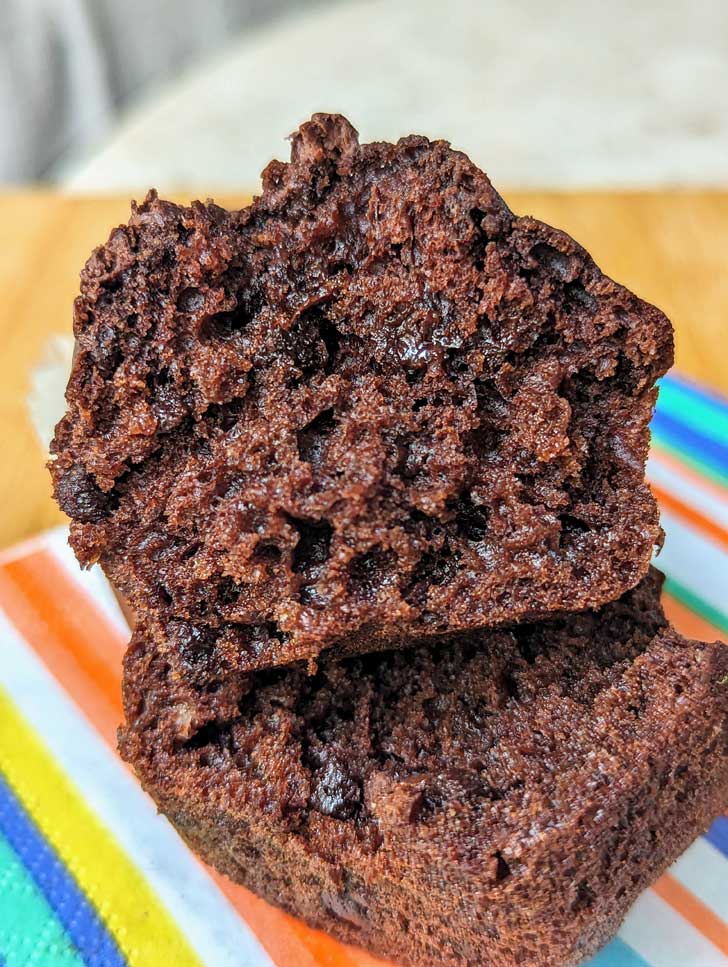 Coconut Oil Chocolate Muffins Experiments
I did a few more experiments where I tried to replace the egg with drained applesauce and used soy yogurt for the buttermilk. That one didn't go over so well, but I did get good results when I replaced the sugar/cane sugar with sugar substitute. If you like artificial sweeteners, this is a good way to use them. Just be sure you use the equivalent to 3 tablespoons of sugar -- some sweeteners are 1 to 1 volume and others vary, as you probably know.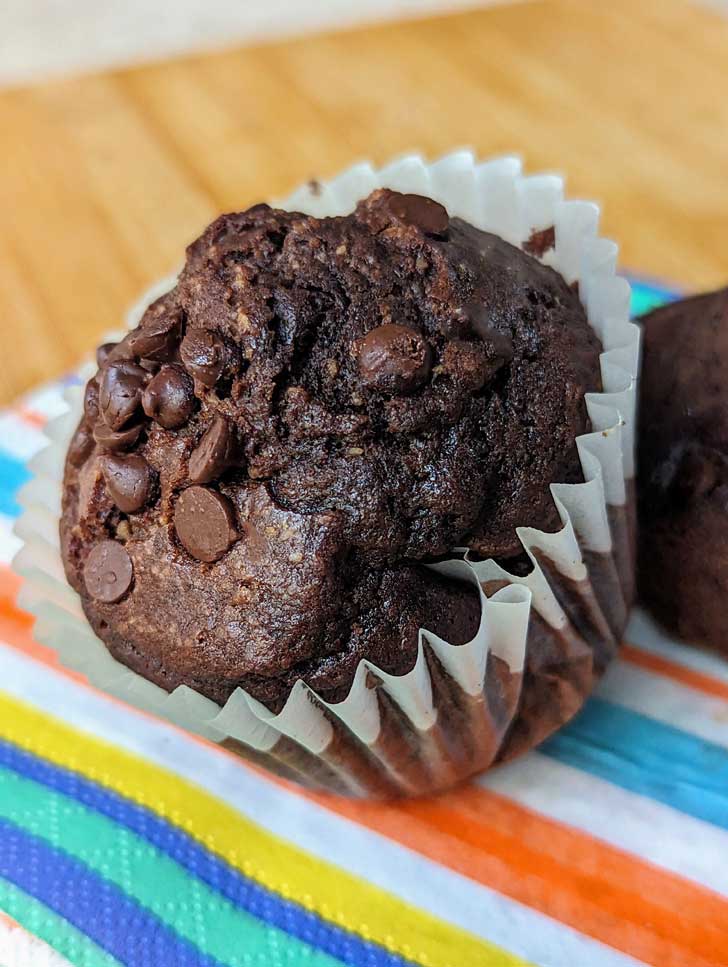 Things I've Done to These Muffins
This is a really good recipe. Since posting it, I've added a few tips for how to get the best results. These are all things I've tested over the years.
This recipe halves well. Just cut everything in half and for the egg, use 2 tablespoons lightly beaten.
Forget the coconut oil and use any other oil. Grapeseed oil works really well, as does a little light olive oil.
You can add a pinch of espresso powder for more intense flavor, although I'd say these are pretty flavorful without it.
For the cocoa powder, use natural for a higher crown and weigh or measure carefully. I use 28 grams total and could probably get away with using less rather than more. Too much cocoa powder will make them dry.
Weigh the flour or measure with a light hand.
For fluffier muffins, stir a heaping tablespoon of almond flour into the batter before baking.
No buttermilk? Try using buttermilk powder. I've noticed my muffins rise a little higher with the powder. I use Saco or Bob's Red Mill brand.
Recipe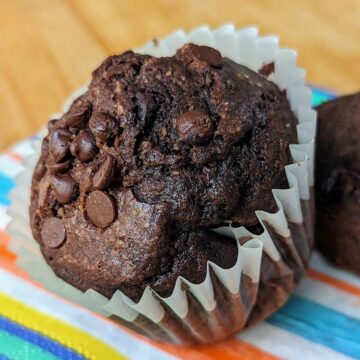 Coconut Oil Chocolate Muffins
Chocolate Muffins made with coconut oil
Ingredients 
1

cup

4.5 ounces/126 grams all-purpose flour

½

teaspoon

baking powder

½

teaspoon

baking soda

¼

teaspoon

salt

¼

cup

unsweetened cocoa powder plus about a teaspoon**

(20 to 28 grams) --natural

6

tablespoons

sugar

⅓

cup

miniature or regular size chocolate chips

4

tablespoons

melted coconut oil**

(50 grams)

1

large

egg

room temperature

⅔

cup

buttermilk

room temperature

½

teaspoon

vanilla
Instructions 
Preheat oven to 400 degrees F. Line 8 or 9 muffin cups with paper liners. If you're making jumbo size muffins, line 4 or 5 cups.

Mix the flour, baking powder, baking soda and salt together in a bowl. When well mixed, stir in the cocoa powder and sugar. Stir in the chocolate chips.

In a mixing bowl, whisk together coconut oil and egg. When well mixed, gradually whisk in buttermilk and vanilla. Add the dry mixture to the wet mixture and stir just until blended.

Divide batter evenly among the muffin cups. It should come up almost to the top of each cup. Bake on center rack for 20 minutes or until the muffins appear set. Let cool in the muffin tin.
Notes
I've always used 28 grams of cocoa powder for this recipe, but depending on what brand and type the volume may vary from a little over  ¼ cup to ⅓. I've reduced the volume amount to ¼ cup to be safe. For best results, weigh 28 grams. If you don't have a scale, use the volume amount.
For the coconut oil, I use about 50 grams. If measuring by volume, it's best to melt it, in which case 4 tablespoons melted should be around 50 grams