This is an old post where I rambled on about Mad Men before finally posting the Artichoke Squares recipes. Here's a Jump to Recipe link.
Jump to Recipe
Post From The Olden Days
Last night's Mad Men might have been my favorite episode ever, but I don't want to spoil it for you so that's all I say. That, and it was revealed (or maybe it already has been in and I just missed it) that Pete and Trudy live in Cos Cob, Connecticut, which ties in with today's recipe. This recipe for Artichoke Squares is adapted from the Friends of The Cos Cob Library Cookbook.
Notes
Other than the Cos Cob cookbook, I don't know the true origin of this recipe, but it's similar to others which use spinach or peppers. My guess is it was put out by the artichoke company, because while artichokes are great here, these would be even better with a little spinach or broccoli thrown in. But they're good on their own and kind of fun to serve because they slice very neatly and you can put them in cute cupcake liners or arrange them on a tray. The one thing I learned yesterday is that it's definitely better to make these ahead, cool, chill, slice while cold, then reheat. Served straight out of the oven, they're kind of messy.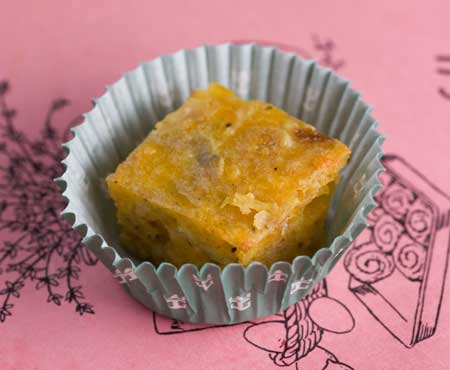 These were fun to put together and great for making ahead. You can serve them right away if you want, but it's much better to make them ahead, cool, chill, then cut, so that you can get a nice clean cut and make little squares.
Quarter Sheet Pan Version
Update: I'm currently testing a small batch version of the recipe in a ⅛ sheet pan and will update soon!
Recipe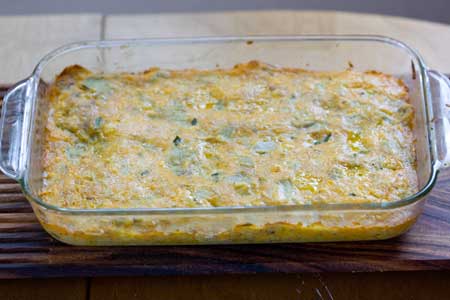 Artichoke Squares
An easy make-ahead appetizer using artichokes.
Ingredients 
2

6 oz

jars marinated artichoke hearts, drained and chopped

⅔

cup

chopped onion

2

cloves

garlic

minced

4

large

large eggs

¼

cup

seasoned bread crumbs

I used "Zesty"

¼

teaspoon

salt

⅛

teaspoon

dried oregano

⅛

teaspoon

Tabasco or Tapatio sauce

⅛

teaspoon

black pepper

2

cups

grated or shredded cheddar cheese

Swiss would be great!

2

tablespoons

finely chopped fresh parsley
Instructions 
Preheat oven to 325 degrees F. Rub a 7x11 inch baking dish (I used a Pyrex casserole dish) with butter or spray with cooking spray.

In a large non-stick skillet, combine onions, garlic and a little of the marinade from the artichokes -- you could use a couple of teaspoons of oil, but I found the artichokes had enough oil on them already. Saute onions, garlic and chopped artichokes for about 5 minutes or until onions are soft and slightly browned

In a mixing bowl, whisk the eggs with a fork. Stir in crumbs, salt, oregano, Tabasco (or Tapatio), salt and black pepper, then stir in the cheese, parsley, artichoke and onion garlic mixture.

Bake for 30 minutes. Let cool, then chill for a few hours or until very cold.

Before serving, cut into tiny squares (about 36) and arrange squares on a foil lined baking sheet. Heat at 400 degrees F. for about 5 minutes or until warm. Serve in mini cupcake liners.