Update: I posted this recipe back in 2012 when almond milk was not quite as mainstream.  It's funny reading this six years later.   Also, this is still one of Todd's favorite desserts. If you are into oat milk, The New York Times just posted an oat milk version.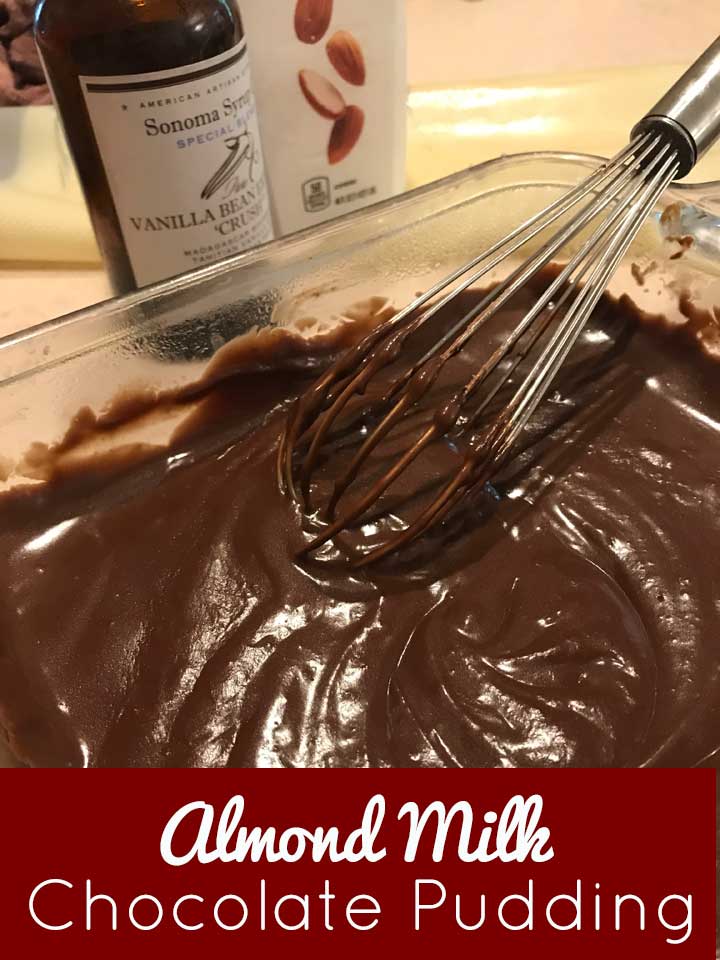 Thanks to a dollar off coupon and a tip from my mother saying it wasn't as strange as it sounded, I bought a carton of almond milk. Sometimes I think it tastes like cake mix, other times marshmallows.  And then sometimes it reminds me of this old cereal I use to like called "Almond Delight" but in liquid form. And while I bought the unsweetened type because I liked the fact it only has 40 calories per cup, I usually sweeten it with whatever low cal sweetener is on hand. It's good on cereal, in smoothies and hopefully will work well in baked goods (haven't tried that yet), but right now my favorite recipe using almond milk is this pudding.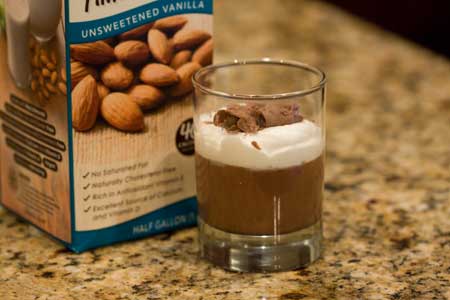 This is from Silk Pure Almond Milk's recipe center, but I've made a few personal changes.  Because I wasn't sure Todd would like it, I made a half batch. He loved it. I'm not sure he can even tell that it's almond milk, but he noticed the really smooth texture.  It also adds a hint of almond flavor to the pudding, which in this case is a bonus.
Recipe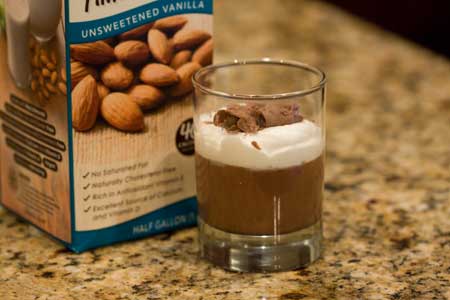 Almond Milk Chocolate Pudding
Chocolate pudding made with almond milk. For a vegan or non-dairy version, use a non-dairy spread instead of the butter.
Ingredients 
3

tablespoons

granulated sugar

2

tablespoons

cornstarch

3

tablespoons

unsweetened natural style cocoa powder

Dutch is fine, too!

⅛

teaspoon

sea salt

1 ½

cups

Silk Pure Almond Vanilla

½

teaspoon

vanilla and/or almond extract

¼

teaspoon

chocolate extract

optional

1 ½

tablespoons

unsalted butter

room temperature
Instructions 
Whisk the sugar, cornstarch, cocoa and salt in a medium (2 quart) nonstick saucepan.

Slowly whisk in the almond milk. Bring mixture to a boil over medium heat, whisking constantly.

Reduce heat to low and simmer, whisking occasionally, until mixture thickens. It usually takes about 3 minutes, but I continue whisking for a total of 4.

Set a sieve over a bowl and drain pudding into the bowl to ensure that there aren't any lumps. Stir in the extracts and the butter. Pour into 2 serving bowls. Cover exposed area with a small sheet of waxed paper or parchment or plastic wrap, then cool slightly and chill until cold.

Serve with whipped cream and chocolate shavings.
Notes
Cook time is actually chill time.