I have a fun little cake recipe to post later, but since it's not really much of a Father's Day Cake and Father's Day is around the corner, here's a list of Father's Day Cakes that might be helpful. These are are all Dad-approved, fairly simple and worthy of a celebration.
First on the list is this easy chocolate cake filled with raspberries and topped with sour cream frosting. For an easy cake, it's got a lot going on, and the frosting is unusual.
Chocolate Cake with Raspberry Filling and Coconut Cream Frosting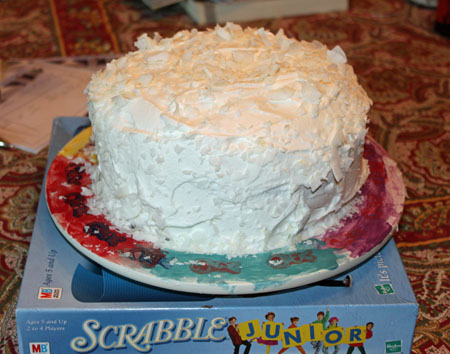 It's been a while since I made this one, but it seems like a good "Dad" cake -- especially if your dad's had a tough year. You could say "Dad, I know it's been a rocky road, so here's a cake etc. etc.". Okay, maybe not. But it is called Rocky Road Cake or Bumpy Highway Cake, and it's not as sweet as it appears. Here's the post where I reviewed it and adapted it and here's the original.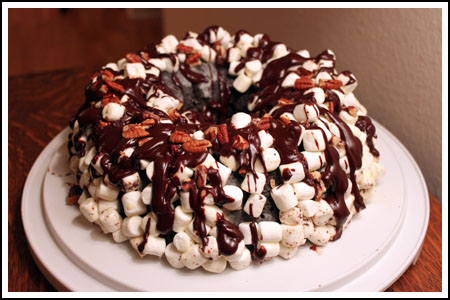 Show your dad how resourceful you are by using mayonnaise in a cake!  And chocolate syrup! And marshmallow fluff!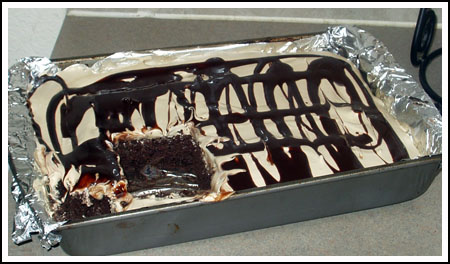 If your dad likes Bundt cakes, try this one. Originally from Food & Wine, there was a period where it was my one go-to cake.  Serve it with your dad's favorite ice cream.
A Really Good Chocolate Bundt Cake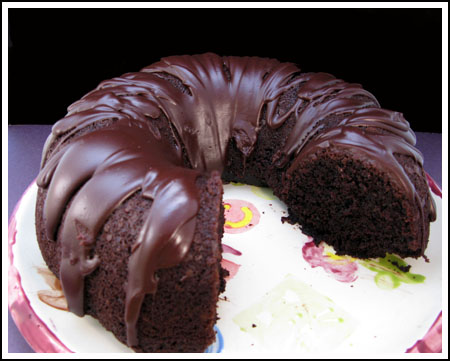 Does your dad like Bourbon? Yes? Okay, then!
Maida Heatter's 86 Proof Chocolate Cake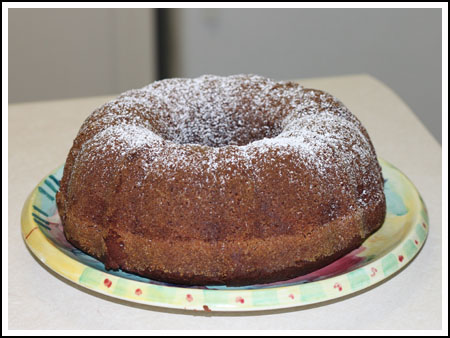 Remember that crazy poke cake you said you wanted to make but forgot about? Here it is again along with an excuse to try it.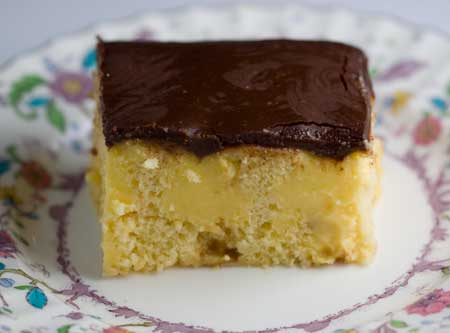 This is a good German Chocolate Cake. It's smaller than most.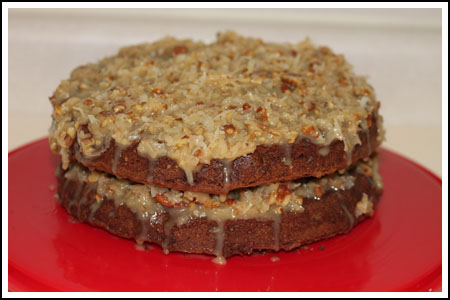 This is a cheater's version of Black Forest Cake. It's a Black Magic Cakes with cherry filling and whipped cream frosting.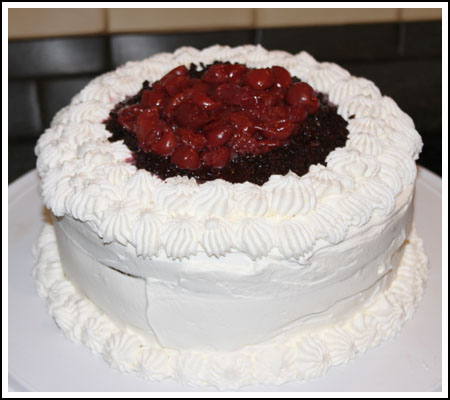 This cake is not as simple as the others, but I wouldn't call it super complex, either. If your dad doesn't care for chocolate, try it.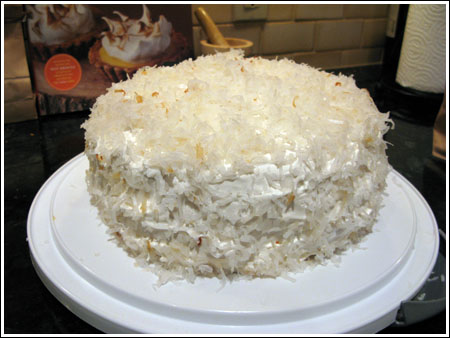 And speaking of coconut cakes, here's one with coconut and lime.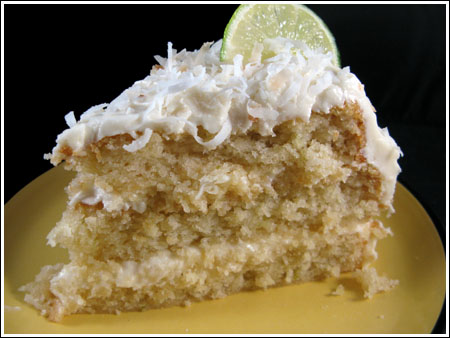 Keeping with the citrus theme, how about a margarita cake?
Key Lime Cake with Margarita Icing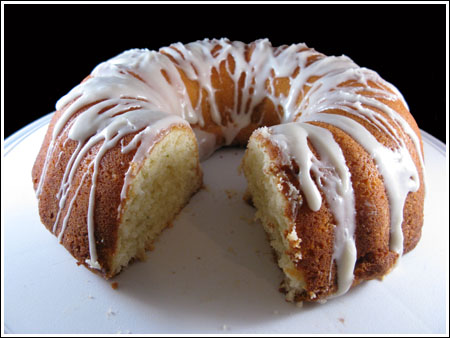 And finally, this is our family's favorite red velvet cake. I went ahead and pasted the whole recipe below just to give my new "Save Recipe" button something to do. Right now it's appearing on every page including ones that don't have recipes. If you use ZipList, it should come in handy.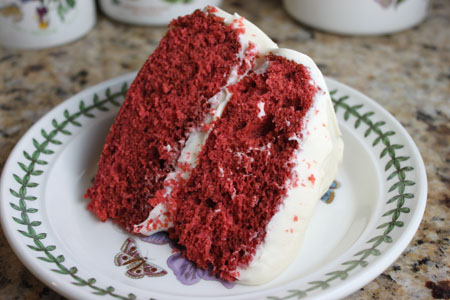 Recipe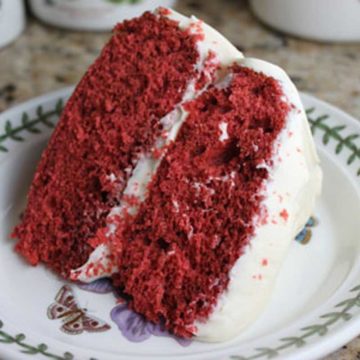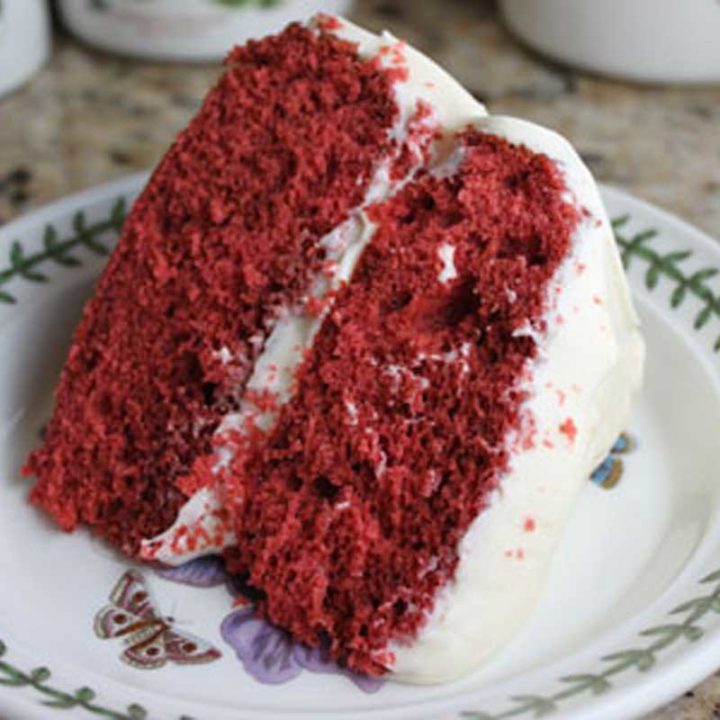 Red Velvet Cake with Cream Cheese Frosting
Our family's favorite tried and true red velvet cake
Ingredients 
4

oz

unsalted butter

room temperature

1 ½

cups

granulated sugar

½

teaspoon

salt

1

teaspoon

vanilla

2

whole eggs

room temperature

2

slightly heaping tablespoons cocoa powder

natural

2

ounces

¼ c red food coloring

2 ¼

c

of cake flour

9 oz

1

cup

buttermilk

1

teaspoon

baking soda

1

tablespoon

white vinegar
Frosting for Red Velvet Cake
1

8 ounce package cream cheese

1

stick

4 ounces butter, softened

1 ¼

teaspoons

vanilla extract

3 ¼

cups

confectioners' sugar

1

teaspoon

fresh lemon juice

optional
Instructions 
Preheat oven to 350 degrees F. Spray two 8 inch round cake pans with baking spray.

In bowl of a stand mixer or in a large mixing bowl using an electric mixer, cream butter, sugar and salt until light. Add the vanilla and the eggs beating 30 seconds after each egg is added. Make a paste of food coloring and cocoa and add to the creamed mixture. Add buttermilk and flour alternately, beating at low speed until mixed.

In a small cup, combine the soda and the vinegar and let it foam up. Pour the foaming mixture into the batter and stir until it's mixed in. Immediately pour into the two 8 inch pans and bake for 27-30 minutes.

Let cool for 10 minutes in pans set on a rack. Flip from pans and let cool completely. Make icing.

Beat the butter and cream cheese until smooth. Beat in vanilla. Add confectioner's sugar slowly, beating until smooth. For a little tartness, beat in some lemon juice.