It's been a while since I posted a favorite chocolate cakes list, so here's a new one.  Right now these are my top ten great chocolate cakes for 2018. My goal for the next few months is to add new photos of each cake.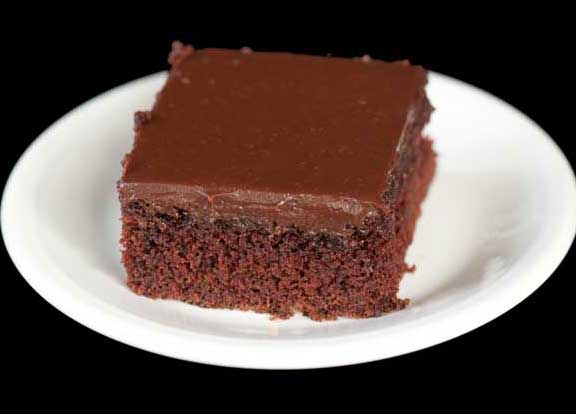 Potluck Buttermilk Chocolate Cake
Ideal for potlucks because it's easy to carry and can be served out of the pan, this recipe is also handy for when you need something quick for the family. In fact, I just made a half cake using an 8 inch square pan last night. We love the flavor the buttermilk adds to the pour over icing.  It's richer and less sweet than the kind of icing that goes on Texas Sheet Cake.
Hershey's Perfectly Chocolate Cake
This is my go-to chocolate layer cake when I want an all-cocoa chocolate cake.  I usually make it with natural cocoa powder.
Black Magic Cake
This cake is similar to the one above, but I make it with Hershey's Dark cocoa so it has a different look and flavor.  I think I've been making Black Magic Cake since I was 10 years old.
Throw All Your Other Chocolate Cake Recipes Away Cake
That's crazy talk, but this is an excellent chocolate layer cake. Like most of my the other favorites it calls for oil and buttermilk, but it also calls for melted semisweet chocolate. I have two versions. There's the original version which is taller, and a second smaller version which I call Halloween Chocolate Cake.  I'm counting these two cakes as one since they are basically the same recipe.
Chocolate Mayonnaise Cake
It's always fun to serve mayonnaise cakes.  This one's a personal favorite.
Sour Cream Chocolate Layer Cake
If you'd rather use melted unsweetened chocolate in your cake or are out of cocoa powder, this is a good one. I haven't made it in a while and need to update the photo. Maybe when sour cream goes on sale.
Chocolate Stout Cake
Stout and malted milk powder all in one cake! I have good memories of making this cake for my friends back in Texas and need to make it again soon for my friends here in Chicago.
Maida Heatter's September 7th Cake
I first tried this cake at a restaurant in Austin and have been making it since. It is a pain-in-the-neck cake, but I love it for the contrasting textures and flavor
Sandy's Chocolate Cake
Brown sugar adds extra moisture to this chocolate cake. I've seen similar versions, but this one from Taste of Home is super reliable.
Chocolate Butter Cake
This one's been a favorite for years. One person aptly described the texture as "velvety". It's moist, but is soft and has a tighter crumb. Cake flour is a must for this one!