Today's recipe is a cookie tribute to a candy bar loved by dads across the country — the Zero Bar.
Or at least that's the hasty conclusion I've drawn based on the fact Beth Colvin's dad loved Zero Bars and mine did too.   So at least two dad's like Zero Bars.
If you've never heard of Zero Bars, they are white chocolate coated peanut, caramel and almond nougat candy bars that come in a silver wrapper.  Back in the seventies they were made by Leaf, but today they are a Hershey brand with what I suspect is a strong regional following.  I don't remember seeing them when I lived in Chicago, NY or CT, but here in Austin you can find them in the checkout line at most H-E-B stores.
But for those of you who can't find the bars anywhere, this cookie will do just fine! It's a pretty simple cookie. The base is almost identical to the Toll House recipe, but the white chips, peanuts and almond extract make it taste completely different. The only place I've ever seen this recipe is The Advocate, so I'm providing a link. If you can't get the link to work, let me know and I'll post the recipe or email it to you.
UPDATE: Link doesn't work, but I've been making these cookies for years now and this is a good version. The almond extract combined with the peanuts and white chips gives the cookies a unique flavor.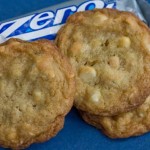 Print Recipe
Zero Bar Cookies
Zero Bar Cookies
Ingredients
1

cup

butter softened

3/4

cup

sugar

3/4

cup

brown sugar

1

tsp

vanilla

1 1/2

teaspoons

almond extract

2

eggs

2 1/4

cups

all-purpose flour

1

tsp

baking soda

1/2

teaspoon

salt

2

cups

white chocolate chips

1 1/2

cups

roasted peanuts chopped
Instructions
In a large mixing bowl, beat the butter and both sugars until creamy. Add the vanilla and almond extracts and beat well. Add the eggs one at a time, beating until mixed.

Mix or sift together the flour, baking soda and salt. Stir flour mixture into the butter mixture, mixing until blended.

Mix in the chips and peanuts. Drip by rounded teaspoonfuls onto a baking sheet sprayed with nonstick cooking spray. Bake in a 375 oven for 10 to 12 minutes.

Let cool on the baking sheet for 5 to 10 minutes, then remove to a cooling rack.

Yield is approximate and will vary with size.