The Protein Powder Blueberry Corn Muffins recipe is from an (old) ad in Food & Wine, where Top Chef contestant Jennifer Carroll shares her recipe for blueberry muffins made with Pure Protein Powder.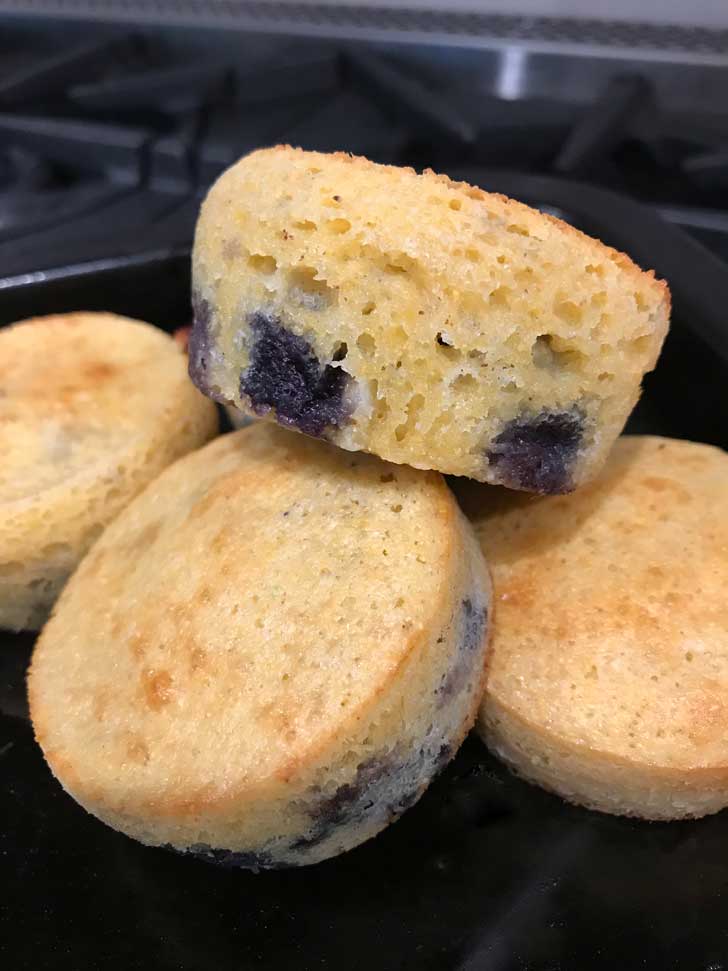 I was very interested in trying the recipe because in the past, adding protein powder to baked goods has had mixed results. I have one or two recipes where it works well, but usually it just toughens up the dough and makes the item rubbery. Luckily, that didn't happen here.
Blueberry Muffins with a Flour and Cornmeal Mix
These muffins are made with a mixture of flour and cornmeal, so the texture is grainier than a basic blueberry muffin (because it's a corn muffin!) and you don't notice the added protein powder quite as much. They're not too sweet, and with only a little butter, they're not super rich.  That's a plus in my book, but the kids in the house were divided on the issue. One took a bite, apologized and asked for a bagel, while the other said she liked it. We all agreed that these should be served shortly after baking, though. They dried out a little on Day 2. Next time I'd bake, cool, freeze and thaw as needed.
Easy Homemade Buttermilk Substitution
If you don't have actual buttermilk on hand, you can make this easy milk and lemon juice substitute. It's perfect for these muffins since the recipe also calls for lemon zest. To make the homemade buttermilk sub, set a 2 cup measure on the scale and set the tare to "0". Squeeze 8 to 12 grams of fresh lemon juice right into the cup. Pour milk into the cup and stop when you hit 170 grams. Let it sit for about 5 minutes. It should thicken slightly and curdle. After it sits, you can add the egg directly to it.
Here's a half-batch version of the recipe. Overall, I'd say these are more like cornbread muffins than typical blueberry muffins and a nice way to sneak in some extra protein.
For some good old "normal" non-protein powder muffins, here's a recipe for regular Blueberry Corn Muffins. The photo needs some updating, but the muffins are good.
Recipe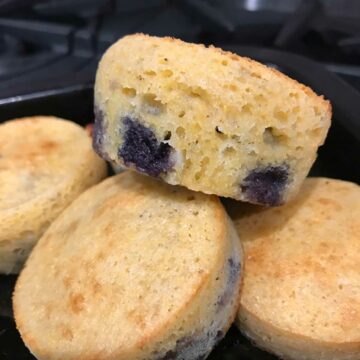 Blueberry Corn Muffins with Protein Powder
Blueberry and corn muffins with added protein. These bake up flat like cornbread.
Ingredients 
½

cup

all-purpose flour

(70 grams)

½

cup

fine cornmeal

(75 grams)

1

teaspoon

baking powder

¼

teaspoon

baking soda

¼

teaspoon

salt

3

tablespoons

sugar or the equivalent sugar substitute

3

tablespoons

vanilla protein powder or plain**

(13 grams)

1

large

egg

room temperature

¾

cup

buttermilk or ¾ cup milk mixed with 2 teaspoons lemon juice (buttermilk sub)

room temperature

1 ½

tablespoons

melted butter

1-3

teaspoons

lemon zest

1

cup

fresh blueberries or raspberries
Instructions 
Preheat oven to 400ºF. Spray 6 to 8 muffin cups with flour-added spray or use a silicone muffin pan and skip this step completely.

Combine the flour and cornmeal in the mixing bowl and stir well. Scoop out a heaping teaspoon of this mixture and toss with the blueberries (in another bowl). This will help absorb some of the juices and keep it from turning the muffins blue.

Next, add the baking soda, baking powder and salt along with the sugar and protein powder to the flour mixture. Stir until evenly blended.

In a separate bowl, whisk together the egg and buttermilk. If you are using plain protein powder, add a teaspoon of vanilla.

Pour the buttermilk/egg mixture into the flour mixture and stir just until blended, then stir in the melted butter. Carefully (to keep them from bleeding) fold in the blueberries last.

Divide batter evenly among the cups. The exact number depends on the size of muffin cups, which vary sometimes. Fill about ⅔ of the way full or slightly more.

Bake 18 to 20 minutes until golden brown and firm to the touch. Cool for 10 minutes and remove muffins from the tin.
Notes
You can make these with plain protein powder or vanilla flavored. If using plain, add 1 teaspoon of vanilla to the batter.