Since posting Peanut Butter and Jelly Cookies, the recipe has become a mainstay in my cookie baking repertoire. And that means something because I have a TON of peanut butter cookie recipes. These cookies are super special, and I think you will like them even if you usually prefer your peanut butter without jelly (or with chocolate).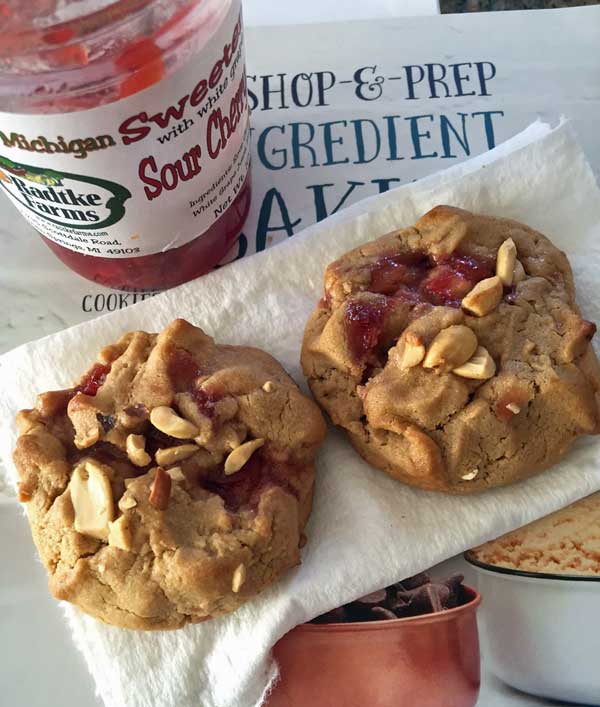 5 Ingredient Baking
The recipe is from Quick-Shop-&-Prep 5 Ingredient Baking: Cookies, Cakes, Bars & More that are Easier than Ever to Make, from Jennifer McHenry of Bake or Break. If you read Cookie Madness, you probably read Bake or Break as well, because Jennifer has been blogging for as long as I have. She's truly a nice person and a passionate baker. And honestly, I need to make some more recipes from the book.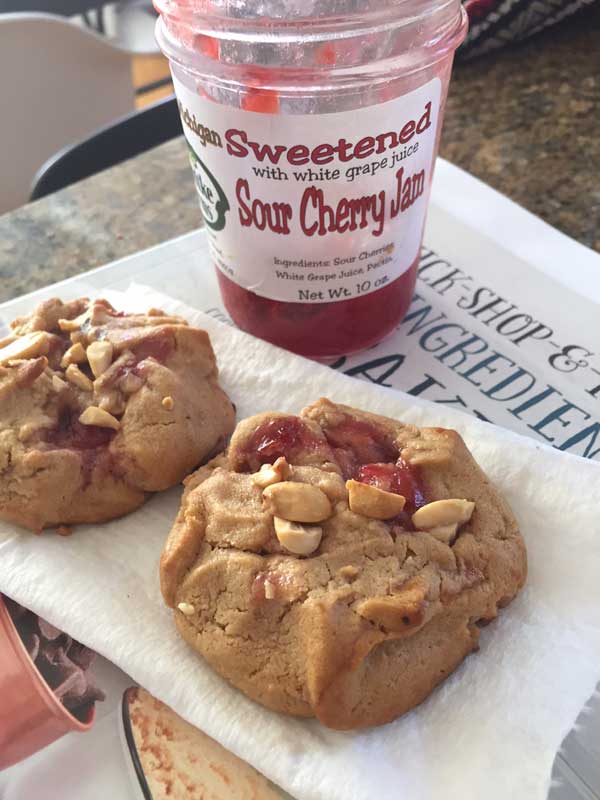 I'm still a little stuck on these cookies.
The Peanut Butter and Jelly Cookies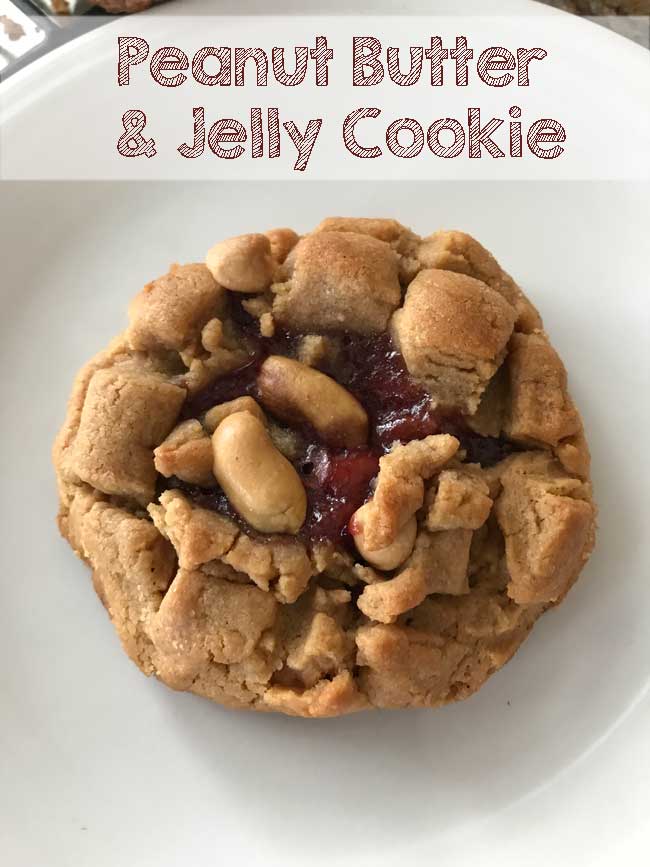 The ratios Jennifer uses are interesting.  The recipe calls for brown sugar (no granulated) and a pretty hefty amount of peanut butter to make a soft, not-too-sweet cookie that marries so well with the preserves.  I tried the cookies with chocolate chips instead of preserves and they were good, but not as over-the-top good as they were with the preserves, which soften the cookies and change the texture.  Not being a peanut butter and jelly fan, I was surprised at how much I loved these and can only imagine who happy they'll make true peanut butter and jelly lovers.
Recipe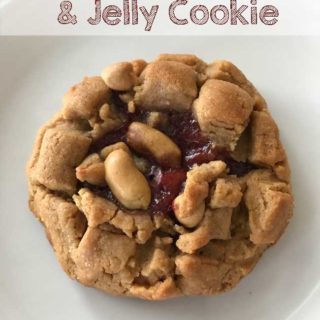 Peanut Butter and Jelly Cookies
Peanut Butter and Jelly Cookies from 5 Ingredient Baking.
Ingredients 
1 ½

cups

unbleached all-purpose flour

(180 grams), weigh for best results or spoon lightly.

½

teaspoon

baking soda

½

teaspoon

salt

½

cup

unsalted butter

(114 grams)

1

cup

creamy peanut butter

(255 grams)

1

cup

firmly packed light brown sugar

(200 grams)

1

large egg

1

teaspoon

vanilla extract

3

tablespoons

strawberry preserves (or cherry)

(45 ml)
Instructions 
Preheat oven to 350 degrees F. (180 degrees C). Line baking sheets with parchment paper or silicone liners.

Whisk together the flour, baking soda and salt. Set aside.

Using an electric mixer on medium speed, beat the butter, peanut butter and brown sugar until light and fluffy. Add the egg and vanilla and mix well.

Reduce the mixer speed to low. Gradually add the flour mixture, mixing just until combined.

Using about 2 tablespoons (30 grams) of dough at a time, roll the dough into balls. Flatten each ball into a disk. Place about ½ teaspoon of preserves in the center of the disk. Fold the edges of the disk around the preserves. Roll into a ball.

Place the cookies on the prepared baking sheets, leaving about 2 inches between cookies. Bake for 15 to 15 minutes or until the cookies arelightly browned. Allow to cool on the pans for 5 minutes. Transfer the cookies to a rack to cool completely.
Notes
Recipe courtesy of Jennifer McHenry and Quick-Shop-&-Prep 5 Ingredient Baking: Cookies, Cakes, Bars & More that are Easier than Ever to Make from Page Street Publishing.