I hadn't planned on posting a recipe today, but I came home from an afternoon meeting to find Fuzz baking cupcakes and listening to music. Rather than break her flow or dive in and try to help, I told her I was going upstairs to use my treadmill and to let me know when the cupcakes were ready. About half an hour later she did just that, with an added plea to help her clean up. I agreed, but not before inquiring about the frosting. She said she was going to leave them unfrosted, to which I replied "Not in my house!". Okay, I didn't say that. I just told her I'd be happy to help make the frosting, and she said okay and requested vanilla. So after I cleaned the kitchen and wiped sour cream off all the cabinets, I made a half batch of our favorite vanilla frosting. It's from the side of the powdered sugar box, but I usually use half & half instead of milk and add a pinch of salt.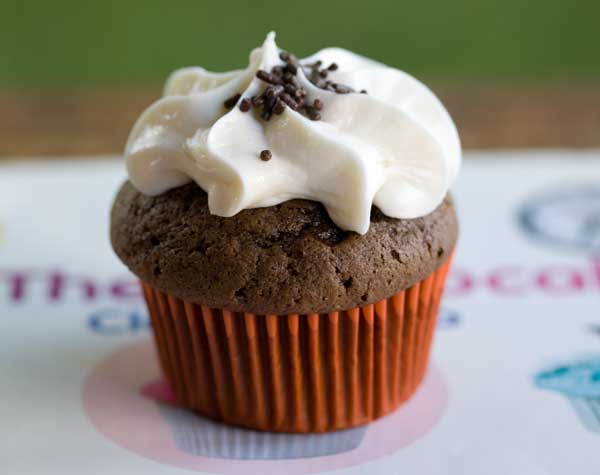 As for the cakes, the recipe Fuzz used was from Clare Crespo's Hey There, Cupcake which also happens to be posted on Gothamist. It's supposed to make 14 to 18 cakes, but Fuzz made 12, so hers were a little tall and looked like muffins. They tasted great – kind of moist, denser than some, and similar to what you'd get a cupcake shop. My go-to recipe is actually a cocoa based one, but for those of you who like cupcakes made with melted chocolate and the depth of texture it provides, this one's a good pick.
Now here's that frosting. Also, if you don't own one I highly recommend investing $11 in the Ateco 6-Piece Pastry Tube and Tips Set
. I know I've said this before, but as I used mine again today I thought how much easier piping was than spreading with a knife. So get some of the big, cupcake size Ateco tips and some regular or disposable bags.
Recipe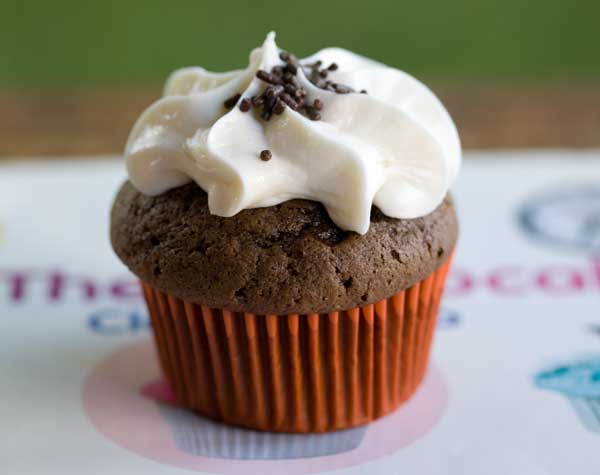 Vanila Frosting
A basic vanilla frosting recipe
Ingredients 
1

stick

4 ounces unsalted butter, softened

1/4

teaspoon

salt

3 3/4

cup

powdered sugar

1 pound

1/4

cup

room temperature half & half

1

teaspoon

vanilla
Instructions 
In a large mixing bowl, beat the butter and salt. Gradually add the powdered sugar, beating with an electric mixer on low to medium low. Add a little of the half & half in slowly increase speed, beating and scraping.

Beat in the vanilla and remaining half & half until you have a smooth & creamy frosting. Add more half & half if you'd like a thinner frosting.
Notes
Makes enough to frost one 2 layer cake