It's time for some presidential cookies, so today I am revisiting Family Circle's First Lady Cookie Recipe contest.
Remember back in March when they put Michelle Obama's White and Dark Chocolate Cookies up against Ann Romney's Peanut Butter & M&M Cookies?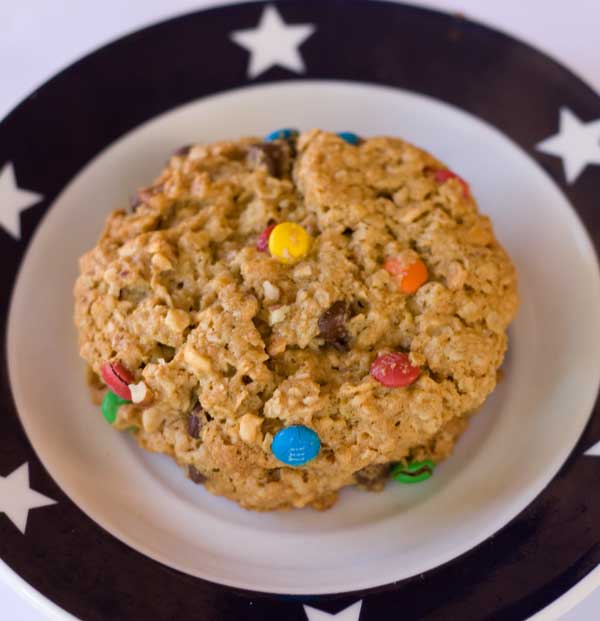 I've baked multiple batches of both cookies, and my vote goes to…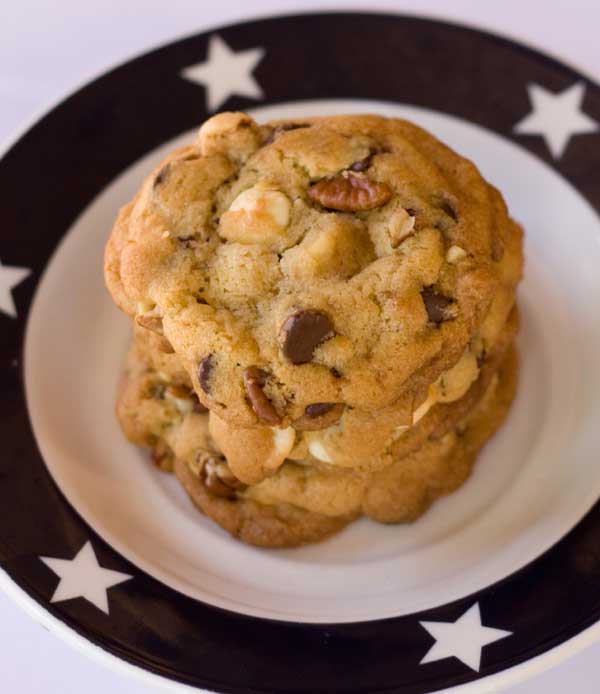 Both!
Though technically, there were complications. I'm convinced the recipe Family Circle was given had a typo. It's basically the Toll House recipe in terms of ratios. However, it calls for 1 cup (2 sticks) of butter and 1 stick (which is one cup) of butter flavor Crisco. That's like making the Toll House recipe as written, but throwing in an extra two sticks of butter or cup of shortening! Based on the reports from people who made the recipe as written and got flat, crepe-like pancake cookies, the recipe should read 1 stick (½ cup) butter and ½ stick (½ cup) Butter Flavored Crisco.
So that's how I made it. I corrected the recipe and am 99% sure the new version is how Mama Kay makes the cookies. And they're awesome. The mixture of butter and shortening gives them just the right balance of butter flavor and crispy-edged shortening texture.
As for Ann's cookies, those also go by the name Monsters (there's another version in my book) and they are one of my all-time favorites. Ann's recipe is excellent, though mine were slightly chewy rather than crunchy.
Ann Romney M&M Cookies
1 cup granulated sugar
1 cup packed light brown sugar
½ cup (1 stick) unsalted butter, softened
1 ½ cups crunchy peanut butter
1 tablespoon light corn syrup (such as Karo)
3 eggs
½ teaspoon vanilla extract (I used 1 teaspoon)
4 ½ cups old-fashioned rolled oats
2 teaspoons baking soda
6 ounces (1 cup_ chocolate chips
⅔ cup M&M's candies
Preheat oven to 325 degrees F. In a large bowl, cream sugars, butter, peanut butter and corn syrup on high speed until well combined. Beat in eggs 1 at a time. Beat in vanilla extract.
In a separate bowl, mix together oats and baking soda. Stir into peanut butter mixture until combined. Mix in chocolate and candy.
Using a generously heaping tablespoon or a very paltry ¼ cup, shape dough int balls and arrange on baking sheets. Press tops down slightly.
Bake at 325 degrees F for 18 minutes or until lightly browned. Cool 2 minutes, then transfer cookies to a wire rack to cool completely.
Michelle Obama's White and Dark Chocolate Chip Cookies
2 ¼ cups (10.1 ounces) all-purpose flour
1 teaspoon baking soda
1 teaspoon salt
½ cup (1 stick) unsalted butter, softened
½ stick Crisco butter-flavored solid vegetable shortening (or use regular flavored shortening)
¾ cup granulated sugar
¾ cup packed brown sugar
1 Teaspoon vanilla extract
2 large eggs
1 cup each white chocolate chips, milk chocolate chips and mint chocolate chips (or Andes mint pieces)
2 cups chopped walnuts
Preheat oven to 375 degrees F.
In a small bowl, mix together flour, baking soda and salt.
In a large bowl with an electric mixer, cream butter, vegetable shortening, granulated sugar, brown sugar and vanilla extract.
Add eggs, 1 at a time, beating well after each addition. On low speed, beat in flour mixture (I do this by hand rather than with the mixer). By hand, stir in white and milk chocolate chips, mint chips and walnuts.
Drop rounded tablespoons of dough onto ungreased baking sheets. Bake at 375° for 10 to 12 minutes or until golden brown. Cool on baking sheets for 5 minutes; remove to wire racks to cool completely.
*The recipe makes five dozen cookies.