I guess this is really Michelle Obama's shortbread recipe. It's hard to know what's true these days, but this recipe was supposedly submitted to Family Circle back when Family Circle did their First Lady cookie bake-off. Subsequently, the Ritz Hotel in DC took Mrs. Obama's recipe and made it for guests in town for the inauguration.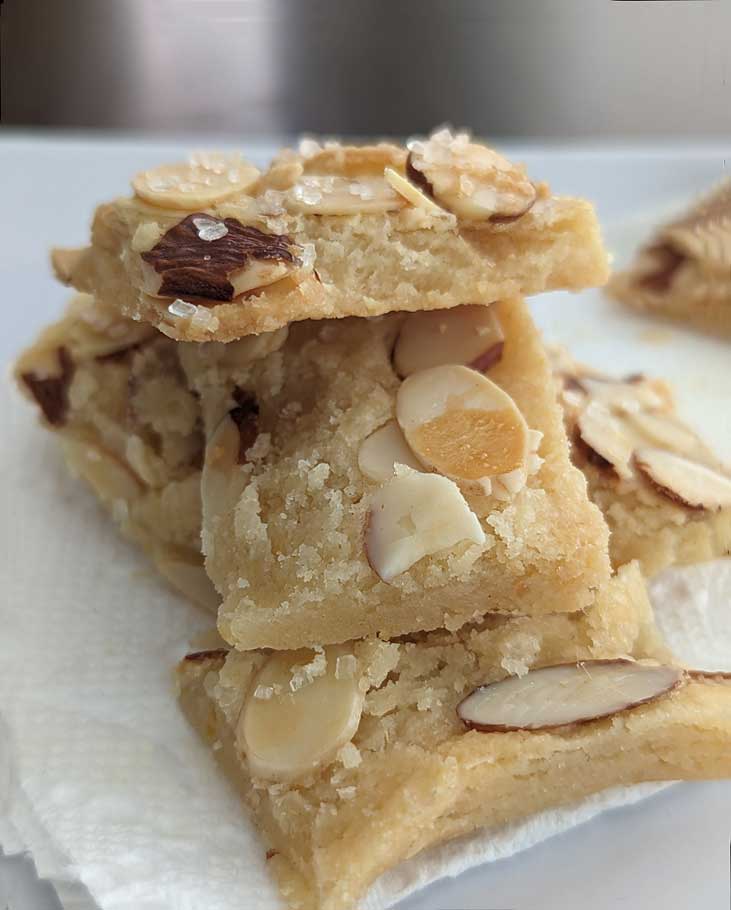 Here's the recipe in an old article from the Huff Post. I've put an adapted version of Michelle Obama's Shortbread below in case this link breaks. If you are a shortbread lover and you try the recipe, let us know how it is. I haven't yet made this for some reason, but it sounds good with the Amaretto, orange and lemon zest.
I Finally Made It
I've had the Michell Obama shortbread recipe for a while and finally tried it. Its a little different from crumbly, fine-textured shortbread. This shortbread is very thin, a little softer, and almost like eating a sweet, flaky, buttery almond, orange and lemon flavored pie pastry. The flavor is incredibly buttery and the orange and lemon are a nice touch. The Amaretto is subtle, but I wouldn't leave it out because even a small amount of alcohol affects the flavor and texture. But I do think a small dash of almond extract would be a decent substitute.
After I made this using the recipe below, which is the one from the Ritz Carlton and Huffington Post, I noticed there was another version floating around that makes a larger pan size, calls for cake flour and has different bake times. The ratios are pretty similar and the pictures of the shortbread look a lot like this one. Maybe I'll try that one too, but I'm more than happy with this one. It is unique.
Gluten-Free Version
You can easily make the Michelle Obama shortbread recipe gluten-free. I tried it (because I am now in love with this recipe) with Cup4Cup in place of flour and it worked just fine. I actually made ⅓ of the batch and baked it in a ⅛ sheet pan.
Recipe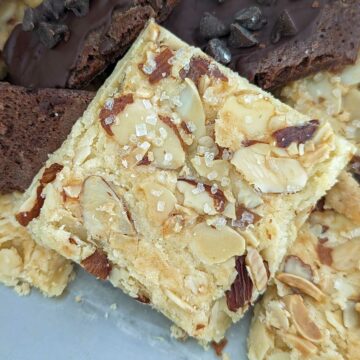 Michelle Obama's Shortbread Cookies
A recipe submitted to Family Circle at one point and said to be Michelle Obama's. This version is the one made by the Ritz Carlton Hotel in Washington DC. There's another version floating around that's similar but calls for cake flour.
Ingredients 
2

sticks

unsalted butter, softened (I recommend salted)

(230 grams)**

1

cup

sugar

(200 grams)

1

large

egg

separated

1 ½

tablespoons

Amaretto

¼

teaspoon

salt (I'd probably use more like ¾ teaspoon)**

1

teaspoon

grated orange rind

1

teaspoon

grated lemon rind

2

cups

flour

(270 grams)

¾

cup

slivered almonds (sliced okay, too)
Instructions 
Preheat oven to 300 degrees F. Have ready an ungreased 10x15 inch jelly roll pan. If you plan on transferring the shortbread to a different surface to cut it, you may want to line it with parchment paper.

With an electric mixer, beat the butter and sugar until smooth and creamy (about 3 minutes).

Slowly add egg yolk, Amaretto, salt, orange and lemon rind, mixing well.

Add the flour ½ cup at a time and stir by hand until mixture is well blended.

Pat the mixture into an even layer in the pan. This is a much thinner shortbread than most.

Whisk the egg white until foamy, then brush on top of dough. Sprinkle with almonds.

Bake for 25 to 35 minutes until lightly browned.

Cool slightly and cut into two inch squares while still warm.

Yield: 40 squares
Notes
The recipe calls for 1 cup of unsalted butter and ¼ teaspoon of salt.  I'd probably use salted butter and keep the ¼ teaspoon of salt or go with unsalted and increase the salt to at least ¾ teaspoon.  I'll update when I test.