The Easy Chocolate Caramel Bars were great, but I wanted to try a second version a little more like the Sheila's Dream Bars from Pot Belly Sandwich Shop. Those bars don't contain oats, and some say the caramel in the middle is the kind used for candy apples.  There are a few different brands of caramel mixes you can buy for apple dipping (they're usually in the produce section), but I immediately thought of the old caramel apple wraps from the '70s called "Wrapples". I hadn't seen them in a couple of decades, then the other day noticed that Concord Foods had a similar caramel apple wrap. Update: Spotted again at Wegman's 11/4/2021!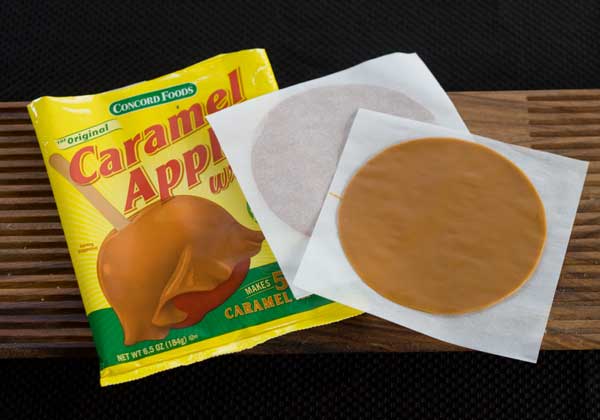 Caramel Bars with Wrapples
So yes, I could have just used caramels or Kraft caramel bits, but I liked the idea of effortlessly laying the caramel over the base without having to unwrap or melt it.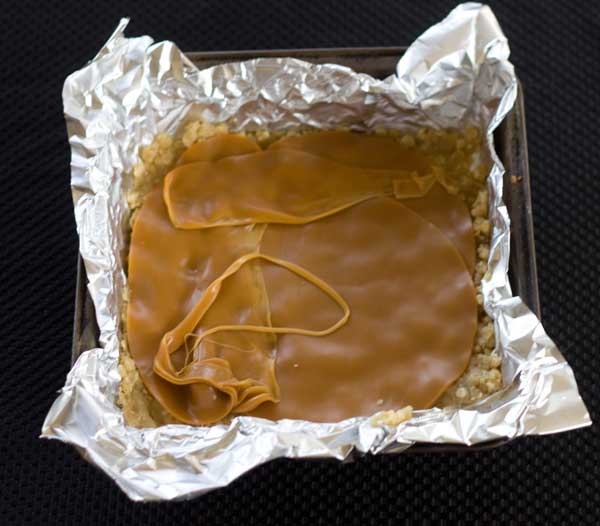 And here are the results! The caramel filling doesn't have any butter or cream added to it, therefore it is stiffer than usual, but still tasty.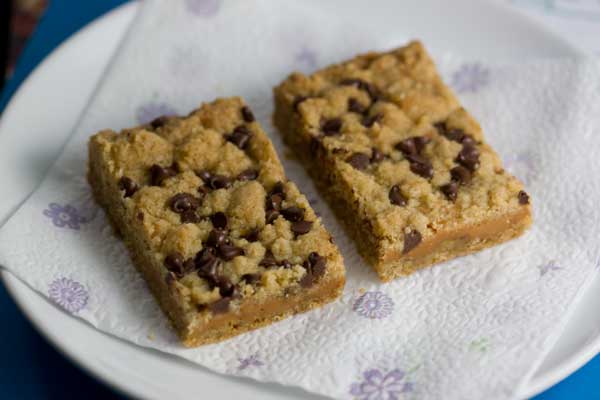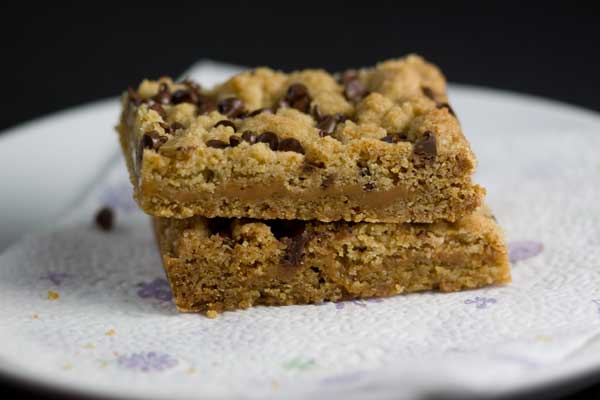 Recipe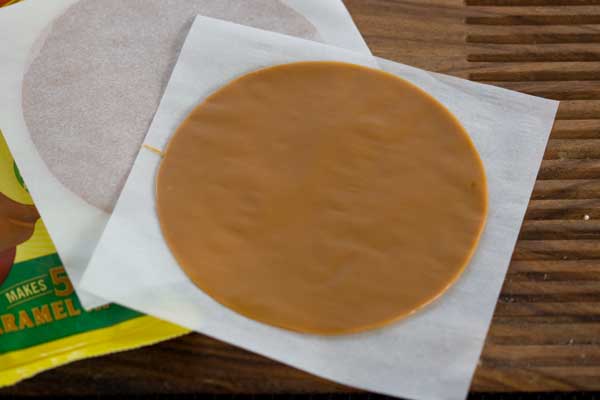 Caramel Apple Wrap Chocolate Caramel Filled Bars
Buttery shortbread bars with a layer of caramel in the center.
Ingredients 
1

stick

unsalted butter

(114 grams)

1

cup

plus 3 1/2 teaspoons flour

(154 grams)

1/2

teaspoon

baking soda

Just shy of 1/2 teaspoon Kosher salt

1/2

cup

firmly packed light brown sugar

(100 grams)

1

egg yolk

1/4

teaspoon

vanilla extract

3

caramel apple wrap circles

2

tablespoons

approximately miniature chocolate chips or chopped nuts
Instructions 
Preheat oven to 350 degrees F. Line an 8 inch square metal pan with foil and spray foil with cooking spray or just line it with nonstick foil.

Melt the butter in a saucepan or microwave-safe dish, then remove from heat and let cool.

Stir the flour, baking soda, salt and sugar together in the mixing bowl.

Whisk together the egg yolk, vanilla and melted butter, then pour into dry mixture and stir until crumbly. Put 1 cup of the mixture in the refrigerator (chilling it a bit helps make it easier to crumble). Press remaining into the pan.

Unwrap the caramel circles and lay them over the dough.

Crumble the reserved dough over the caramel and sprinkle chocolate chips or nuts on the top.

Bake on center rack for 20 to 23 minutes. Let cool completely at room temperature. For a cleaner cut, chill for about an hour or until firm and cold.

Lift from pan and cut into squares or bars