If you are looking for ways to use sourdough discard, these Sourdough Discard Pretzels are pretty good. The recipe was inspired by the King Arthur Sourdough Starter I made about 5 days ago, which has you discard 113 grams of sourdough for every feeding. I cringe every time I do this and am happy to have at least one way to use the discard.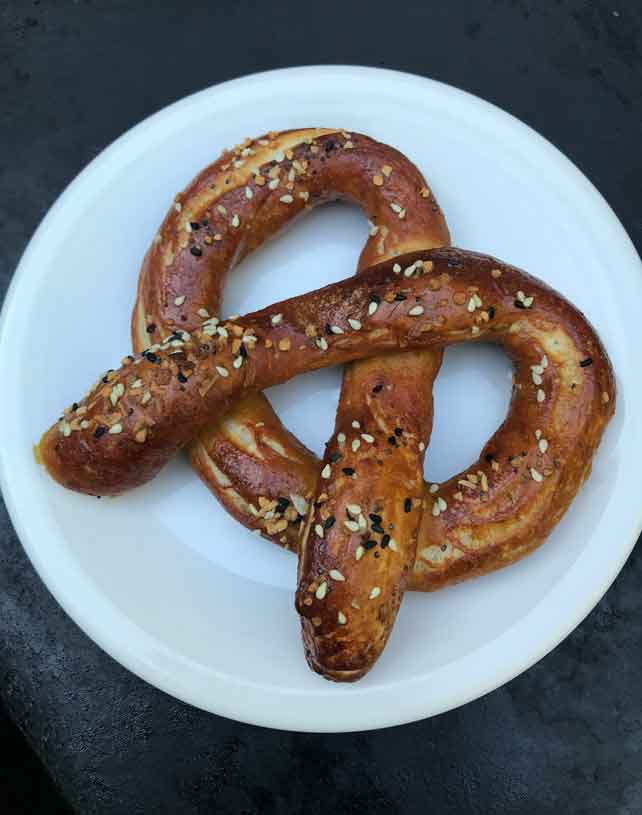 If you don't have any discard and just want a good pretzel recipe, here's a link to the original Homemade Pretzels. Both the Homemade Pretzels and the Sourdough Discard Pretzels are small batch recipes which will give you four or five pretzels. For a while I was making four really large ones, but now I'm making five slightly smaller ones. If there's only one or two of you to eat the pretzels, these freeze well.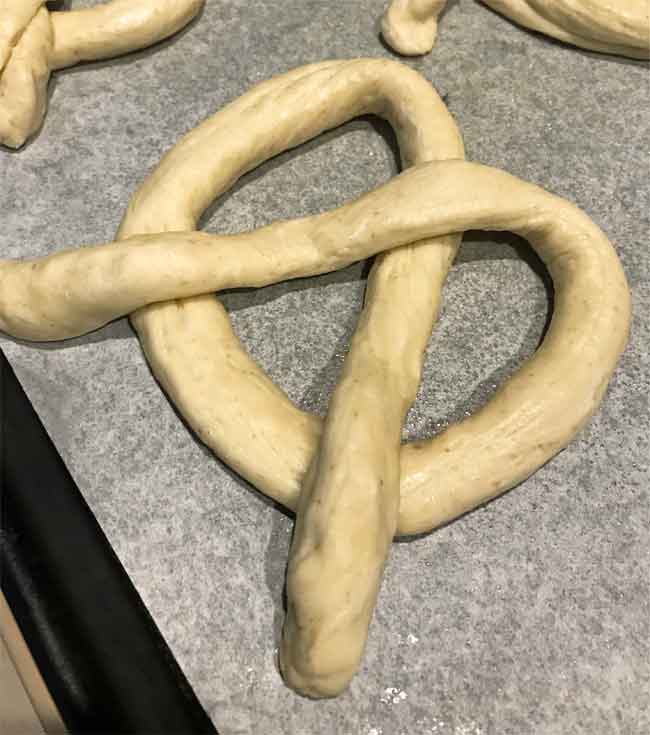 About the flour, before the days of Covid I bought a big bag of high-gluten "artisan" flour. It's probably difficult to find now, but if you have some use it by all means. It makes the best pretzels. If you can't find the artisan flour, bread flour will work. If all you have is all-purpose, that should work too but the dough might be not be as pleasurable to work with. One benefit of the high gluten flour is it makes a really sturdy, easy-to-roll dough.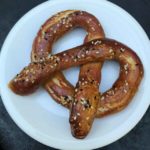 Print Recipe
Sourdough Discard Pretzels
A recipe for using up sourdough discard.
Ingredients
113

grams

discard

280

grams

flour

bread flour or if you are lucky high gluten "Artisan"

1 1/8

teaspoon

instant yeast

1/2

tablespoon

sugar

1

teaspoon

salt

1

tablespoon

melted butter

1

tablespoon

extra virgin olive oil

¼ to ½

cup

maybe more warm water

Boiling Solution

5

cups

water

1/3

cup

baking soda

1

beaten egg mixed with a little water

Pretzel salt

Kosher salt or Everything Bagel seasoning
Instructions
Weigh out 113 grams of discard and put it in the stand mixer bowl. Add 280 grams bread flour, the yeast, 1/2 tablespoon sugar and salt. Stir well, then stir in the butter. Add ¼ cup of water and stir to soften dough. Continue adding water about a tablespoon at a time until most of the flour has been absorbed and dough doesn't seem too try or too sticky.

Put dough on stand mixer, attach dough hook and knead until dough is smooth and pulls away from the side of the bowl, approximately 4 to 5 minutes. Cover the bowl with plastic wrap and let sit in warm spot in the kitchen until doubled (45 minutes to an hour).

Preheat the oven to 450 degrees F. Line a half-sheet pan with parchment paper and spray with olive oil cooking spray or rub with vegetable oil. These pretzels can be sticky, even on parchment.

Bring the 5 cups of water and the baking soda to a rolling boil in a 3 1/2 quart saucepan.

Meanwhile, turn the dough and shape it into a long rectangle about 5x20 inches. Cut triangle into 5 long even strips. Working one strip at a time, roll each strip one at a time with your fingers to make it cylindrical, then shape into a pretzel. Carefully lift the pretzel and gently drop into the gently boiling water. Boil for about 45 seconds. With a slotted spatula, lift pretzel (letting excess water drip off) and set on your parchment lined baking sheet. Repeat until you have five pretzels. With a pastry brush, brush with beaten egg and spinkle with salt or Everything Bagel seasoningMake a U-shape with the rope, holding the ends of the rope, cross them over each other and press onto the bottom of the U in order to form the shape of a pretzel. Place onto the parchment-lined half sheet pan.

Place the pretzels into the boiling water, 1 by 1, for 30 seconds. Remove them from the water using a large flat spatula. Return to the half sheet pan, brush the top of each pretzel with the beaten egg mixture and sprinkle with your choice of salt. Bake until dark golden brown in color, approximately 12 to 14 minutes. Transfer to a cooling rack for at least 5 minutes before serving.