The chocolate covered marshmallow cookie obsession continues!  I kind of wish it would end, but the truth is that I'm not quite tired of eating these and I keep getting ideas for variations.  For instance, yesterday's was using rounds of cut out Pop Tart as the cookie base and adding instant coffee powder to the marshmallows. The Pop Tart bases were kind of weird, but the mocha flavored marshmallow tops were terrific.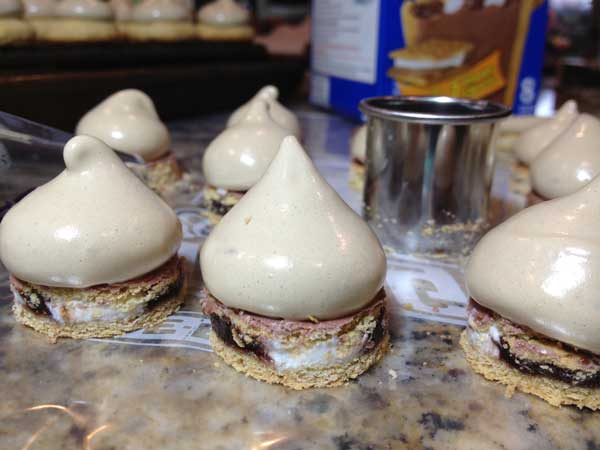 Since I am temporarily partnering with Folgers (enter the giveway!), I used Folgers Black Silk Fast Breaks to flavor the marshmallows. We all liked the coffee flavored marshmallows,but it just occurred to me that you could flip flop the coffee flavor by adding the instant coffee to the cookie dough and leaving the marshmallow pure vanilla.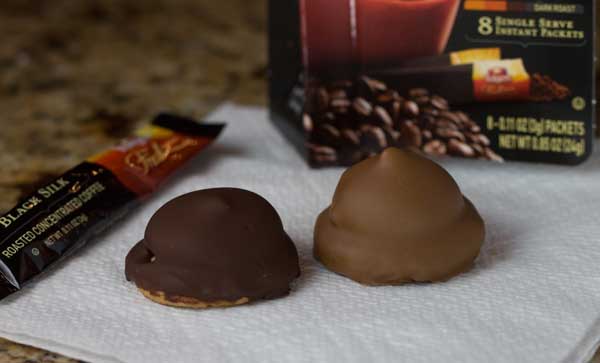 Here's the recipe made with instant coffee in the marshmallows.  For the base, you could use Nilla Wafers, but if you have time then I recommend using the recipe with the first homemade Whippet clone or the one I included in the notes section of this recipe which doesn't call for any whole wheat flour. Hopefully this photo will give you a good idea of the texture.  It's softer and less sweet than a typical sugar cookie, less fatty and crumbly than shortbread and pretty much perfect for soaking up the moisture from the marshmallow and chocolate.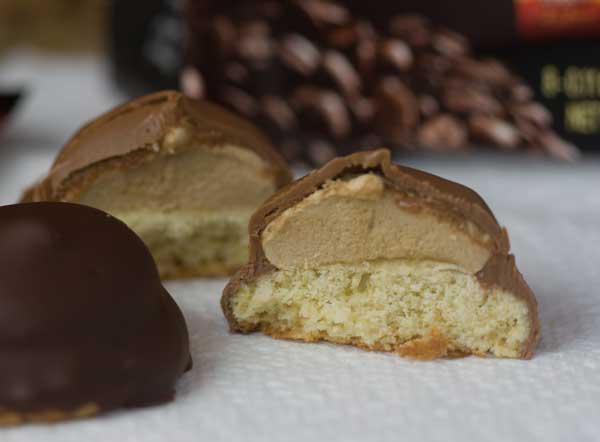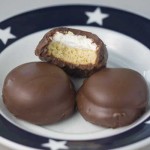 Print Recipe
Homemade Whippet Cookies
Homemade chocolate covered marshmallow cookies.
Ingredients
Cookies
45

Nilla Wafers or use my previous recipe**
Marshmallow Topping
2

large egg whites at room temperature

1

envelope

8g powdered gelatin, I used Knox

1/4

cup

+ 8 teaspoons cold water

1/2

cup

granulated sugar

2

tablespoons

and 2 teaspoons light corn syrup

Pinch

of salt

1/2

teaspoon

vanilla extract

1

packet Folgers instant coffee

Black Silk Fresh Breaks

2

pounds

good quality tempered chocolate or 2 pounds of good quality chocolate chips plus 2 tablespoons of shortening or cocoa butter**
Instructions
Spray a cooking rack lightly with cooking spray. Arrange the Nilla wafers over the top of the rack and set aside.

Prepare the marshmallow. Fit a large pastry bag with a 1/2 inch round tip.

Put the egg whites in the bowl of a stand mixer fitted with the whisk attachment.

Put 1/4 cup of water in a small bowl and sprinkle the packet of gelatin over it. Stir.

In a small saucepan, combine the remaining 8 teaspoons of water, sugar, corn syrup and salt. Using medium heat, heat without stirring until a candy thermometer (I use a deep fry) registers 240 degrees (soft ball stage).

While the syrup heats, beat the eggs with the whisk attachment until stiff peaks form. If eggs form peaks before syrup reaches 240, stop the mixer. When the syrup hits 240 degrees, turn the mixer back on and pour it into the egg whites in a thin stream down the side of the bowl starting with a few tablespoons and increasing the flow. Use a rubber scraper to make sure you get it all.

Quickly scrape the gelatin into the still-hot saucepan and stir it so that it thins and dissolves from the residual heat. Add it to the mixer while it is still going. Add the vanilla and the coffee powder and keep on beating for 5 minutes or until bowl feels cool and mixture is thick enough to pipe. Pipe mounds of marshmallow on top of the cookies and let the marshmallow topped cookies sit on a rack for at least two hours. After the two hours have passed, you can move on to dipping OR you can freeze the cookies and dip them when convenient.

For dipping, use your favorite method. I recommend tempering the chocolate, but that takes practice. So temper the chocolate if you know how, or just melt the chocolate and fat in a double boiler. Dunk each cookie one by one in chocolate and lift with two forks, letting chocolate run down the sides. Set on a rack that you've placed over a sheet of foil or parchment to catch drips.
Notes
Nilla wafers are convenient and perfect if you want to focus on your marshmallow making technique without having to worry about making the cookies. However, my favorite cookie base (and I've tried several) is the one I posted with the Homemade Whippets recipe AND this one, which is a variation on Gale Gand's. The cookies are kind of crumbly and dry (ish), but not too rich or sweet or fatty and work well in conjunction with the other ingredients. They absorb some of the moisture from the chocolate and marshmallow and soften a little so that in the end, they're similar to a Moon pie cookie. To make homemade cookies, mix 1 ½ cups (6.8 oz) all-purpose flour, 1/4 cup sugar, 1/4 teaspoon salt, 3/8 teaspoon of baking powder and 3/16 teaspoon baking soda in a large bowl. Add 6 tablespoons unsalted softened butter and mix with your fingers or a pastry cutter until crumbly. Make a well in the center and add 1 large egg plus 2 tablespoons beaten egg , 1 1/2 teaspoons honey and ½ teaspoon of vanilla. Mix together to make a soft dough. Pat the dough 1/8 inch thick on a parchment lined baking sheet and chill for an hour or until very firm. Using a 1 inch or a 1 1/2 inch round cookie cutter (or use the top of a spice jar if you don't have a cutter), cut about 45 rounds. Arrange on two baking sheet s and bake at 375 degrees F for 8 minutes. Let cool completely.