This is a recipe I created using Folgers Black Silk instant coffee. It's a frozen dessert with a bottom layer of brownie, a layer of Oreos and chocolate chips, a layer of quick no-churn coffee ice cream, fudge sauce, whipped cream and nuts. It sounds like a lot, but it's actually pretty simile. Also, you can use any brand instant coffee. Folgers instant packs are pretty good as far as instant coffee goes, but use whatever you have available.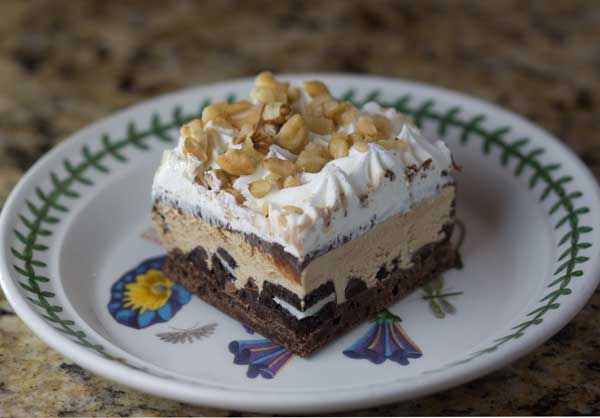 Soft Brownie Base
Getting the brownie base just right was tricky because a lot of brownies are rock hard when frozen and difficult to put a fork in. To fix that, I used an old chocolate syrup based brownie recipe which makes a slightly cake-y yet dense brownie which doesn't get incredibly hard when frozen.
Texture and Crunch
The Oreos and chocolate chips add more chocolate and crunch
Easy No-Churn Ice Cream
No-churn ice cream is a recipe I learned in the Smucker's test kitchen where you beat some cream and fold it into a flavored condensed milk mixture. It give you an ice cream base that you can pour right into a pie (or in this case, layered dessert) without having to worry about churning it or, of course, having to soften already-made ice cream.
Mocha Flavor
Adding instant coffee (use 1 teaspoon instant coffee crystals or ½ to ¾ teaspoon espresso powder) gives the dessert a deep mocha flavor. .
Easy Condensed Milk Fudge Sauce
This is a quick sauce you make using the remaining half can of condensed milk.  If you aren't going to make this whole dessert, you may want to just make the fudge sauce.  It is convenient, but also very tasty compared to some more complicated recipes.
And here's a tip on measuring condensed milk. You can measure condensed milk by volume, but for accuracy, the best way to measure condensed milk is to put your bowl on a scale, set the tare to zero, and measure it by weight.
So now I've broken the dessert up into parts. That's probably way more than I needed to say about it, but I had a lot of fun creating this one and hope you try it.
Recipe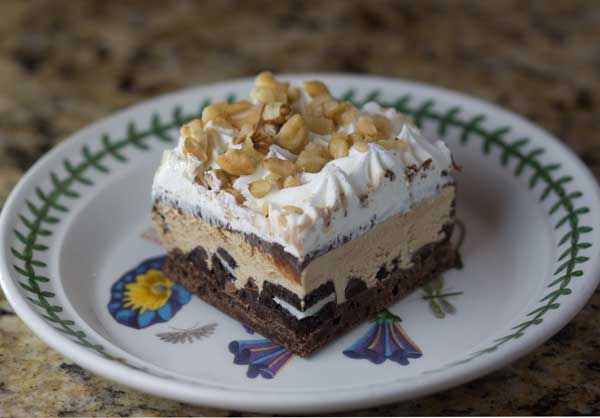 Layered Black Silk Ice Cream Brownie Dessert
Frozen brownie layered with chocolate chips and cookies, coffee flavored ice cream, fudge sauce and whipped cream.
Ingredients 
Brownie Layer (or just use an Oreo Crust – see note)
2

tablespoons

butter

softened (I used salted)

¼

cup

granulated sugar

1

large egg

6

tablespoons

chocolate syrup

½

teaspoon

vanilla extract

¼

cup

carefully measured

aerate and stir all-purpose flour

½

cup

dark chocolate chips

6

broken Oreo Cookies or a large handful of Mini Oreos
Easy Coffee Ice Cream
1

cup

plus 2 tablespoons heavy whipping cream

2

tablespoons

milk

7

ounces

½ can or about ⅔ cup Eagle Brand condensed milk**

1 ½

teaspoons

vanilla extract

1

packet Folgers Fresh Breaks Black Silk
Easy Fudge Sauce
½

cup

semisweet or dark chocolate chips

½

can

7 oz of condensed milk

1 ½

tablespoons

butter at room temperature

cut into small chunks

1

tablespoon

hot water

½

teaspoon

vanilla
Topping: 2 cups sweetened whipped cream and a handful of nuts
Instructions 
Preheat the oven to 350 degrees F. Line the inside of an 8 inch square metal pan with parchment paper. If using a glass pan, preheat to 325F.

Beat the butter and sugar until creamy. Beat in the egg; stir in the chocolate syrup and vanilla. Add the flour and stir just until incorporated. Pour into pan and bake on center rack for about 15-17minutes or until brownie feels set (top will still be sticky). Remove from oven and immediately sprinkle chocolate chips (they should melt slightly and stick) and cookies over the top. Let cool at room temperature, then transfer to the refrigerator to cool completely.

To make the ice cream, beat 1 cup of the cream in a mixing bowl with a handheld electric mixer until stiff peaks form. In a second bowl, beat together the remaining 2 tablespoons of cream, 2 tablespoons of milk, 7 ounces (⅔ cup) condensed milk, vanilla extract and Black Silk instant coffee powder. Stir well so that instant coffee dissolves. Fold in the whipped cream. Pour ice cream mixture over crumb crust and put in the freezer at least 4 hours or until the ice cream is very firm.

Prepare the fudge sauce. Combine the chocolate chips and condensed milk in a small saucepan and heat over medium low, stirring gently to melt the chips. Remove from heat and stir in the butter. Stir until butter melts. Add the water and vanilla. Let mixture cool at room temperature for about an hour.

When the ice cream that you've spread over the crust is firm, spread sauce over ice cream. Return to the freezer and freeze for about an hour or until the fudge sauce is very firm. Spread or pipe whipped cream over the top and freeze for several hours or until the whipped cream is firm. Sprinkle with nuts if desired.

When ready to serve, lift from the pan and peel away the nonstick foil or parchment. Put on a cutting board and use a chef's knife to cut into squares. Plate the frozen squares or just put them in a freezer container and store in the freezer until you're ready to plate the dessert. You can serve straight from the freezer or let them soften slightly on the plate for 10 minutes.
Notes
This particular brownie recipe works well because the brownie (thanks to the syrup) does not get rock hard when frozen.
If you want to skip the brownies altogether, an Oreo crust works very well. Just grind 18 Oreos and crumbs with 4 tablespoons of melted butter.