When it comes to pastry cream, I tend to jump from recipe to recipe.  It's generally not a problem until I have a big pastry cream failure and remember I hated that recipe in the first place. Or when I make a Boston Cream Pie and can't decide which filling to use because I've tried so many with mixed results. So starting with this post, I'm going to nail down one (or four or six) really good pastry cream recipes. Here's the first, and I'll tell you why I like it after the jump.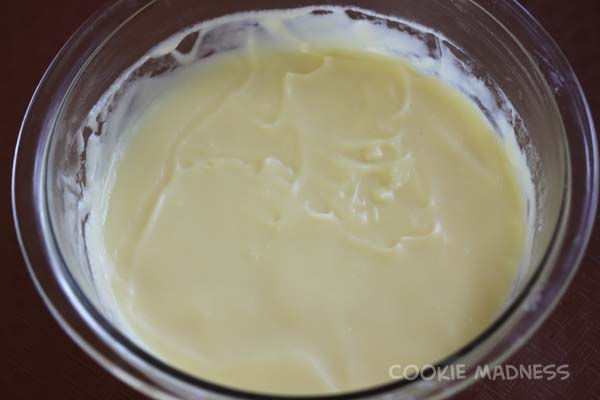 I found this one in the Make it Sweet recipe collection and on Allrecipes.com. It's a little different than some in that it starts with milk rather than cream, includes a whole egg in addition to the egg yolks, and has two tablespoons of butter for flavor and texture.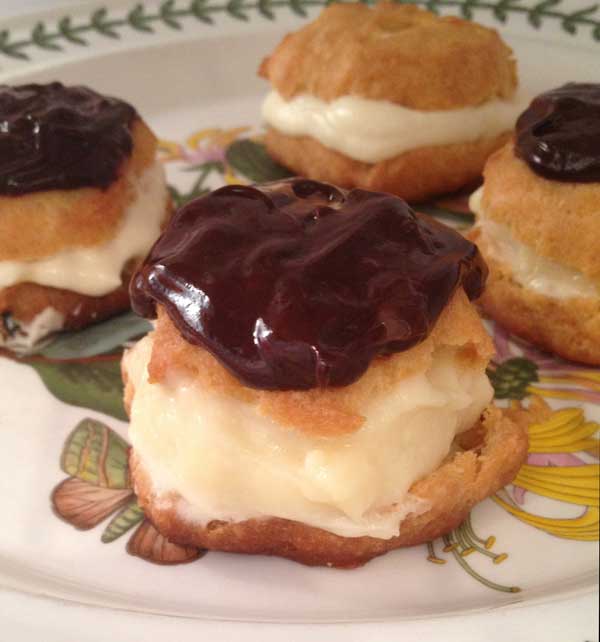 Overall, it was very good. The texture was smooth and creamy but firm enough to stand up in the pie and it was very sweet -- maybe a little too sweet for some, but I thought it was just right. For experimentation's sake, I folded a little unsweetened whipped cream into some of the pastry cream. It really lightened the texture and made it more suitable (in my opinion) for eclairs or cream puffs. But for Boston Cream Pie, it was perfect as is. Next time I make it I'm going to use farm fresh eggs and infuse the milk mixture with some vanilla bean.
Recipe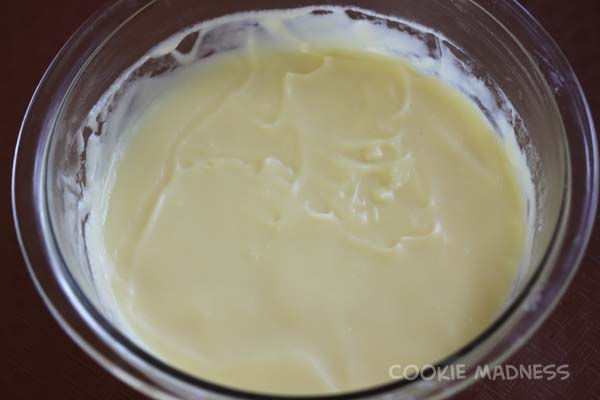 My Favorite Pastry Cream
Very sweet, custard-like pastry cream that works well as a filling for Boston Cream Pie.
Ingredients 
2

cups

whole milk

¼

cup

granulated sugar

2

large

egg yolks

1

large

egg

¼

cup

cornstarch

⅓

cup

granulated sugar

2

tablespoons

butter

1

teaspoon

vanilla extract

Optional -- ½ cup of whipping cream

whipped (to lighten if desired)
Instructions 
In a heavy 3 quart saucepan, combine the milk and ¼ cup of sugar. Bring to a gentle simmer over medium heat.

Meanwhile, whisk the egg yolks, egg, cornstarch and remaining ⅓ cup of the sugar together in a mixing bowl until thick and yellow.

Very gradually, whisk the hot milk mixture into the egg yolks. Once it is all added, pour the mixture back into the saucepan with the saucepan set over medium low heat.

Whisk mixture over medium low heat until it is as thick as pudding and starts to boil (thick, gloppy bubbles will appear. If your mixture doesn't thicken in 5 minutes, raise the heat a tiny bit. Different stoves and gas vs. heat might affect the rate at which your cream thickens).

Set a sieve over a clean bowl and pour the pudding through the sieve and into the bowl. Add the butter and vanilla to the hot pudding and stir well.

Put a circle of parchment paper over the mixture to keep a skin from forming and let cool at room temperature for about 30 minutes. Transfer to the refrigerator.

If you want to lighten the texture or make it less sweet, whip ½ cup to 1 cup of whipped cream and fold it into the cooled cream. If you add the extra whipping cream, you might also want to throw in a little extra vanilla extract.
Notes
Most pastry cream recipes tell you to boil and stir the mixture for about 2 minutes before removing it from the heat. This kills the enzymes in the eggs which cause the pastry cream to thin out after cooling. Out of habit, I lboiled the cream for an extra minute and a half for the first batch. It did not thin out, nor did it taste starchy. I made a second batch and skipped the extra minute of boiling. The second batch didn't thin out or taste starchy either. I'd say this is a pretty fool-proof recipe, but if you do have problems with thinning or a starchy taste, try boiling the mixture for another minute and a half and stirring constantly to prevent curdling.