This is an older post from back when McCormick's Cake Batter Flavor was called McCormick Vanilla Butter & Nut Extract. So if you see Cake Batter Flavor, it's the same thing and can be used interchangeably.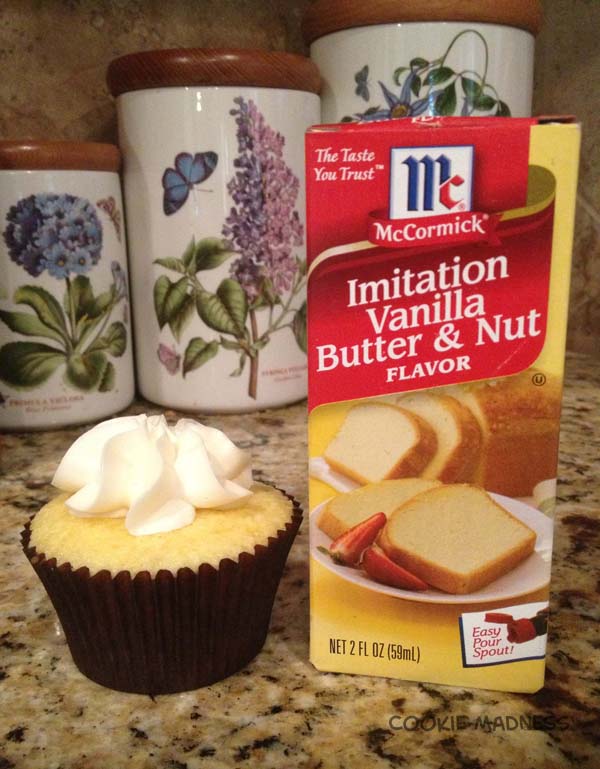 Butter & Nut Extract aka Cake Batter Flavor
It definitely lived up to my expectations, which had been set pretty high thanks to glowing reviews from people who said it was the key ingredient in their family's favorite pound cake or that they'd used it as a substitute for vanilla in chocolate chip cookies. So far, I've used it in both pound cake and chocolate chip cookies, but my favorite use for it was in yellow cupcakes. Vanilla Butter & Nut added an interesting  and rather bold blend of butter, vanilla and nuts. An unexpected benefit was that this extract is deep yellow, so it added a nice yellow hue to an otherwise sour cream colored cupcake.
UPDATE:  Judy mentioned she liked the star on top of the cupcake.  If you want to know which tip, it's the closed star tip from the Ateco #786 Large Tube Set, 12 pcs.
These cupcakes got rave reviews from all tasters and I can't wait to make them for a bake sale! The recipe below makes 12.  I try to keep vanilla cupcake batch sizes small because I usually accompany them with a batch of good chocolate cupcakes.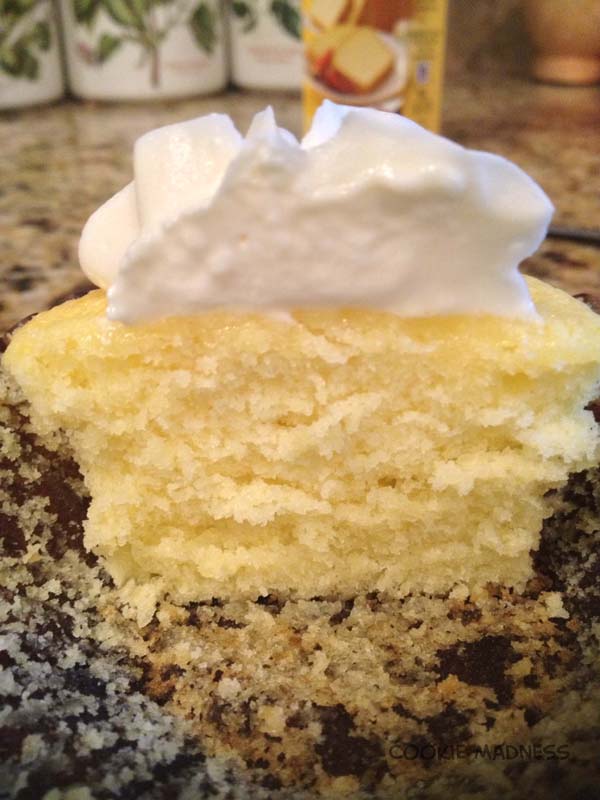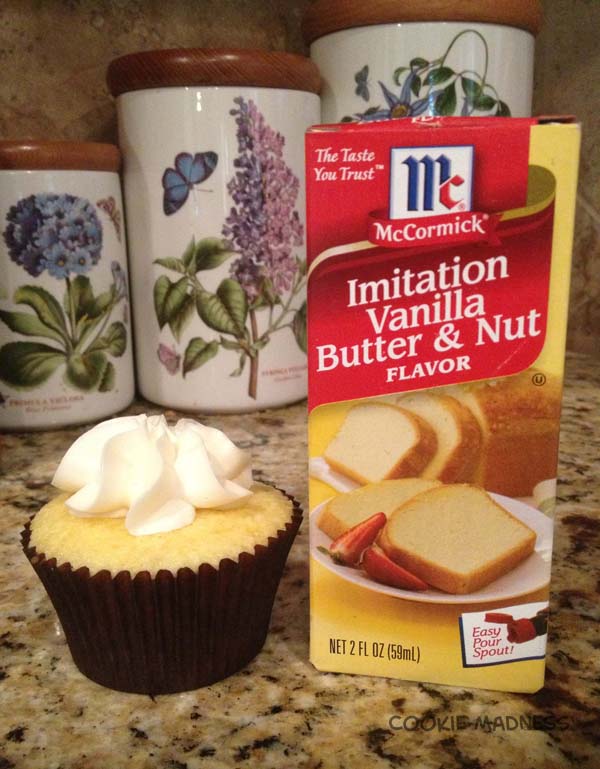 Vanilla Butter & Nut Extract Cupcakes
Cupcakes made with McCormick Vanilla, Butter & Nut Extract
Ingredients 
2

large eggs

114

grams

cake flour

1 cup

1

teaspoon

baking powder

1/4

teaspoon

salt

114

grams

1 stick unsalted butter, cool room temperature (Land o' Lakes

196

grams

1 cup sugar

2

teaspoons

McCormick Vanilla

Butter & Nut Extract

1/2

cup

sour cream
Frosting
230

grams

1 stick unsalted butter, softened, I used Land o'Lakes

1 1/2

cups

powdered sugar

2

teaspoons

heavy cream

½ to 1

teaspoon

of vanilla extract or as needed

I used Sonoma Syrup Vanilla Bean Crush
Instructions 
Preheat the oven to 350 degrees F. Line 12 cupcake cups with paper liners.

Separate the eggs. Put the whites in a mixing bowl and the yolks in a small bowl. Bring them to room temperature. You may want to do this ahead of time.

Sift the cake flour and then stir in the baking powder and salt and set aside.

With a clean mixer, whip the egg whites to soft peaks and set aside.

In a large mixing bowl, using the same mixer you used to beat the whites, beat the butter until creamy. Gradually add the sugar and continue to beat for until fluffy and light, scraping sides of the bowl. Add the egg yolks, one at a time, using lowest speed of mixer. Beat in the extract.

With a big mixing spoon or heavy duty scraper, add the dry ingredients alternately with the sour cream, stirring until mixed. Scrape the sides of the bowl and beat with the electric mixer for about 1 minute or until smooth. With the spoon or scraper, fold the egg whites into the batter.

Divide the batter evenly among the cupcake cups and bake for about 20 minutes or until the cakes appear set. These cakes do not brown very much – just a tiny bit around the rim. The tops also look pretty wet even when the cupcakes are done, so bake just until a toothpick inserted comes out clean.

Let the cakes cool completely. While warm, they may seem a little flimsy, but they will firm up a bit as they cool.

To make the frosting, beat the butter until creamy. Gradually beat in the powdered sugar. Add the cream and vanilla and beat until light and fluffy.