If you love carrot cake but lean towards less sweet carrot cake, here's one I recommend. Baked in a 9 inch pan, it's a smaller cake; and proportionately, it has a bit less sugar than some of the most popular recipes.
This cake also has a lot of add-ins including coconut, nuts and pineapple which enhance the sweetness and texture.  For this cake, I'm not sure I'd leave any of those things out since the cake itself is not that sweet to begin with.  The nuts add a lot of flavor, too.  Speaking of which, my new favorite thing to add flavor to carrot cake is this LorAnn butter emulsion.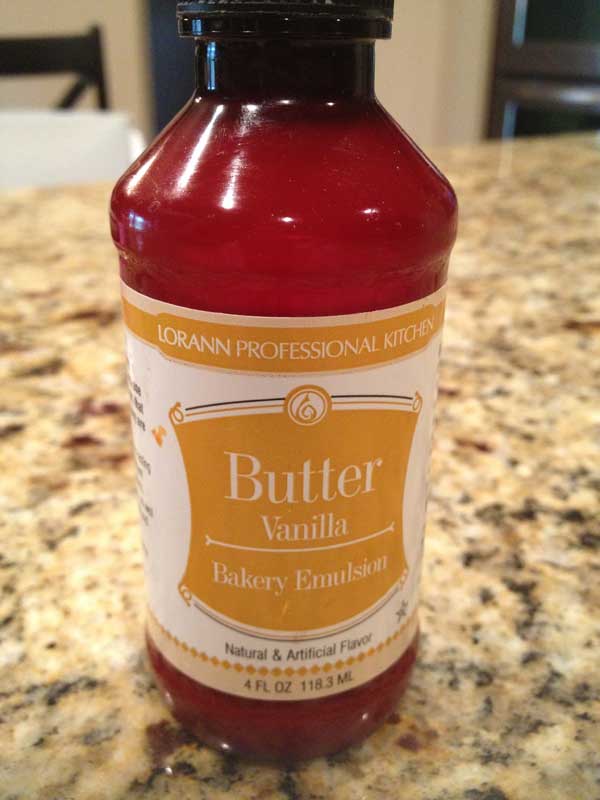 Lorann Butter Flavored Bakery Emulsion
I bought this at Michael's, but I've also  seen it at Hobby Lobby and on LorAnn's website.  It doesn't taste or smell anything like artificial butter extract, and you can't really discern what it will taste like just by smelling it because it doesn't have a strong aroma.  To really get the full effect, you have to bake it into something. And sure, you could just swap out some of the oil for butter. But a little butter emulsion lets you stick with oil, which is traditional in carrot cake.
Here's the recipe.  It's not a low sugar cake, just a little less sweet than some others.  I thought I'd put it out there because I've read reviews from people who think the traditional version is too sweet.
Recipe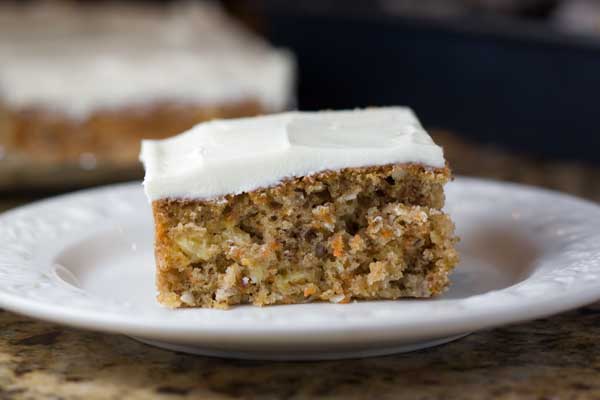 Less Sweet Carrot Cake in a 9 Inch Square Pan
Carrot Cake in a 9 Inch Square Pan
Ingredients 
3

large eggs

¾

cup

vegetable oil

1

cup

granulated sugar or evaporated cane juice crystals

1

teaspoon

vanilla extract

1

teaspoon

butter flavored emulsion

optional

1

teaspoon

baking soda

¼

teaspoon

salt

1 ¼

teaspoons

cinnamon

1 ½

cups

6.8 oz unbleached all-purpose flour

1

cup

grated carrots

1

cup

sweetened flaked coconut

1 8

oz

can of chopped pineapple

drained and dried

½

cup

toasted and finely chopped pecans
Cream Cheese Frosting
4

tablespoon

unsalted butter

softened

8-

ounce

package cream cheese

softened

1

teaspoons

vanilla

best quality

1 ¼

cups

confectioners' sugar
Instructions 
Preheat the oven to 350 degrees F. Grease and flour a 9 inch square metal cake pan. If using glass, use 325 F.

In a mixing bowl, stir or gently whisk together the eggs, oil, sugar, vanilla, butter flavor, baking soda, and salt. Stir in the flour, then add the carrots, coconut, pineapple and pecans. Pour the batter in the pan and bake for about 40 minutes to 45 minutes or until the top is nice and brown and a toothpick inserted comes out clean. Let cool in the pan and then frost

To make the frosting, beat the cream cheese and butter with an electric mixer until creamy. Beat in the vanilla, then beat in the sugar. Spread over the cake. Serve the cake straight out of the pan.