Update:  This is an old review that includes a convenient recipe for Oreo Mousse made with Oreo flavored pudding mix.  You may not be able to find this particular cake mix, but you can make the cake with any cake mix and of course the Oreo Mousse.
This cake was inspired by Buddy Valastro, who is currently promoting his new line of Cake Boss mixes and accessories. I had the pleasure of speaking with Buddy over the phone recently, and while the point of our conversation was to discuss his products, he graciously answered some of my scratch baking questions before moving on to the real topic. He is passionate about his products which range from simple cake mixes to colorful tools and gadgets for decorating and baking. By the end of our conversation I was convinced to hunt down a box of his cake mix.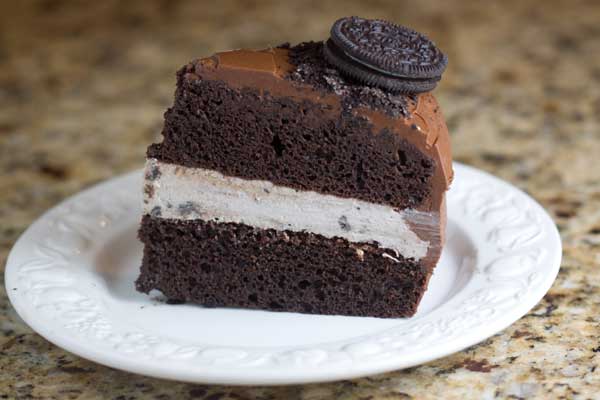 Our store had quite a few flavors in stock priced at a little over $4.00.  It's more expensive than other cake mixes, but it does come in an 18 oz box, which is good for people who like to use Cake Mix Doctor recipes since her recipes start with an 18.25 oz box.  The flavor I chose was Cake Boss Chocolate Trifecta which calls for 3 eggs, 1/4 cup of oil and some water.  In addition, the mix comes with a little packet of custard which you add to the batter.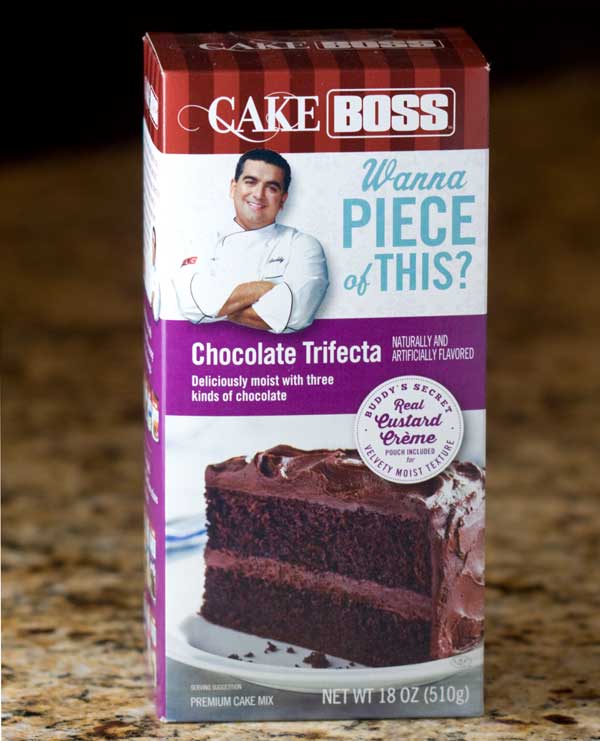 Prepared using the directions on the back of the box, the cake's texture was fairly moist, but it still had a firm structure.  What really surprised me was the flavor, which was deeply chocolate and not too sweet. It was a good blank slate for filling and frosting, so I decided to have a little fun and fill it with a super simple recipe that's supposed to similar to the filling Costco uses. Basically, you whip together a large box of pudding mix, 1 cup of heavy cream and 1 cup of milk. I used Oreo pudding and it worked perfectly.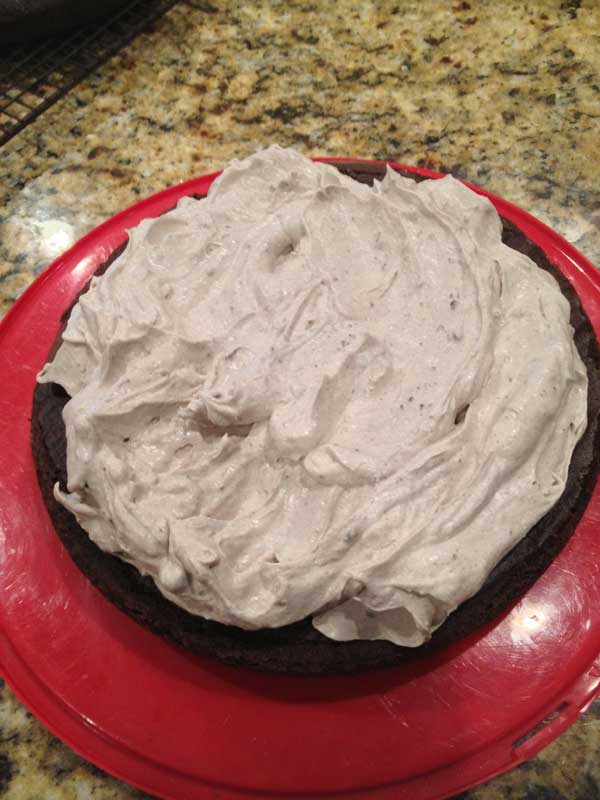 Of course using the pudding filling meant the cake had to be refrigerated or frozen, and it did indeed freeze quite well.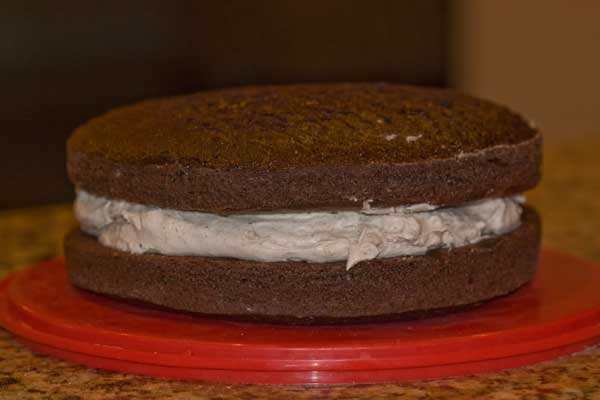 Here's the recipe. I enjoyed using the Oreo flavored pudding and decorating with kind of an Oreo theme, but you can change the flavor and use any flavor pudding you want.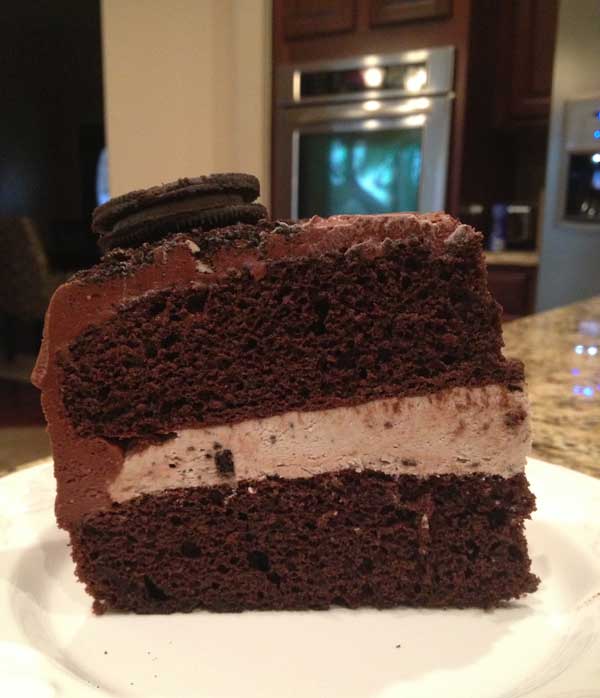 Oreo Mousse Filled Chocolate Trifecta Cake Using Cake Boss Mix
Chocolate cake filled with a very simple "mousse" and covered with chocolate frosting
Ingredients 
1

box of cake mix plus ingredients called for on package

A 6 serving size box of INSTANT pudding mix

I used Oreo

1

cup

heavy whipping cream

1

cup

whole milk

not sure low fat would work well

8

tablespoons

of unsalted butter

softened

1 1/2

tablespoons

of sour cream

room temperature

3

cups

confectioners' sugar

sift or aerate before using

3/4

cup

natural style cocoa powder

1

tiny pinch of salt

1

teaspoon

vanilla extract

4 to 6

tablespoons

of heavy cream plus whole milk as needed
Instructions 
Bake cake according to directions using two 9 inch round pans.

Prepare the filling and put it on one layer of the cooled cake. To make the filling, simply combine pudding mix, milk and cream and beat with an electric mixer for about 3 or 4 minutes or until thickened. Peaks should form and it should be stiff (as in the photo).

Scoop the pudding onto the first layer of cake and cap with second layer. Keep chilled while you make the frosting. Alternatively, you could freeze the filled cake, wrap tightly and keep frozen until ready to frost.

To make the frosting, in a large mixing bowl, mix the butter, sour cream sugar, cocoa, salt and 2 tablespoons of the cream as well as you can, then beat with a hand-held mixer until thick. Continue adding remaining cream until you get a nice, smooth, spreading consistency. Add whole milk 1 tablespoons at a time if frosting seems to thick. Spread over cake.