Dark Brown Sugar Chocolate Cake is a great recipe.  For one thing, it employs all the tricks you've heard of for making moist cake.  Those "tricks" include using buttermilk, substituting brown sugar for all or part of the white, and incorporating vegetable oil.  Dark Brown Sugar chocolate Cake calls for both buttermilk and coffee for the liquid, has a mixture of butter and oil, and calls for 2 full cups of dark brown sugar. It's definitely NOT a dry cake, and along with chocolate it has a complex flavor.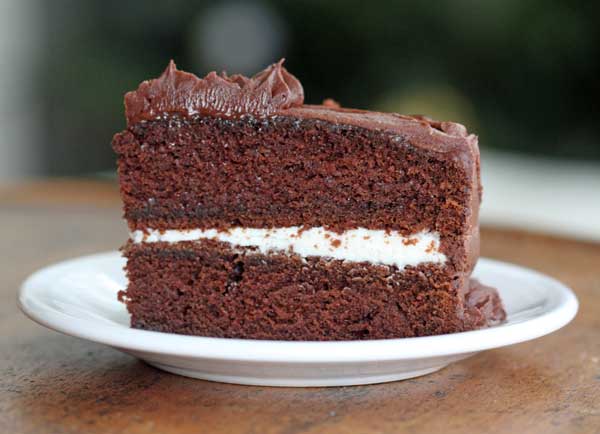 The original version of the cake is from Rick & Lanie's Excellent Kitchen Adventures.  If you want to see the original, Michelle posted it on her blog. I frosted this one with my usual favorite chocolate frosting and just for fun, used the filling from a recipe called Ding Dong Cake. Compared to other cakes this one is not only moist, but surprisingly not-too-sweet even with all the brown sugar.
Update:  We love this cake, but I still don't use Rick & Lanie's ganache.  If you'd prefer to use the ganache frosting, I've included it in the notes of the recipe.
Brown Sugar Chocolate Cake
Scratch Chocolate Cake made with 2 cups of dark brown sugar.
Ingredients 
2

cups

all purpose flour

9 oz, plus more for pan

1/2

cup

unsweetened natural cocoa powder

1

teaspoon

baking soda

1

teaspoon

salt

Rick used 1/2 teaspoon

1/4

cup

vegetable oil

8

tablespoons

unsalted butter

melted

2

cups

packed dark brown sugar

1

cup

hot coffee or boiling water

1

cup

buttermilk

room temperature

3

large eggs

room temperature

1 1/2

teaspoon

vanilla extract
Chocolate Frosting
1

stick

4 oz unsalted unsalted butter, room temperature

1 1/2

tablespoons

sour cream

3/4

unsweetened cocoa powder

3

cups

sifted confectioners' sugar

plus more as needed

4-6

tablespoons

half & half or a mixture of whole milk and cream

1

teaspoon

vanilla extract

1

teaspoon

vanilla

Pinch

or two of salt — if using salted butter

omit
Instructions 
Preheat oven to 350 degrees F. Grease and flour two 9x2 inch round cake pans.

Whisk together the flour, cocoa powder, baking soda and salt. Set aside.

In a large mixing bowl, combine the oil, melted butter and brown sugar. Beat with an electric mixer until well blended, then add the eggs one at a time, beating for 30 seconds after each egg is added. Beat in the vanilla.

By hand or using lowest speed of the mixer, add the dry ingredients alternately with the buttermilk. Stir until fully blended.

Pour the hot coffee over the batter and stir until blended.

Pour batter into pans and bake at 350 for 30-35 minutes or until a cake tester comes out clean. Let cool in pans for 10 minutes. Turn from pans and cool.

Frosting: Mix together the softened butter, sour cream and confectioners' sugar until blended, then add the cocoa powder and stir until it because a messy mass. Gradually add the half and half (or milk and cream), stirring until blended, then beat in the vanilla. Beat, scraping bowl often, until mixture is smooth and creamy.
Notes
If you like a lot of frosting, you may want to make 1 1/2 times the recipe. However, if you make the recipe as is and are conservative with the middle layer of frosting, you should have enough.  If you'd rather use the original Ganache Frosting, here's the recipe.
Ganache Frosting
1 lb bittersweet or semisweet chocolate
1 1/4 cup heavy cream
1/3 cup corn syrup
1/4 cup very strong coffee
Chop chocolate in a food processor until you get pea size lumps. Put it in a heat safe owl. Place chocolate in a heat safe bowl.
In a small saucepan, combine the cream, corn syrup, and coffee. Heat over medium, stirring often until steaming.
Pour over the chocolate and stir until chocolate has melted.
Let cool slightly, then place in refrigerator and stir every 15 minutes until spreadable. This could take up to 2 hours.
Use about ¼ of the frosting between the layers. Then spread ½ of what is left on the sides and the rest on the top.